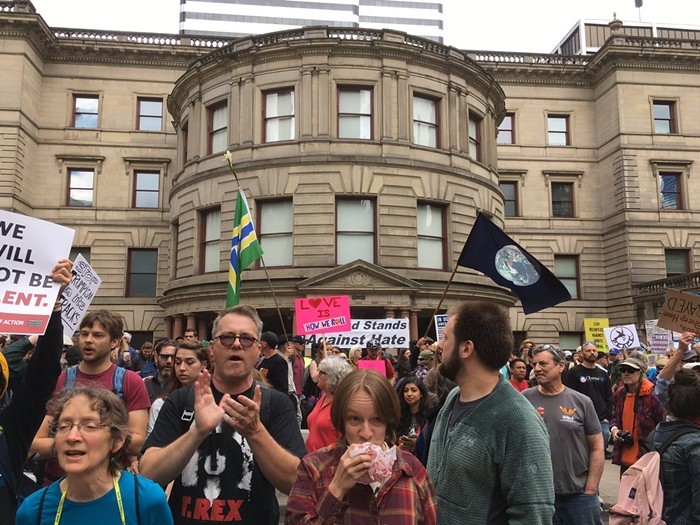 In the 24 hours since Mayor Ted Wheeler first laid out an emergency ordinance to restrict potentially violent protests in Portland, city officials, civil rights groups, and legal experts
have raised concerns
about the proposal's legality.
The ordinance would broaden the city's ability to apply "content-neutral time, place, and manner" restrictions to any protest in Portland city limits. Specifically, it would allow the police commissioner (who, at the moment, is Wheeler) to limit the duration, location, and size of a protest if there are two or more groups involved that have a "history of violence" or if there is a "likelihood of violence" based on protesters' conduct. The commissioner can also order limitations on a protest if they believe that protest will endanger bystanders.
This ordinance is a direct response to the weekend's violent clash between Patriot Prayer, a right-wing group, and members of anti-fascist (or antifa) groups in downtown Portland.
"We don't tolerate violence in our streets," said Wheeler at yesterday's press conference announcing the ordinance. "Violence is not, and has never been, a legitimate means to a political end."
He said the proposed ordinance aims to protect both "the freedom of expression for demonstrators and the safety of the entire community."
But will it hold up in court?
Jim Oleske, a constitutional law professor at Lewis & Clark Law School, has doubts.
There are two issues Oleske sees becoming a problem for the city. First is that the city may have trouble proving that any decisions made with this new rule are truly "content-neutral."
In legalese, "content-neutral" essentially means the city isn't making a biased decision. If it's obvious the city moved a protest across town just because Wheeler doesn't support Patriot Prayer's beliefs, he wouldn't be making a content-neutral decision—and he'd be violating the First Amendment.
Thanks to prior litigation, the definition of "content-neutral" has become a little more complicated. The US Supreme Court has ruled that it is not "content-neutral" to limit a protest based on the possibility that listeners will react angrily to the protesters' speech. If it's clear that Mayor Wheeler had decided to restrict a Patriot Prayer protest because it is that possible others may react to that protest with violence—as they have in the past—then the ordinance could face a constitutional challenge, says Oleske.
An example: In 1992, the DC Court of Appeals considered DC's decision to limit to four blocks a planned 11-block march by the Ku Klux Klan, citing public safety concerns. The court ruled that the DC government had, in part, made the decision because it expected the march's message would instigate violence. That decision, the DC court ruled, was based on the demonstration's content, meaning it was not a "content-neutral" decision. The court allowed the KKK to march all 11 blocks.
The second potential issue Oleske flagged is that the city may be seen as giving too much discretion to one city official—in this case, the police commissioner—to decide which protests require special regulating. The ordinance grants broad authority for the police commissioner to put these rules into effect without any oversight.
"I can see people being concerned about how much judgment we're allowing one commissioner," Oleske says.
---
"The draft ordinance is a tool to help preserve peace and order in the community while respecting demonstrators' First Amendment rights." —Robert Taylor, Portland's chief deputy city attorney
---
Mat dos Santos, legal director at the ACLU of Oregon, has already raised these concerns.
"The mayor's proposal grants broad authority to the mayor's office to regulate constitutionally-protected speech and assembly with no meaningful oversight for abuse," said dos Santos in a statement released last night. "Inevitably, this ordinance will get challenged in court."
The Portland City Attorney's Office, however, strongly believes the ordinance will stand up in court.
In the past, when asked why the city doesn't simply ban Patriot Prayer from holding demonstrations in Portland, the city has repeatedly pointed to a single court ruling: Collins v. Jordan. The case, brought to the Ninth Circuit Court of Appeals in 1996, addressed a sweeping protest ban issued by San Francisco city government in May 1992, the day after a violent protest in response to the Rodney King ruling rattled that city's downtown. The city government ordered all police officers to break up any protests, violent or non-violent, that took place that day. The Ninth Circuit said this kind of blanket ban lacked constitutional backing.
"The law is clear that First Amendment activity may not be banned simply because prior similar activity led to or involved instances of violence," the court wrote in its final decision.
In an interview with the Mercury in June, Portland Bureau of Transportation spokesperson Dylan Rivera said Collins v. Jordan is why the city can't deny a protest permit to groups like Patriot Prayer.
"We're not allowed to make a decision on a permit based on past experience with the group in situations like this," said Rivera.
But, since Wheeler's proposed ordinance doesn't outright ban potentially unruly protests, it wouldn't be in violation of this piece of case law. That, at least, is how the city attorney's office is seeing things.
"The draft ordinance is a tool to help preserve peace and order in the community while respecting demonstrators' First Amendment rights," said Robert Taylor, Portland's chief deputy city attorney, during a call with Mercury this morning.
The city attorney's office modeled the new ordinance after a Seattle ordinance that was upheld in a 2005 case before the Ninth Circuit. In that case, Menotti v. City of Seattle, the court ruled that the city's "time, place, and manner" restrictions to planned protests were constitutional since they weren't based on the content of the protest.
Update—October 19, 10 am:
According to the ACLU, that Seattle ordinance has very little in common with Wheeler's proposed plan. That's because, in Seattle, the restrictions were part of an ordinance that authorized the "declaration of an emergency," which kicks in the midst of an emergency (in Seattle's case, it was the violent protests spurred by 1999's World Trade Organization conference). Wheeler's proposal would make this kind of declaration before any event took place.
"There's a difference in doing something when violent acts are taking place versus anticipating that violence will take place," says Kimberly McCullough, policy director for the ACLU of Oregon. "[Wheeler's ordinance] is legally untenable and doesn't make any sense."
If the Portland City Council approves Wheeler's ordinance, Oleske predicts it will face immediate legal challenges. That's probably why members of city council and outside organizations have urged the city to not rush this ordinance.
"We encourage city leaders to fully explore the middle ground between silence in the face of far-right threats to democracy and emergency measures that could undermine the spirit of the US Constitution," said Eric Ward, director of Western States Center, in a press statement. "We are facing a political crisis, and it is ineffective and unfair to place the entire burden on law enforcement to find a solution."