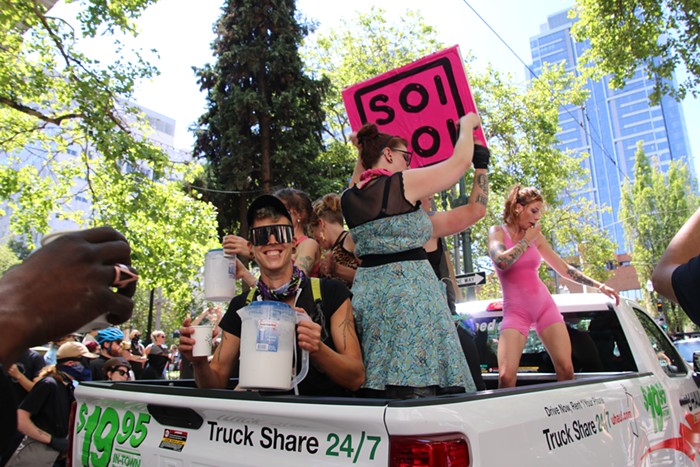 It's officially summer in the Pacific Northwest, which means
it's time
for our first alt-right vs. left-wing clash in downtown Portland.
This afternoon, an estimated 300 members of left-leaning groups (including Portland's Democratic Socialists of America chapter, Rose City Antifa, and Popular Mobilization) met in Lownsdale Square to protest an expected visit from members of Vancouver, Washington's alt-right contingent, Patriot Prayer. Protest organizers danced to music and handed out homemade milkshakes to attendees. (Later, these same organizers drove around downtown Portland, handing out milkshakes from the back of a U-Haul truck.)
This lit lefty uhaul is trying to get past the police line. pic.twitter.com/2L6VyAyBr5
— Alex Zielinski (@alex_zee) June 29, 2019
About thirty people showed up for the scheduled Patriot Prayer rally in Pioneer Courthouse Square at 1 pm—some identifying as members of the Proud Boys, a white nationalist organization labeled a hate group by the Southern Poverty Law Center.
Not seeing any cops around Pioneer Sq. Here's the crew. pic.twitter.com/6jTQNELlHB
— Alex Zielinski (@alex_zee) June 29, 2019
The resulting clash played out like you'd expect.
Both groups remained in their respective areas until around 1:15, when the left-wing congregation began walking north down SW 3rd, despite not having a permit to march in the street. When the crowd reached Pioneer Square, heavily armored officers with the Portland Police Bureau (PPB) and Multnomah County Sheriff's Department blocked their path, broadcasting over a loudspeaker that everyone standing in the street could be subject to arrest or be targeted by "riot control agents and impact weapons."
Update from outside Pioneer Square: People changing "take off your riot gear, I don't see no riot here." pic.twitter.com/2v2j9lifED
— Alex Zielinski (@alex_zee) June 29, 2019
Members of Patriot Prayer taunted the group of protesters from the other side of the armored police line.
The rest of the afternoon consisted of the left-wing protesters marching around downtown, mostly on the sidewalks, attempting to circumvent PPB blockades and confront the few members of Patriot Prayer. The police were not entirely successful at keeping the opposing groups separated, and several tense confrontations ended with punches, kicks and violent threats. According to the PPB, at least three people, including conservative blogger Andy Ngo, were taken to the hospital for injures sustained in one of these clashes.
CONTENT WARNING: A second video shows the violent attacks during a protest in downtown Portland today. Video by Sergio Olmos/Underscore. Full story: https://t.co/dALLB2fmFf pic.twitter.com/E74Y94ahzz
— Portland Tribune (@ThePortlandTrib) June 30, 2019
PPB declared the rally an unlawful assembly and civil disturbance by 3 pm.
At least one member of the Patriot Prayer group was seen wearing gloves with metal spikes on the knuckles, and another used an American flag to swing at a group of left-wing protesters. The lefty groups, meanwhile,
doused the alt-right ralliers with milkshakes and silly string.
According to other videos and reports, PPB fired mace and pepper bombs (non-lethal bullets filled with pepper spray) towards the antifa-led group several times, in an attempt to disperse the crowd. PPB allege several protesters threw eggs and milkshakes at the police.
UPDATE, June 30, 7 am:
PPB issued
a press release
detailing three arrests made during yesterday's protests. According to the report, officers arrested Gage Halupowski for assault of a public safety office, resisting arrest, felony assault, and interfering with a police officer. He remains in custody with a $257,500 bail.
Officers also arrested James Stocks and Maria Dehart for harassment. (Dehart was arrested after throwing water on a opposing protester.) Both have been released from jail.
PPB says officers used pepper spray during the rally, but did not mention use of any other riot control weapon.
Medics with the Portland Fire Bureau treated eight people, including three PPB officers. Per the press release: "Two officers were pepper sprayed during the incident and were treated. Another officer was punched in the arm by a demonstrator and sustained non-life threatening injury. Another officer sustained a non-life threatening head injury from a projectile."
Perhaps the most concerning piece of information shared by PPB is that officers heard rumors that the milkshakes thrown by protesters included a substance "similar to a quick drying cement." Despite perpetuating this allegation on social media, PPB has provider no evidence to substantiate this claim.