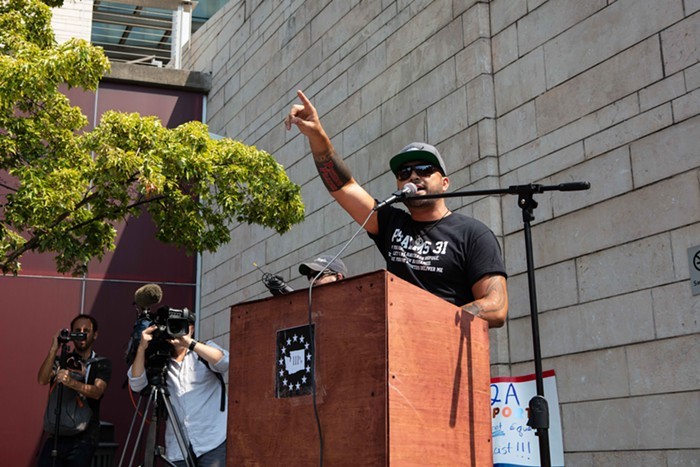 Joey Gibson, the leader of alt-right protest group Patriot Prayer, has been charged with a felony for his involvement in a violent street brawl that took place on May 1 in front of Northeast Portland's Cider Riot.
Gibson has been charged with a felony for inciting a riot, according to an an afternoon interview with Gibson on Lars Larson's conservative talk radio show. Gibson told Larson he plans on turning himself in to the Multnomah County Sheriff's Office today. According to the county's inmate roster, Gibson has yet to turn himself in.
Gibson led Patriot Prayer to Cider Riot on May 1 after learning that members of Portland's anti-fascist (commonly known as "antifa") community were meeting there to celebrate a day of peaceful May Day rallies. After yelling insults at Cider Riot patrons from the adjacent sidewalk, the opposing groups engaged in a street fight. In one video, Gibson appears to be playing referee in an organized fist fight. One woman with antifa was knocked out cold by several Patriot Prayer agitators, and sent to the hospital with an alleged vertebrae fracture.
Shortly after the May 1 clash, Cider Riot owner Abe Goldman-Armstrong sued Gibson for negligence and trespassing. Goldman-Armstrong also named five other members of Patriot Prayer as defendants in the suit: Ian Kramer, Matthew Cooper, Christopher Ponte, MacKenzie Lewis, Russell Schultz, and David Willis.
Within the past week, PPB has charged every defendant but Willis for crimes related to the May Day incident—ranging from assault with a weapon to inciting a riot. None of the people associated with antifa or other left-wing groups who were at Cider Riot that day have been charged with a crime.
This string of arrests comes days before a major Portland demonstration by alt-right protesters. PPB predict the August 17 rally, orchestrated by the national far-right extremist group Proud Boys, to devolve into violence akin to the May Day clash.