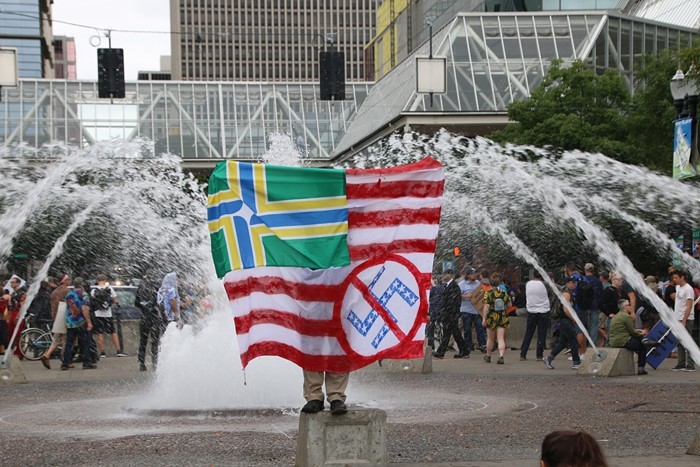 The
much-anticipated protest
in Portland on August 17 that was instigated by the Proud Boys, a national right-wing extremist group, has dissipated with minimal engagement from counter-protesters.
The day's events began around 9:30 am, with a crowd of left-wing counter-protesters congregating at Tom McCall Waterfront Park to make costumes and plan their actions for the day. Some of these anti-fascist (or antifa) protesters arrived dressed in all black. Others dressed in banana costumes or wore unicorn horns.
People are giving out free supplies to help people "be the spectacle," pat of @PopMobPDX 's strategy to distract from the Proud Boys. pic.twitter.com/uLmKCyRhIK
— Blair Stenvick (@BlairStenvick) August 17, 2019
Bananaphone, banana playing saxophone. pic.twitter.com/J4FaowC7y6
— Alex Zielinski (@alex_zee) August 17, 2019
I should note that while most of the folks on the front lines here are in all black, helmets, etc., there are also a lot of people hanging back a bit who look like this pic.twitter.com/oSFUQIcFDo
— Blair Stenvick (@BlairStenvick) August 17, 2019
Shortly after 11 am, a group of Proud Boys and associated right-wing activists marched across the Morrison Bridge from Southeast Portland, arriving in Waterfront Park just north of the bridge. The Portland Police Bureau (PPB) appeared to have anticipated their arrival, having staged lines of armored officers and cement barriers between the Proud Boys and the left-wing groups, who were gathered in the park just south of the Morrison Bridge.
Police are holding a few hundred proud boys and friends on the Morrison bridge pic.twitter.com/CZz75WEiO4
— Zach Putnam (@zachputnam) August 17, 2019
Police watch the Proud Boys flood off the Morrison Bridge ramp and into waterfront park pic.twitter.com/BN67Rb1qJw
— Alex Zielinski (@alex_zee) August 17, 2019
While individual protesters later clashed, the bulk of the two main groups never met. Instead, the PPB allowed the Proud Boys to march east over the Hawthorne Bridge, which until that point had been completely closed to pedestrian and vehicle traffic. By the time antifa protesters—who, unlike the right-wing protesters, were not allowed by the PPB to cross the Hawthorne Bridge—reached the east side of the Willamette River, most of the gathered Proud Boys had boarded several buses and left, heading west over the Morrison Bridge.
When the arrived back on the west side of the river, those buses were briefly stopped on the off-ramp of the Morrison Bridge. A few counter-protesters broke several windows of one bus, and a fight briefly broke out before the bus drove off.
🚨 BREAKING 🚨 Antifa has major CLASH with Proud Boys on Portland bridge in traffic

A serious assault took place on PB's after they busted the door of the bus, they also threw a metal hammer at them.

I also got pepper sprayed in the face with many others. Sorry for language pic.twitter.com/UwRsY4qq6G
— Elijah Schaffer S.O. (@ElijahSchaffer) August 17, 2019
At its peak, there were an estimated 300 right-wing protesters and 1,000 left-wing protesters in downtown Portland. No major injuries have been reported, but according to the PPB, at least 13 protesters were arrested. It's not yet clear what charges they were arrested on.
Photos of two arrests at SW3rd and Oak Street. #PortlandProtest #LiveOnK2 pic.twitter.com/AW4xF7Od4q
— Tristan Fortsch (@tristanCF) August 17, 2019
In response to police announcements, people have began to assertively vogue.
— Suzette Smith (@suzettesmith) August 17, 2019
Joey Gibson, the leader of the Vancouver, WA alt-right group Patriot Prayer, was in attendance at the protest, despite his being arrested yesterday afternoon for his participation in a May 1 riot.
Joey Gibson in his element. pic.twitter.com/yIQMPKdCxC
— Alex Zielinski (@alex_zee) August 17, 2019
While most of the Proud Boys left the waterfront by 1 pm, a few lingered and engaged in shouting matches and fistfights with left-wing protesters.
pic.twitter.com/v6q98IDq6r
— Alex Zielinski (@alex_zee) August 17, 2019
No Portland city commissioners were in attendance, but some members of Commissioner Jo Ann Hardesty's staff joined the morning counter-protest rally. Sarah Iannarone, a Portland activist running for mayor in 2020, showed up to collect feminine hygiene products for her neighborhood's homeless shelter.
Mayoral candidate @sarahforpdx is here collecting feminie hygiene products for her neighborhood homeless shelter. Yes, that hashtag is made out of panty liners. pic.twitter.com/R3sdWo4ZcM
— Alex Zielinski (@alex_zee) August 17, 2019
Mayor Ted Wheeler, meanwhile, was being interviewed by CNN.
"My job today is to be heads-down and focus on maintaining the public safety," Wheeler said when asked about Donald Trump's tweet regarding the protest. "I'm not concerning myself with tweets coming out of Washington, DC. And, frankly, it's not helpful. This is a potentially dangerous and volatile situation, and adding to that noise doesn't do anything to support or help the efforts here in Portland."
It's not yet clear if today's demonstrations are completely over. We'll update this post if any related incidents take place—and when we learn more about the day's arrests.
News Reporter Blair Stenvick and Arts Editor Suzette Smith contributed to today's coverage.