The thing about the news is that it's never finished. The world—and, more specifically, the Portland news ecosystem—is a swirling ball of chaos, and the events, issues, and personalities that dominated 2019's headlines aren't going to stay neatly contained in that one year.
That said: 2019 was a hell of a year to be a Portlander, and lists are fun. So we've put together 26 of the biggest news stories of 2019—stories that we think will have repercussions in 2020 and beyond.
Sponsored
Win a behind-the-scenes tour of our kitchen, see how we make our artisan edibles, and get some swag.
As luck would have it—and despite the fact that calendars are a social construct, and so is the alphabet, and neither can fully explain what happened over the last 365 days—those 26 stories just so happen to fit perfectly into an alphabet. Consider it our belated holiday gift to you.
Amazon
In December, investigative news outlet Reveal discovered that an Amazon fulfillment center in Troutdale has an astoundingly high rate of workplace injuries. The industry average is four injured workers per every 100 each year—but Troutdale's Amazon warehouse saw 26 injuries per 100 in 2018. "Amazon doesn't want any long-term workers," an employee told the Mercury. "They want you to work hard and fast and get rid of you when your body can't take it anymore. That's their business model."
Bus and MAX fare
2019 was TriMet's 50th anniversary—but there wasn't much love for the transit agency in October, when TriMet announced it was adding nine new fare inspectors. The announcement was accompanied by the rollout of a tactless ad campaign that likened fare evasion to not covering one's share of the dinner check. The ad campaign was quickly abandoned, and by December, TriMet board members were flirting with the idea of transferring to a fareless system. TriMet management, meanwhile, says those board members' statements were exaggerated. This is possibly the wonkiest will-they-or-won't-they plotline ever.
Cider Riot
This NE Portland cidery and bar became a central setting in the perpetual standoffs—and lawsuits—between right-wing agitators (Patriot Prayer, Proud Boys, etc.) and anti-fascist demonstrators (antifa, PopMob, etc.), including a Patriot Prayer-instigated May Day brawl that resulted in several arrests and a lawsuit filed by Cider Riot. In November, it also fell prey to another 2019 trend: Like several other breweries in town, Cider Riot closed shop.
Death penalty
Oregon hasn't executed a person on death row since 1997. But somehow, a new law that significantly narrows the use of capital punishment caused one of the fiercest political fights of the 2019 Oregon legislative session. District attorneys warned that the new law would send Oregon's court system into a state of chaos, while progressives celebrated the near-end of capital punishment, which wastes millions of state dollars every year. The law went into effect in September.
E-cigs and vapes
Two Oregonians died this year from a rapid-onset lung illness associated with using either cannabis vape pens or e-cigarettes, prompting the Oregon Health Authority to enact a ban on all flavored vaping products in October. That ban didn't last long—the Oregon Court of Appeals halted it days later, after e-cigarette manufacturers filed a lawsuit—but the Centers for Disease Control and Prevention (CDC) still advises not using any vaping products.
Free Hot Soup
Organizations like Free Hot Soup and Portland Assembly have long used Portland's public parks as places to serve free meals to Portlanders in need. In October, Portland Parks and Recreation rolled out a new permitting process that could have financially stifled these groups. In response, Free Hot Soup sued the city, calling the new permit requirement unconstitutional. The city hasn't been enforcing the policy since the lawsuit was filed. Stay tuned for the fallout in 2020.
Guns
Gun control was one of the many big losers in this year's legislative session. First, Democratic lawmakers stalled a gun control bill crafted by Portland-area teens, fearing it was too far-reaching to pass. Democrats then sacrificed another, less-comprehensive gun control bill in exchange for a $2 billion school funding package.
Hate crimes
Lawmakers gave Oregon's outdated hate crimes law a needed revamp during the 2019 legislative session. Along with adding "gender identity" to the list of reasons why an Oregonian might be targeted for a hate crime, the new policy places harsher penalties on those who commit a hate crime. Multnomah County has already arrested several Portlanders under the stricter law.
Interstate 5
The Oregon Department of Transportation (ODOT) plans to add two auxiliary lanes to a 1.7-mile stretch of I-5 in Portland's Rose Quarter, a $500 million move the agency says will reduce carbon emissions and safety by fixing a traffic bottleneck. There's just one problem: Environmental advocates and transportation experts call bullshit. From a public comment period that started in spring through an important decision scheduled for December, these activists have made themselves heard at rallies and meetings. Keep your eyes peeled for news on whether ODOT will have to conduct a more rigorous environmental study before proceeding early in 2020.
JTTF
Portland City Council voted to (again) withdraw Portland police representatives from the FBI's Joint Terrorism Task Force (JTTF), a group of regional law enforcement officials who collaborate on domestic terrorist cases. Removing Portland from the JTTF was one of Commissioner Jo Ann Hardesty's primary campaign promises, as the program has been known to surveil and disproportionately target immigrant communities.
Killed by cop
Portland police shot and killed five people this year, the highest annual number that Portland's seen since 2010. Four of those killed were experiencing a mental health crisis at the time they died, causing city officials to blame the shootings on the mental health system. In the past decade, no Portland police officer has been arrested or disciplined for killing a Portlander.
Lawsuits
The city of Portland and Portland Police Bureau (PPB) found themselves on the receiving end of several lawsuits from people injured by police while protesting. Peggy Zebroski, a 68-year-old woman who had her nose broken by cops at a 2017 demonstration, lost her ACLU-assisted lawsuit against the city. Two different lawsuits from protestors injured during 2018 protests will likely be decided in 2020.
Milkshake
June 29 saw the first alt-right-versus-antifa protest of the summer and, like any decent summer event, milkshakes were involved. PopMob, a group of antifascist organizers, handed out vegan milkshakes as part of their plan to draw attention away from Patriot Prayer's message—and some folks chose to throw those milkshakes at the alt-righters. The real trouble came when PPB's official Twitter account posted an unverified claim that there was quick-drying cement in those shakes, drawing national media attention. Months later, no "concrete" evidence has emerged, and neither PPB nor Mayor Ted Wheeler, who oversees the bureau, have issued any sort of retraction, despite requests from PopMob to do so.
Neighborhood associations
City Commissioner Chloe Eudaly proposed a new framework to bring more equity into the city bureau that oversees neighborhood associations—and neighborhood associations lost their shit. Despite having the support of minority groups who've long been underrepresented by the Office of Civic and Community Life, the association pushback pressured Eudaly to delay the decision until 2020.
Open and accountable
Candidates participating in the May 2020 primary election will be the first folks to take advantage of Portland's new Open and Accountable Elections program, which helps level the playing field by matching a candidate's small-dollar donations six-fold. Mayoral candidate Sarah Iannarone has already benefited from the program, while Wheeler has declined to participate. But in September, the Mercury found that software issues could lead to problems with the program. We'll see what happens in 2020!
Parks budget
During this year's budget cycle, it became apparent that Portland Parks and Recreation is facing a $6.3 million dollar budget shortfall. The city is looking into solutions—including possibly creating a special parks district in Portland, which could open up new funding options—but for now, that debt is being eased by reduced programming and shorter hours at community centers. Oh, but don't worry: All of the city's unprofitable golf courses are still open!
Quake
A controversial new city policy requiring old brick buildings to be labeled as unsafe in an earthquake was supposed to go into effect this year. But between criticism from the Portland chapter of the NAACP and tenants' rights advocates (both of which saw the rule as discriminatory), and a successful lawsuit from building owners who claimed the ordinance violated the First Amendment, the policy never got off the ground. City Council officially overturned it in October.
Rent
City Council passed a series of rental reforms championed by Eudaly, including requiring landlords to assess applications on a "first-come, first-served" basis, placing limits on security deposits, and imposing new regulations on Airbnb. The rent is still too damn high (even nine whole years after that reference was relevant!), but this should help.
Sondland, Gordon
For a few weeks during the Trump impeachment hearings, Portland's millionaire weirdo became America's millionaire weirdo. Sondland's testimony ("President Zelensky loves your ass!") was among the most damning for Trump, and local politicians suffered fall out as well: Wheeler, Commissioner Nick Fish, and former state Rep. Knute Buehler had all taken donations from the hotelier. (After Sondland's testimony, each passed those donations on to charities.) In November, a joint investigation by Portland Monthly and ProPublica revealed that Sondland is an alleged sexual harasser, putting the final nail in his reputation's coffin.
Texts
In February, Willamette Week and the Mercury broke the news that PPB Lt. Jeff Niiya, acting as a community liaison, exchanged texts with Patriot Prayer's Joey Gibson that suggested preferential treatment for the alt-right group. A city investigation cleared Niiya of any wrongdoing, though it also found PPB's training for liaisons lacking.
Unions
The threat of an employee strike loomed over many Portland institutions this year, including Portland State University, Fred Meyer, and Kaiser Permanente. For the most part, the unions ended up winning higher wages and new benefits for workers—inspiring employees at other Portland workplaces, like Grand Central Bakery and Disability Rights Oregon, to start fledgling unions of their own. Meanwhile, the unions at Little Big Burger and Burgerville continued to make measured progress, battling their higher-ups every step of the way.
Vision Zero
At least 46 people—including pedestrians, bikers, and drivers—died in Portland traffic collisions in 2019, significantly more than in the previous several years. The always-climbing tally has become a rallying cry for bike activists demanding safer road conditions. It's also raised questions about how effectively Portland is enacting Vision Zero, a series of road infrastructure and rule changes meant to bring traffic deaths down to zero.
Wapato
Wapato is an unused jail built by Multnomah County. Jordan Schnitzer is a wealthy man who bought it and is relentless in his pursuit to turn it into the world's most inconvenient homeless shelter, despite almost zero support from experts in homeless services. JORDAN SCHNITZER! STOP TRYING TO MAKE WAPATO HAPPEN!
Title X
Governor Kate Brown decided Oregon would stop receiving Title X funds—money from the federal government that helps cover reproductive health services for low-income people—after realizing a new Trump administration policy linked to Title X presented a barrier to abortion access. This was just one of many ways Oregonians resisted Trump in 2019, along with protests, bold new Oregon Supreme Court rulings, and federal lawsuits.
Youth
There's a new movement in town: Sunrise Movement PDX, the local chapter of a national youth-led fight to curb the effects of climate change. Sunrise helped organize the massive Portland Climate Strike in September and has pushed local leaders to take more aggressive stances on issues like freeway expansions and fossil fuel infrastructure. Its organizers have also gotten into a few tangles with Wheeler's communications team, which means they've officially arrived as a progressive Portland institution.
Zenith
Early this year, OPB reported that oil company Zenith Energy was running crude oil trains through Portland and planned to expand its oil terminal facility on the Willamette River. A wave of pressure from environmental activists emboldened the city to deny Zenith an important building permit. The buzz around Zenith also brought a new focus to the Critical Energy Infrastructure Hub, a six-mile stretch along the Willamette that houses most of the state's fuel supply that would be extremely vulnerable during an earthquake. County and city leaders are now studying the area and looking for ways to hold fuel companies accountable, so expect more on the issue in 2020.
Sponsored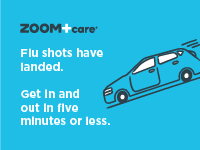 ZOOM+Care makes flu shots easy and safe. Schedule ahead, skip the line—get in and out in 5 minutes.