On Thursday morning, homeless Portlanders camping alongside Laurelhurst Park awoke to news they'd been long dreading: They had to leave. At around 9 am, a cleanup crew with Rapid Response Bio-Clean, a hazardous waste removal business that contracts with the City of Portland to clear campsites, arrived to tell the estimated 30 campers they had an hour to relocate.
By 9:30, some campers had begun taking down their tents and other structures—many of them soaked after a night of heavy rain. Several people were crying as they stuffed their belongings into garbage bags provided by Rapid Response workers.
"I can't believe it's happening," said one woman, who asked not to be identified. She said she was living at the encampment after escaping an abusive relationship, and called the group her "family."
"I don't know where I'm going to go," she said.
The encampment currently stretches along the sidewalk of SE Oak between Cesar Chavez Blvd. and SE 35th, a street that cuts through the Southeast corner of Laurelhurst Park. Homeless Portlanders have occupied the short strip of publicly-owned land for the past six months, many of them relying on the camp as stable place to remain during the COVID-19 pandemic. The occupied property sits in the middle of one of Portland's wealthiest neighborhoods.
The city's cleanup was originally scheduled for last week, but was delayed after activists held a demonstration to stop the mass removal. On Tuesday, the city gave campers a 48-hour notice that they'd be clearing the camp. Many activists returned Thursday to help campers relocate and ask Rapid Response to slow their process. By 10 am, Rapid Response owner Lance Hamel had agreed to give campers a few more hours to pack up before his staff would start clearing the area themselves.
Portland has paused most campsite removals during the COVID-19 pandemic, following guidelines from the US Centers for Disease Control and Prevention (CDC) to help people to safely shelter in place if housing isn't available. According to the city's Homelessness/Urban Camping Impact Reduction Program (HUCIRP), the only encampments "where movement might be required are those that pose a significant public health and safety risk."
According to HUCIRP spokesperson Heather Hafer, the SE Oak encampment had reached that point. Despite weekly and daily trash pickups provided by the city, the trash buildup and crowded rows of tents violated the CDC's public health requirements.
"We started doing outreach with campers in August, with workers out three times a week connecting with people," said Hafer. "Our goal was to just have them follow protocol. We don't want to remove campsites. It costs a lot of money and it is a hard and stressful process for everyone. But it's not manageable anymore."
According to the Joint Office of Homeless Services (JOHS), 56 people staying at the SE Oak camp have requested to be relocated to a shelter since August. JOHS spokesperson Denis Theraiult says that 18 of those people have actually shown up at a shelter after being referred there by an outreach worker with JOHS' navigation team.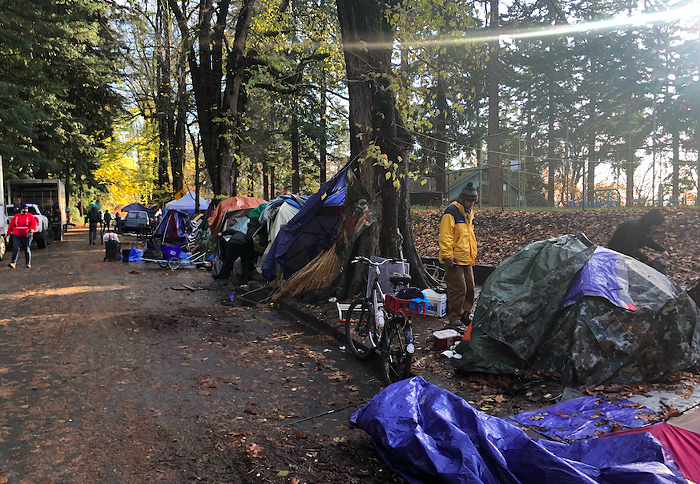 Rapid Response's Hamel said that he often recognizes campers from past campsite cleanups. Hamel believes that some of the campers choose to be homeless and aren't interested in pathways out.
Each of the eight campers the Mercury spoke with Thursday said they would like to be living in a house. Some said they were on a long waiting list for low-income housing, others said they were concerned that their substance abuse would disqualify them from transitional housing programs.
While the majority of shelters in Multnomah County are low-barrier—meaning they don't turn away people who are using substances—the city's shelters are currently at near capacity. Part of that is due to COVID-19 social distancing requirements that limit capacity in sometimes tight-knit shelters.
All eight campers that spoke to the Mercury said they were planning on just relocating their tent to another place in the city.
Kaia Sand, director of Street Roots, visited the encampment Thursday morning. Sand said that the campsite sweep felt particularly sad.
"It's a bad policy to tear apart a community whose lives are already hanging on by a thread," said Sand. "When we're seeing more destruction from the city than positive steps forward, that's a bad sign. I wish it was part of the city's policy to have the mayor show up during these sweeps and talk to people."
Sand said that deconstructing this community during the winter and in the middle of a pandemic is more dangerous for public health than leaving it be. While there has yet to be any significant outbreaks of COVID-19 among Portland's homeless population, Sand said it is actions like this that could spur one.
"The CDC is clear: Moving shelters is bad for public health," said Sand. "Dispersing this camp is dangerous for everyone in this city,"
Oregon is current in the midst of a two-week "freeze" due to a significant surge in COVID-19 cases. While this decision, made by Gov. Kate Brown, has shuttered restaurants, gyms, and performance spaces, it has not impacted the city's protocol around campsite cleanups.
"We are not putting a freeze on cleanups, since the purpose of these cleanups is to reduce waste and biohazards and help ensure the safety of all community members…especially during a pandemic," said Hafer in an email to the Mercury. Hafer said Rapid Response crews will continue to visit homeless encampments daily to pick up trash.
Mayor Ted Wheeler addressed the cleanup in a brief press statement sent late Thursday morning.
"As we continue to address sites that pose risks to public and environmental health and safety," he wrote, "we will be deliberate in ensuring we continue to thoughtfully and sustainably balance a broad variety of needs and expectations."
City Commissioner Dan Ryan, who oversees JOHS, sent a nearly identical press release shortly after, with some sentences pulled straight from Wheeler's statement.
The removal is expected to be completed by Thursday evening.