Becky Lange had spent months building and maintaining the community vegetable garden at NE Dekum and 33rd Ave. Neighbors had donated planting containers and vegetable starts at the beginning of spring, and the late-June heatwave meant the garden was finally producing enough bounty to share. That's why, on June 27, Lange held back tears as she surveyed the garden plot. Plants lay uprooted and wilting in the hot afternoon sun in a garden bed dimpled with hastily dug holes. The soil held imprints of now-missing stepping stones that had allowed Becky to reach her fledgling plants with a watering can. Nearby, shards of shattered glass from her homemade greenhouse lay scattered on the ground. 
"I wanted to do good," said Lange. "I wanted to show housed people that we aren't all bad. That we can contribute to the neighborhood."
Over the course of the past week, a team of city contractors had blown through the garden, which sat adjacent to a homeless encampment. Instructed by the city to clear the campsite, staff decided to tear out part of the community's vegetable garden and memorial flower garden in the process.
"They've taken everything I have out by the roots," Lange said. 
Lange wasn't just referring to the vegetable plants. For the past two years, Lange and a dozen or so other Portlanders who had found themselves homeless had called NE Dekum and 33rd home. The community, dubbed Hamlet 33, had become a refuge for people who felt unsafe living outside on their own, and offered the kind of support and stability that helped people prioritize making a move into permanent housing. The space was kept clean by regular trash pick-ups and residents self-policing to keep out abusive or criminal visitors.
Now, Hamlet 33 had been hastily dismantled before Lange's eyes. Before her garden was uprooted, Lange had watched as contractors unzipped her tent and shook its contents on the ground, before throwing the tent in a dumpster. Lange estimates she lost several thousand dollars worth of clothing and other personal property in the sweep. 
By all measures, Hamlet 33 served as the kind of solution to chronic homelessness that local leaders have sought to prioritize in recent years, like the city's "Safe Rest Village" program. Yet those villages—which offer temporary outdoor shelter for homeless people seeking permanent housing without being threatened by sweeps—have been slow to open their doors, leaving unhoused Portlanders to establish their own ad-hoc shelters on alternative plots of land.
Encampments like Hamlet 33 have offered a place for people without housing to stabilize during a disruptive pandemic and economic crisis, in lieu of availability at city sanctioned outdoor shelters. And yet, the city still chose to tear it down last month.
"I don't know why they prioritized us," said Lange. "We tried to do everything right. It hurts."
Like many Portland homeless camps, Hamlet 33 grew as a response to an unmet need: A lack of affordable housing. 
Lange had been renting an apartment in 2020 when her roommate unexpectedly asked Lange to leave to make space for her boyfriend's son. Lange began looking for apartments to move into, and quickly realized how few were in her price range—making the process of applying to an affordable unit that much more competitive. Despite having thousands in savings, Lange wasn't able to find an affordable rental by her move-out date, so she and her partner moved into a tent. They chose a spot that felt relatively safe and unobtrusive—a patch of grassy land bordered by NE Lombard, NE 33rd, and NE Dekum. 
Lange made a point to meet the people living in houses near the property to explain her situation and build a neighborly relationship. She was soon joined on the plot by others in similar situations, like Jazz Murray, who was left houseless after losing her financial aid as a Portland Community College (PCC) student in 2021. Murray's aid was pulled after she failed two classes one semester. Not only was Murray unable to continue her courses, she was no longer able to pay for rent.
"I'm just a college student that had one bad semester," Murray said.
Murray chose to camp in Concordia Neighborhood because it felt safer than other areas of Portland—and it was close to a college, Concordia University, where she was hoping to re-start her studies (Murray didn't realize until later that Concordia had permanently shuttered in 2020). Like Lange, Murray felt the need to introduce herself and her service dog to housed neighbors near Hamlet 33 before setting up her tent.
"It was important to me to have a cordial relationship with the neighbors, and make sure they were okay with me being there," said Murray, who recalled all the neighbors she spoke with being welcoming. 
Some neighbors would come by to drop off supplies—blankets, food, and sanitary items as COVID-19 spread across Portland. One housed neighbor even built a portable handwashing station for Hamlet 33 residents to use in 2020. Volunteers chipped in to help residents build a small wooden tiny home on the property, complete with paned windows and insulation.
Zora Hess is one of the Concordia neighbors who has spent the past several years volunteering her time to support Hamlet 33 and its residents. Hess has pitched in to help with garbage clean-ups, contributed to the camp's garden, and, when heavy rains flooded the camp, was on site to help build a covering to keep campers dry. 
"I've acted as a go-between the neighbors and Hamlet 33," said Hess. "I've made a point to spend time here, and show other neighbors, 'Hey I'm a housed person and I feel safe here.'"
Everyone staying at Hamlet 33 had ambitions of moving into more stable housing. Most of the residents were on waiting lists for affordable housing through the city or a nonprofit. Some were holding out for those waiting lists to reopen after being closed for getting too many applicants. Several had medical issues, and a few relied on regular visits to the nearby HIV clinic for low-income clientele.
"Hamlet 33 was a medically fragile community of people in poverty all waiting for housing," said Hilary Nichols, a health equity organizer with OHSU's Richmond Clinic. Nichols learned of Hamlet 33 and met Lange while building relationships with unhoused Portlanders through her work, which looks into how social issues disproportionately impact Portlanders' health.
"I saw Hamlet 33 and thought, this is something that was started by someone who is experiencing the issue itself and is taking it upon herself to meet the needs of the community," said Nichols. 
---
"Hamlet 33 was a medically fragile community of people in poverty all waiting for housing." Hilary Nichols, health equity organizer at OHSU's Richmond Clinic
---
Nichols used her position with OHSU to advocate for Hamlet 33, whether that meant calling the mayor's office or helping Lange make a presentation about the community before the Concordia Neighborhood Association in mid-April.
Nichols pushed back on proposals to sweep Hamlet 33 on the argument that it was healthier for its vulnerable residents to stay in a supportive community. She partnered with other housed neighbors like Hess to petition City Hall to provide the camp with a toilet, which they denied. 
In an email to the Mercury, city staff said they were unable to offer Hamlet 33 a porta-potty because it would have violated right-of-way regulations set in place by the Oregon Department of Transportation (ODOT), the agency that controls the Hamlet 33 property. 
After learning that the city wouldn't provide trash pick-up at the camp either, neighbors reached out to an organization called Clean Camp PDX, which offers trash receptacles and trash pickup for free for homeless encampments. Will Denecke developed Clean Camp PDX after attempting to work with the city to develop property where homeless people could safely, legally camp—but ran into too many bureaucratic roadblocks. 
"Rather than getting frustrated and giving up," Denecke said. "I focused on what we can do without having to deal with the city."
So Denecke turned to trash pick-up. Denecke said that, through his work, Hamlet 33 stood out to him as being one of the first homeless camps where it appeared that a neighborhood was "actively involved" in seeing it succeed. In many ways, it was reflective of the kind of programs he had initially hoped to bring to the city.
"That is what we want to see as a city," said Denecke. "And then the city destroyed it."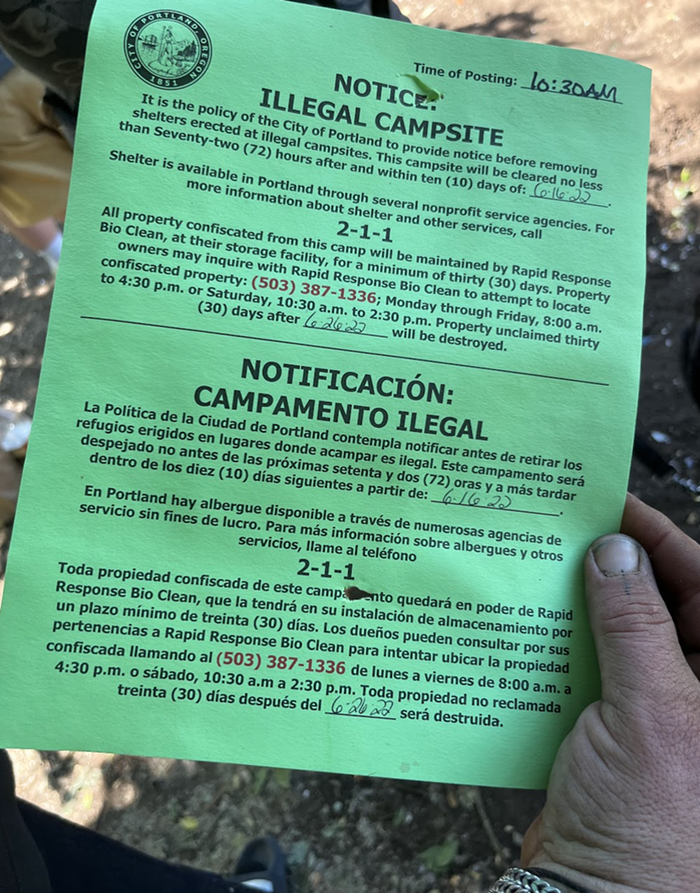 The city didn't initiate the sweep entirely on its own—it was steered by other housed Portlanders opposed to the camp. According to Skyler Brocker-Knapp, a policy advisor to Mayor Ted Wheeler, the city had received complaints about Hamlet 33 since March 2021.
"For a year and a half after the first complaint we evaluated and monitored the site," wrote Brocker-Knapp in an email to the Mercury. "We intervened when conditions of the camp deteriorated to the point that it met the threshold for removal."
Some Concordia neighbors made sure to keep the camp on the city's radar. One housed neighbor went as far as making a slideshow of photos of the camp juxtaposed with claims about criminals allegedly living in the camp, concerns about school children having to witness the camp, and screenshots of complaints posted on NextDoor.com about the camp. 
The neighbor sent the slideshow to Peter Keller, chair of the Concordia Neighborhood Association, who had met with Hamlet 33 residents a few times in the past to hear their concerns.
"In the beginning, I know neighbors supported the camp—and we mostly just let them be," Keller said. "To be honest, I empathize with them. But it's not realistic. They think they can just squat and have land rights. Well, we live in a society with structured rules. Just because you put a garden there doesn't make it yours. I appreciate the outreach, but there's something manipulative about it."
For Keller, this neighbor's slideshow pushed his brewing concerns about Hamlet 33 over the edge. 
"It's not just because the camp's unsightly," he said. "There were emergency services called out there at all times of the night. People in mental health crises. Buckets of poop. Fires. And now, neighbors are telling me about criminal activity."
Keller said it was well-known within the neighborhood that there were more "bad actors'" living in a portion of the camp across NE Dekum from the original Hamlet 33 lot, who immediate neighbors accused of theft and heavy drug use. He knew that Lange and others had tried to keep those individuals out of Hamlet 33, but said their actions reflected poorly on the entire encampment.
---
"It's not realistic. They think they can just squat and have land rights. Well, we live in a society with structured rules. Just because you put a garden there doesn't make it yours." Peter Keller, chair of the Concordia Neighborhood Association
---
Lange said that the only fire she recalls taking place at Hamlet 33 was one started by a Molotov cocktail thrown by a passing vehicle. She also said residents themselves were victims of crime—not criminals. 
"When there was a drive-by shooting by Hamlet 33, everyone blamed it on us," said Lange. "It was terrifying, we live in tents. But no one came out to check if we were okay."
Keller forwarded the neighbor's slideshow to the mayor's office in mid-April. The city conducted its first camp sweep in the area on April 25.
Brocker-Knapp said that the city delayed sweeping the main Hamlet 33 camp until late June because they were aware that the camp was home to medically fragile people that needed help finding resources. The camp was a focus of the mayor's newly-created Street Services Coordination Center, which has zeroed in on increasing homeless camp sweeps across Portland on the heels of the pandemic.  
Brocker-Knapp said Hamlet 33 ultimately was scheduled to be swept because it had ranked high on the city's internal matrix used for measuring a campsite's threat. Specifically, the camp was marked as a biohazard concern for not having access to toilets, and a nuisance because of the alleged criminal activity reported by housed neighbors at the site. On top of these issues, the camp was situated by NE Lombard, a street that the city describes as a "high crash corridor." In February, Mayor Ted Wheeler signed an executive order banning homeless camping from along these busy streets. 
City contractors with Rapid Response Bio Clean spent hours tearing down the structures at Hamlet 33 on June 21. Lange, who was on the scene, said contractors threw the majority of structures and property into  the trash.
She said it took hours for staff to take apart the tiny home, which was built with high-quality construction material and thrown directly into the garbage. The crew also smashed the windows of the greenhouse Lange had built on site, leaving the glass on the ground. Lange claimed that Rapid Response staff refused to take and store the property she had watched them shake out of her tent. With her tent thrown away by the city, Lange no longer had a place to store her possessions, including her medications—which the contractors allegedly threw away. It is city policy to store any personal property recovered during a camp sweep for up to 30 days at a city facility. 
Murray also lost most of her property in the sweep, including all of her clothing. Murray said she had placed a bag full of her clothes in an area Rapid Response staff said was designated for personal items, only to watch a crew member rip the bag open and individually toss each piece of clothing into a dumpster. 
"They threw out childhood photographs, sentimental things," says Murray. "And it felt intentional. They made sure I was looking when they threw everything I had away." 
Less than a week after the crew descended on Hamlet 33, the site was nearly wiped clean of any evidence that it had been occupied—aside from the pile of torn-out vegetable plants.
"There's a situation where the city came in and actively made things worse," said Denecke with Clean Camp PDX.
Knowing firsthand how challenging it can be for the city to establish outdoor shelters, Denecke said it's bizarre that the city would work to tear down one like Hamlet 33 that appeared to be working for the community it served. 
"You'd think that, after five years of sweeping people, the city would have created sites where people can camp reasonably," he said. "In lieu of that, what do you expect?"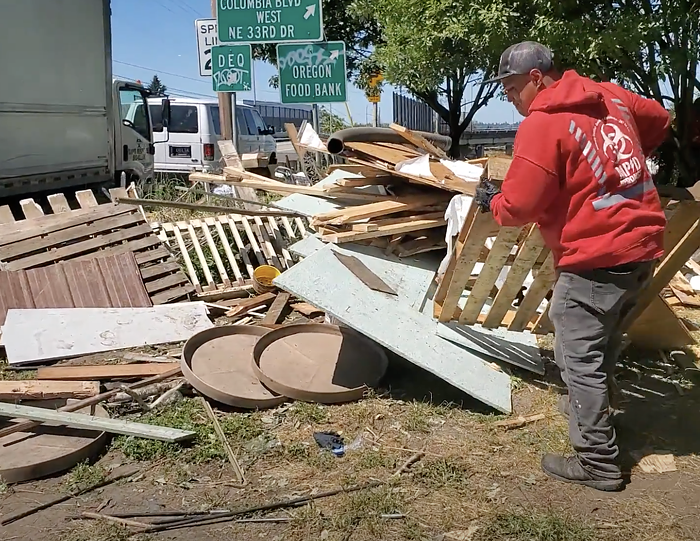 The city has invested in something similar to what Denecke is asking for with its Safe Rest Villages. Under the direction of City Commissioner Dan Ryan, the city has plans to create six villages—outdoor shelters consisting of sleeping pods where people can sleep, wash, and access social services. The villages are meant to serve as a step between unsheltered homelessness and housing—a service that the city has identified as a critical need for Portland's unhoused population. 
"Safe Rest Villages will be a first step off the streets towards restoration and stability," said Ryan, at a February press conference. "They're not the only thing that's needed, but they are an important part and we cannot afford to wait. We cannot keep talking about the perfect solution and let it get in the way of good action."
Yet, perfection has delayed the villages' planned rollout. Ryan initially announced that the six villages would be open by the end of 2021. As of June, however, only one village with 30 beds has opened its gates to residents, and the rest remain stalled by contract delays and neighborhood complaints.
"What we're learning is you have to provide an opportunity for neighbors to be part of building the community," Ryan told the Mercury Thursday. "It's difficult work, and we must remain persistent."
The importance of these villages in the greater ecosystem of homelessness solutions was underscored in a Portland State University (PSU) report published in April. While acknowledging that permanent housing is the leading solution to homelessness, the PSU study concluded that alternative shelters like "tiny pod villages"are a solid alternative in the interim. 
Hamlet 33 residents didn't see their community as a village. Yet many had aspired for the encampment to  become one, while others hoped to move into already-running villages.
OHSU's Nichols sees similarities between the city's planned villages and Hamlet 33.               
"They have the same intent, to create a safe place for people to rest while they wait for more permanent housing," said Nichols. 
Nichols was particularly shocked by the city's decision to sweep the camp. Prior to working at OHSU, Nichols worked for the city of Seattle in a community engagement position. During her tenure, Seattle was seeing a rising number of homeless camps, making them a frequent focus of conversation among city staff. 
"I heard a lot from my coworkers about the health and safety issues of camps themselves, and I bought into the idea that sweeping camps was a solution," said Nichols. "I thought it was the right thing to do. I would give people numbers to call to report a camp to get swept. It's something I'm ashamed of now." 
After getting connected with Hamlet 33 and watching the residents lose their shelter overnight, Nichols says her views have completely changed.
"I was shocked at the astronomical level of trauma that it left on the residents," said Nichols. "I saw how it worsened all of their physical health, since they had shelter taken away from them right before a 100-degree heatwave, their mental health, because it's traumatic to be forcibly removed from the only home you have, and social health, since it ultimately set folks farther back in finding stable housing and disrupted the entire community that had formed there."
Nichols' anecdotal observations are backed up by academic research. A 2022 study by UC San Francisco researchers found that the instability and material loss caused by homeless sweeps can contribute to "less effective management of chronic health conditions, infectious diseases, and substance use disorders, and may increase physical injuries and worsen mental health."
According to Brocker-Knapp, the city's Street Services Coordination Center led "intensive outreach" at Hamlet 33 prior to the sweep to make sure people had a safe place to relocate to. 
"Every individual camping on the site that we were able to make contact with was offered an immediately available congregate shelter space, storage of their additional belongings, and transportation to the shelter with two bags of belongings," Brocker-Knapp said.
This wasn't a realistic solution for many of the residents, many who've had traumatic experiences staying in shelters before. Lange said most people would prefer the stability of living in a tent over the unpredictable chaos of a shelter. 
"Shelter beds hide visible homelessness for a few hours, that's all they do," said Lange. "Shelters kick people out during the day… you can't keep your things there, you're not guaranteed a bed the following night. And people wonder why homeless people aren't jumping at this option."
On the first day of the sweep, Lange said a city employee promised her that he was going to get her into a home—along with her boyfriend and dog—that day.
"He was on the phone all day, calling different people and organizations," said Lange. "But by the end of the day, he had gotten so frustrated because he couldn't find something that would work." 
He ultimately offered to move Lange and her boyfriend into a Safe Rest Village if she agreed to surrender her dog. She refused, and instead accepted a temporary hotel voucher where she could stay for a couple days. 
Murray said she was never offered a place to move into by the city. The whole ordeal has dealt her a major setback in her plan to leave homelessness behind. Murray said she had a job interview lined up at the nearby McMenamins Kennedy School the week of the sweep, which she had to cancel to quickly move. Right after the sweep, Murray spent several nights in the hotel room that Lange had been offered. 
---
"Shelter beds hide visible homelessness for a few hours, that's all they do." Becky Lange, former resident of Hamlet 33
---
Hess, who's been scrambling to connect with the displaced Hamlet 33 residents, said that those who previously lived at the camp are now living "in even more dangerous places," like alongside busy freeways or in areas that frequently flood. 
"I didn't see a single positive thing coming out of the sweep of Hamlet 33," said Nolan.
Keller, the Concordia Neighborhood Association chair, agrees. Days after the late June sweep, Keller said he noticed campers returning to the vacated plot of land. He doesn't see how the city's clean-up resolved any issues.
"It really seems like a no-win situation," said Keller. "If people are just returning right after a sweep occurs—then what? We know that sweeps are a really disruptive process for people living in camps. So why do they do it?"
For the mayor's office, removing homeless people from what the city believes to be dangerous spaces is the crux of the job.
"Leaving people to camp in dangerous and squalid conditions outside in the elements is not a compassionate solution to homelessness," wrote Wheeler in a statement emailed to the Mercury. 
What happens after a sweep appears to be less vital. According to the scarce city data collected by the Oregonian, Wheeler's new Street Services Coordination Center has led to about 15 people staying at a shelter for at least one night on a weekly basis. There are an estimated 3,000 unsheltered people living in Multnomah County.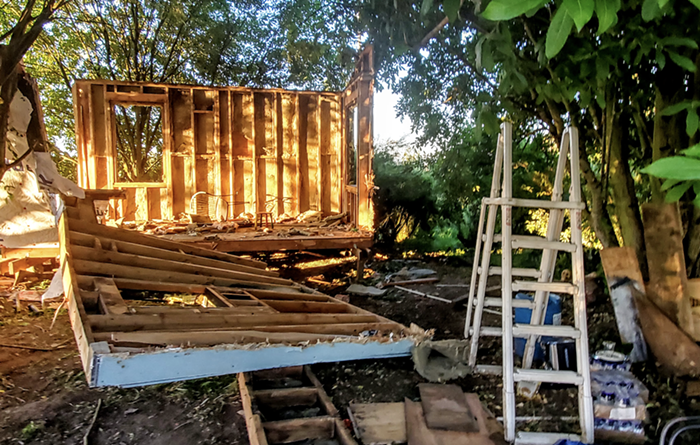 Not all local politicians are in agreement over how the city has handled its homeless crisis. To Multnomah County Commissioner Sharon Meieran, places like Hamlet 33 should be supported, not torn down. Meieran called the camp a "poster child for a potential solution to the region's homeless crisis." 
Prior to the camp sweep, Meieran met with Hamlet 33 residents and advocates. Meieran said she was both impressed and shocked by what she learned. 
"Hamlet 33 is what I had been advocating that we create across the county," she said. "This is the solution we need. The idea that this group of people was swept was really upsetting to me."
Meieran believes camps like Hamlet 33 provide critical stability for vulnerable people living outside seeking housing. Meieran said that the polarized thinking around solving homelessness is what keeps other local politicians from coming to the same conclusion.
"I think one of the biggest problems is getting people to realize: This is not a solution to homelessness," she said. "This is an approach to solving a public health crisis to get people living safer, healthier, and with more dignity. It's a step along the path to solving homelessness."
Murray is one of the several Hamlet 33 residents who've since returned to the property. Like before, Murray made sure to check with the nearby housed neighbors before setting up her tent. She said they were happy to see her again. 
"I wasn't planning on being out here this long," said Murray. "But that's the way it is."
Murray said she feels ready to continue pursuing her path out of homelessness that was interrupted by the city's sweep. 
"I'm applying for jobs again, and I'm planning on talking to the college about fixing my financial aid problem," said Murray. "My dream is to go back to school and finish my degree. I think I can do it. I just hope they don't come back and sweep us again."