Trucks and moving vans showed up at Laurelhurst Park early Halloween morning to start breaking down tents and packing up the belongings of those residing on the sidewalk between SE Cesar Chavez Ave. and SE 37th Ave. Residents had been warned about the camp sweep last week, and some had relocated before staff with Rapid Response Bio Clean—the city contractors hired to clear homeless camps—showed up Monday. Others expressed frustration as they hastily took down their tents and loaded their possessions onto carts in the morning drizzle. 
"This is the second time in two months they've made us move," said one man packing up his belongings, who declined to share his name with the Mercury. "I'm so sick of this."
The two-block stretch of SE Oak St. that separates Laurelhurst Park's north and south portions has been a frequent landing place for unsheltered Portlanders due to its relative protection by the park's tree canopy and nearness to homeless services in Southeast Portland. As of Sunday afternoon, the sidewalk houses nearly 25 tents.
The sidewalk campers have also been a regular target of neighborhood harassment and city-led camp sweeps in recent years. In August, a group of neighbors retained a lawyer to sue the city for not clearing tents near Laurelhurst Park, alleging that their camping has damaged trees along the park's outer edge.
Usually, the goal of a homeless camp sweep is to remove the visuals of unsheltered homelessness from public spaces. This time, the city is clearing the camp with a bigger plan in mind: Turn the the street into an extension of Laurelhurst Park.
In short, the two blocks will be blocked off from traffic and filled with pickleball courts, a skateboard half-pipe, a "bicycle skills area," and benches. Here's a mock-up of the proposed project: 
The project is being overseen by the Public Environment Management Office (PEMO), a new department created through an emergency declaration penned by Mayor Ted Wheeler in May, and was created to intentionally discourage unsheltered homeless Portlanders from setting up tents along the street. According to city staff, the plan is the final stage of a proposal first floated last November to install benches along the SE Oak St. sidewalk to deter camping. This plan was fast-tracked through the mayor's office, with little involvement from bureaus that would traditionally oversee such a project, like the Portland Bureau of Transportation (PBOT) or Portland Parks and Recreation (PPR).  That's due to a memorandum of understanding that allowed the mayor's office to wrest control from PBOT and transfer the project to PPR under PEMO oversight.
According to staff for Commissioner Carmen Rubio, who oversees the parks bureau, the commissioner backs this proposal. 
"This is an idea that existed before Commissioner Rubio took office," wrote Jillian Schoene, Rubio's chief of staff, in an email to the Mercury. "She supports the multi-bureau team in exploring the idea to see if it makes sense to do this now and what exactly we would program for the community that is already a parks-identified need."
Commission Jo Ann Hardesty, who oversees PBOT, has yet to respond to the Mercury's request for comment on the proposal.
On Monday morning, city staff were already setting up temporary fencing around the blocks' perimeter and large concrete traffic barriers at the entrance to SE Oak St. from SE Cesar Chavez Ave. According to PEMO, the city will begin refurbishing the street's asphalt and installing the pickleball courts in November. It's not clear when the entire project is expected to conclude.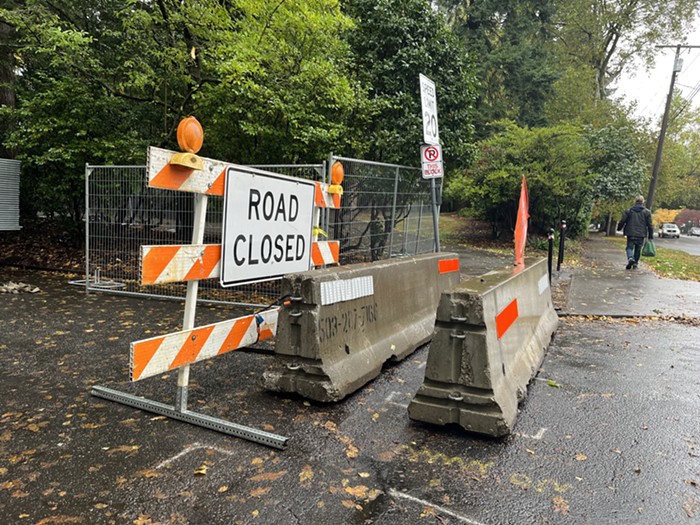 On Monday, homeless campers expressed little interest in the city project—only disappointment that they had to once again be displaced by a city sweep. 
"This is an awful day!" shouted a man from inside his tent, rushing to pull together his belongings as Rapid Response Bio Clean workers bagging up tents moved closer to his site. 
According to a representative from the Portland Fire Bureau, who was on site to help connect people with shelter beds and other services, three people who had been camping along SE Oak St. had accepted a free taxi ride to a homeless shelter. Several neighbors with a truck also stopped by the camp clearing Monday to help move and store some of the campers' personal belongings.