As temperatures dipped below freezing Wednesday night, dozens of Portlanders huddled under a canopy on NW Davis Street to share stories about homeless neighbors who passed away in 2022. 
"We're here tonight to remember those we lost this year," said Barbra Weber, who emceed the evening memorial hosted by Sisters of the Road. "There's always too many."  
December 21—the longest night of the year—is internationally recognized as Homeless Persons' Memorial Day.  For years, Sisters of the Road has organized Portland's annual event, offering a space for people to grieve and reflect on community members lost. Wednesday night was no different. The more than fifty attendees were offered a warm meal, a hot beverage, and a candle to hold to memorialize the dead. Sisters of the Road staff invited visitors to add photos and names of those who've died in 2022 to a poster board propped up on a table.
Over the course of the evening, members of public shared stories about friends and family that had passed away. One woman spoke of an ex-husband who had died while living outside from heart failure, another of a sister who died after being refused an organ transplant due to having a substance abuse disorder, and another spoke a woman who died during Portland's summer heatwave. Weber spoke about her son, who had died from a fentanyl overdose in September.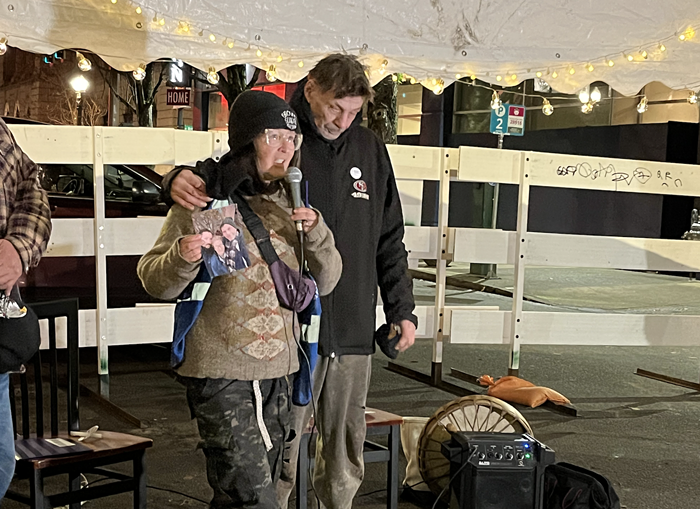 "I was always expecting that call to come," said Weber. "But it didn't make it any easier when it happened."
Weber urged attendees to carry Narcan, the brand name of the anti-overdose drug naloxone, as fentanyl and other opioids remain easy to access in Oregon. She guessed that Narcan had saved the life of at least one person at the Wednesday gathering. 
Weber was right. "Narcan saved my life!" one man shouted from the crowd. "Mine, too!" yelled another, eliciting applause and cheers. 
Gus Kroll, a Sisters of the Road board member, read aloud the names of 19 homeless people who had been killed in the past year, a tally collected from news articles. While some were purportedly murdered by people they knew, the majority had died at the hands of strangers. 
"I want to remind everyone that in Oregon, a person cannot be charged with a hate crime for killing someone solely based on their housing status," Kroll added.
Rhode Island became the first state to pass a "Homeless Bill of Rights" in 2012 that made unhoused people a protected class, prohibiting people from discriminating against someone on the basis of their housing status. Four other states have enacted their own version of this legislation since. A similar bill dubbed "Right to Rest" was introduced in Oregon's 2021 legislative session, but never advanced to the House floor. 
It's not known how many homeless people died in Portland over the course of 2022. Each year, the Multnomah County Medical Examiner's office releases the names of people who died who have no listed residence, drawing the conclusion that those individuals were homeless. The county has yet to release the total number of those who died for 2021, let alone 2022. The most recent report estimated that more than 125 unhoused people had died in 2020.  
By the time the evening event concluded, temperatures in Portland had dropped below 30 degrees. Several in attendance said they planned on spending the night in one of the county's warming shelters, which opened to the public at 8 pm Wednesday. Along with a warm meal, Sisters of the Road staff and community volunteers distributed hand warmers, warm clothing, and other cold weather supplies to unhoused attendees. Despite the freezing weather, those who spoke exuded warmth. 
"This is a sad night," said one speaker, who lives in a tent outside of Sisters of Road's building. "But I want to ask everyone in the audience to smile right now... smile for those that we've lost. In gratitude."