Mayor Ted Wheeler is feeling increasingly iffy about his role at the Portland Police Bureau.
"One of the great oddities of our form of government is that I am... maybe the only person in the United States who is both a mayor and the police commissioner," Wheeler said at last week's city council meeting. "And I will write a book on this subject someday, because it is fraught with peril and contradictions."
It may be the only thing Wheeler and his critics agree on: That the guy elected on a platform of police reform shouldn't also be running the police bureau's internal operations.
"Ordinarily, the mayor would be in the position of holding the police commissioner accountable," Wheeler said at a interview following his "State of the City" address last Friday. "We don't have that."
In fact, Portland hasn't been allowed to hire an outside police commissioner since 1913, when the city adopted a now-archaic form of government that makes the mayor and city commissioners agency executives rather than regional representatives. Under this "commission" form of government, the mayor tasks himself and city commissioners with overseeing million-dollar city bureaus... while also expecting them to deliver fair votes on city issues that may affect their bureau. One of those bureaus is police, which Portland's mayor has traditionally assigned to themselves.
This Jim Crow-era commission model is unavoidably classist. (I'd also call it racist, but it was voted into city charter before Black people could even legally move to Oregon. So.) Unlike our state and national forms of government, commissioners elected to each seat don't directly represent people living within a certain community—a community where they're expected to live. In Portland, that means city commissioners have historically lived in the affluent neighborhoods on the west side of the Willamette. Without representatives who experience life in their various communities, this has repeatedly left lower-income neighborhoods feeling ignored and unrepresented.
It's certainly not a type of government that favors accountability—which is probably why so many cities have ditched it. Along with Columbus, OH, Portland is the last major city in the US to stick with this century-old model. Which doesn't make it endearingly quirky.
More than a few candidates in this year's city council race have stated that one of their first goals, if elected to office, would be overhauling this structure.
Julia DeGraw, a candidate running to unseat incumbent Commissioner Nick Fish, says this form of government is a driving force behind Portland's inequity issues, especially when it comes to housing.
"It's made it hard to come up with good, community-centered decisions when it comes to solving our housing crisis," she told the Mercury last week. "If city council was a group of people representing the entire city, I think they would be a lot more responsive to the affordability issues—and would have been more responsive earlier, frankly."
According to the city, all that stands in the way of upending this structure is a vote to tweak the city charter. But that step has an unusually unsuccessful track record: A measure to scrap the commission government has been shot down no fewer than eight times by Portland voters.
Perhaps Wheeler's passion to ditch the police bureau will reignite this fight. Asked Friday if he'd be open to discussing a government overhaul, Wheeler replied: "I'd be delighted!"
Sponsored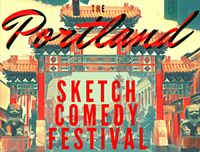 Sketch comedy troupes from all over N. America descend on The Siren Theater for 3 glorious nights.