Twenty people with a mental illness have been killed by the Portland Police Bureau (PPB) in the past decade.
Sponsored
Sketch comedy troupes from all over N. America descend on The Siren Theater for 3 glorious nights.
The first, Aaron Campbell, was depressed and contemplating thoughts of suicide when he was shot in the back by an officer outside his apartment complex. The latest, Koben Henriksen, was homeless with an untreated mental illness when he was gunned down by police near Mall 205.
It was this same decade that the US Department of Justice sued the City of Portland for having a police department that disproportionately used deadly force against people experiencing a mental health crisis. Since that 2012 lawsuit, Portland has been operating under the terms of a settlement agreement with the feds—one that, through new training and increased police discipline, is meant to prevent similar fatal encounters.
Yet none of the officers responsible for those 20 deaths have faced criminal charges for their actions.
And out of the dozens of officers involved in these fatal shootings, only one has faced any kind of discipline from PPB: Officer Ron Frashour was fired after shooting Campbell in 2010.
He was rehired by PPB five years later.
The lack of accountability among these officers, many of whom are still active and armed members of the PPB, is stunning. But the way their superiors have shrugged responsibility is almost worse.
In a press statement issued four days after Henriksen's December 8 death, PPB Chief Danielle Outlaw blamed the local mental health system for the police shooting.
"There are a number of accountability measures in effect for the officers involved, which will scrutinize their every action and decision," said Outlaw. "Where is the same level of accountability throughout the mental health system? Law enforcement professionals are put in an impossible position, and we need the public to help prioritize effective and humane mental health treatment and demand urgent and immediate action."
A day later, Mayor Ted Wheeler parroted his police chief's criticism.
"I feel quite strongly that the mental health system failed Mr. Henriksen," Wheeler told reporters at a press conference.
Wheeler, who serves as the city's police commissioner, somberly pledged to work harder to connect "vulnerable" Portlanders to the local mental health system, which is run by Multnomah County. He made no mention of addressing the growing number of vulnerable Portlanders who have died at the hands of his police force.
This year, Portland saw the highest number of fatal shootings of people in a mental health crisis since 2010. The four victims—Henriksen, Lane Martin, David Downs, and Andre Gladen—were all in need of critical mental health treatment the day they were killed. In the years and months leading up to their deaths, some of them had voluntarily sought help from Oregon's notoriously under-resourced behavioral health care system, while others had to be forcibly committed to mental health treatment.
The state and county mental health system has, at times, proven to have fatal gaps. But, as Sarah Radcliffe, an attorney with Disability Rights Oregon tells me, "Even with a robust mental health system in place, there are still going to be moments of crisis that require a police officer response.
"And it's absolutely unacceptable to respond with deadly force," says Radcliffe.
Multnomah County spokesperson Julie Sullivan-Springhetti shared this stance in an emailed response to the city's insinuations. "Ultimately, anyone experiencing a mental health crisis should not have to face a violent death at the hands of law enforcement," wrote Sullivan-Springhetti.
Our community isn't safe when our police force believes they can kill someone with a mental illness without consequences. Until Portland police officers are held accountable for killing those in crisis year after year, city leaders are in no position to point fingers.
In her statement, Outlaw called on the public to "demand urgent and immediate action." It's up to you, Portland, to decide who to demand it from.
Sponsored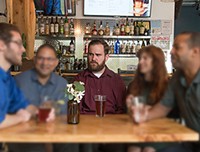 Adults aged 18-35 with good hearing will be paid for their time. Located at the Portland VA Medical Center