DANIEL CLOWES KNOWS A THING OR TWO about cynicism. His work—David Boring, Ice Haven, Ghost World (all of which first appeared in Clowes' influential series Eightball)—has dealt, in one way or another, with themes of misanthropy, isolation, and discontentment in both hilarious and ponderous ways. Clowes is a master at filling panels with the comedy of tragedy (and vice versa), doing so with provocative writing and controlled artwork.
Wilson, Clowes' latest and his first all-new graphic novel (books such as Ghost World were compiled after their appearance in Eightball), not only adds to his stylistic canon but takes it to new heights. The title character, Wilson, is a premier narcissist: middle-aged, bitter, opinionated, and oblivious. He thinks of himself as a well-educated "everyman"—and probably the most frightening thing about Clowes' portrait of this bellowing egoist is that at some points, at his most unlikeable, we see ourselves in Wilson.
The book is built as 70 one-page comic strips that present themselves as one-off scenes with punchline endings. What soon unravels, though, is the tale of a man truly lost in his own proclamations. The artwork, which shifts from realistic to cartoonish, emphasizes the dual nature of joke and tragedy that exists in Wilson's world. By the time one turns the last page, it's with the feeling of having read something carefully constructed and playfully executed. Do yourself a favor and pick this one up.
Sponsored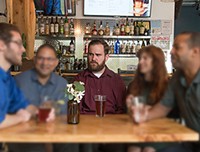 Adults aged 18-35 with good hearing will be paid for their time. Located at the Portland VA Medical Center