OH, HAPPY DAY with joyous glee! It's that magical time of year again: the high holy holiday for cooks and gluttons alike. Sure, sure, "gratitude and sharing" blahblahblah.* But let's just stop kidding ourselves—it's all about the turkey. But what if you don't go for the Full Monty with all the sides? You can still have your turkey and eat it too.
Since 1879, Huber's (411 SW 3rd) has been the undisputed champion for a full turkey dinner—year round!—plus they also have the only turkey pot pie in town (believe me, I checked). Downtown Freddie Brown's, located inside Big Pink (555 SW Oak), will also hook you up with fresh roasted turkey in myriad formats, albeit in a slightly scaled-down atmosphere (no art deco stained-glass skylights here). Here are some more of your best bets.
SANDWICHES
Big-Ass Sandwiches The Big-Ass Sandwich
Keeping Portland's cardiologists in business isn't explicitly in Big-Ass Sandwiches' mission statement, but maybe it should be. Their eponymous sandwich ($9.50) basically takes a Kentucky Hot Brown sandwich (traditionally an open-faced turkey sandwich covered in bacon and cheese sauce) and swaps out the bacon for a fistful of french fries, making it a great option for those eschewing pork. 5663 NE Glisan
Taste Tickler—Turkey Cranberry
Despite the fact this joint has a name that sounds like a sex move, the turkey cranberry ($5.95-9.95) at Taste Tickler is worth mentioning, because sometimes you don't want toasted como with bacon jam and fucking arugula on your sandwich. Sometimes you just want a chewy-soft hoagie roll with a two-inch stack of sliced turkey, shredded iceberg, a fatty schmear of cream cheese, and cranberry sauce. 1704 NE 14th
Crema—Turkey Swiss Roll
Okay, this isn't a sandwich per se, but it has meat, cheese, and bread, so I'm allowing it. Crema's turkey Swiss roll ($4.50) is a flaky croissant all rolled up, with sliced turkey and Swiss cheese baked right in, and glazed with honey mustard. It is a thing of sticky-icky beauty. 2728 SE Ankeny
BURGERS
Foster Burger—Johnny Apple Brie
Foster Burger lets you substitute a turkey patty in all their burgers, but sometimes they just strike gold by designing it that way to begin with. In this case, the Johnny Apple Brie ($9) is a gilded lily: turkey ground with bacon, charred to perfection and topped with a slab of brie, a slice of tomato, and a drizzle of dijonnaise. Grilled apple slices bolster the crunch from the lettuce and pickles. 5339 SE Foster
Brunch Box—Big Kahuna
Although Brunch Box also allows any burger to be turkey, I feel somewhat strongly that the best choice for this iteration is to order the Big Kahuna with the onion ring ($9.50). Then do your best Samuel L. Jackson impression while hoovering a cheeseburger topped with ham, grilled pineapple and onions, and BBQ tangier than my brother's cutoffs. 620 SW 9th
The Original Dinerant—Banh Mi Burger
The Original has a plain turkey burger on the menu, but if you ask nicely, they'll let you have one of their specialty burgers with turkey instead. Their banh mi burger ($14) is one notable selection, with bacon, pickled carrot and daikon, cilantro, and sriracha mayo. 300 SW 6th
OTHER TURKEY MISCELLANY
Mi Mero Mole—Turkey Mole Tamales
Turkey and mole are a traditional duo (turkey is an indigenous American bird), and what better way to enjoy succulent meat and chile gravy than in tender masa pillows? Mi Mero Mole sells their tamales by the pre-ordered dozen only ($24/dozen; you have to email them at newsletter@mmmtacospdx.com), so stock up while you can! They freeze like a dream. They'll take orders for a few weeks before Thanksgiving and Christmas. 5026 SE Division, 32 NW 5th
Russell St. BBQ—Smoked Turkey
Sometimes you end up at a barbecue joint and find yourself wanting something other than pork. Don't feel bad, it happens to the best of us. Russell St. BBQ's smoked turkey ($15) is juicy, hand sliced, and comes with a couple of delectable sides (sweet potatoes and greens hit the Thanksgiving spot), and your choice of sauces and bread for soppage. It's also available on a sandwich ($11.50)! 325 NE Russell
* Just kidding. It's totally about sharing and giving. Please consider making a donation to (or volunteering at) three of my favorite nonprofits: Sisters of the Road, Portland Homeless Family Solutions, and Oregon Food Bank.
Sponsored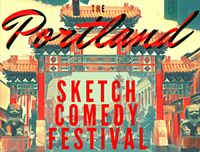 Sketch comedy troupes from all over N. America descend on The Siren Theater for 3 glorious nights.