In the documentary No Straight Lines: The Rise of Queer Comics, '80s comic book series Gay Comix publisher Denis Kitchen called underground comics "a forum for groups and individuals to speak their mind." He continued: "My feeling was, let all the voices out!" That quote resonates with me, as a queer person who's spent my life drawing, studying, editing, and publishing comics. Comics allow creators to communicate their experiences and artistic visions in super-direct ways—they can be made by one person with cheap supplies, without needing the buy-off of studio execs or huge teams. It's a natural fit for queer art and artists. Autobiographical graphic novels are a particular passion of mine for the depth of perspective they offer. In that spirit, and in no particular order, here are six graphic memoirs by transgender cartoonists that you should read immediately!
---
Between You and Me
by KC Councilor (Drawbridge Press) This collection of short autobiographical comics, which starts with KC Councilor announcing his desire to transition at age 35, radiates a sense of loving calm. Its stories touch on everything from bird-watching to the over-policing of drug users—all showing Councilor's search for a kinder, more patient world. Councilor uses a mixture of traditional media and collaged-in medical records that give the book an intimate, scrapbook feel. It's a must-read for fans of Lynda Barry! Not coincidentally, she was his teacher, and the two have an extended "in conversation" at the back of the book. The first time I read Councilor's matter-of-fact descriptions of taking testosterone and starting to be perceived as a man, I cried at seeing how normal it was, and that everything could be okay.
---
The Bride Was a Boy
by Chii (Seven Seas Entertainment) In this bubbly manga, Chii walks us through her transition and romantic journey, leading to something she never thought possible as a kid: becoming a bride! Given that trans women often deal with family rejection and not being taken seriously as romantic prospects, it's particularly heartwarming to read about Chii's supportive partner and parents. The comic creates a parallel between the process of gender transition and that of getting married, both of which involve legal and social transformations. Hopefully one day both will be universally recognized as joyous events.
---
Flocks
by L. Nichols (Secret Acres) One of the joys of autobio comics, especially pertinent to trans cartoonists, is the choice of how to draw oneself. L. Nichols represents themselves as a button-eyed rag doll in a world of humans. Emotions become kinetic: the suffocating pressure to conform to society's standards, the stabbing guilt of growing up queer in a Southern Baptist church, and then also the conflicting uplift from their church community, which encouraged Nichols to pursue their academic dreams and supported them after their parents' divorce. Flocks is an intense and ultimately uplifting graphic novel about communities, faith, and being true to one's core.
---
Spellbound
by Bishakh Som (Street Noise Books) Before her own transition, Bishakh Som drew comics about her life using a fictionalized stand-in: a cisgender Begali-American woman named Anjali. The construct allowed her to emphasize her story's emotional truths. Som draws with delicacy and elegance, thanks to her experience as a "recovering architect." We see some of that recovery as Spellbound opens with Anjali quitting a stable but soul-crushing architecture job to pursue her dream of drawing a graphic novel. Worldly tales of her childhood in Ethiopia, growing up goth in NYC, taking care of her aging parents in India, and romantic entanglements follow. Anjali and Som are both a pleasure to get to know.
---
Gumballs
by Erin Nations (Top Shelf) In this appropriately-named colorful collection, Erin Nations combines personal stories about childhood, transition, and day-to-day life, interspersed with the classified ads of fictional oddballs ("I'll let you share my loofah!"), and a story about a pining, unrequited gay teen named Tobias. The through-line in Gumballs is one of longing for connection. Nations draws from experience as a grocery store clerk, reflecting on the challenges of transitioning at work and the different ways people treated him as their perceptions of his gender changed. Local Alert: Nations is a Portlander, so look forward to McMenamins beers, naps at Cathedral Park, and a tour of Oregon's ghost towns!
---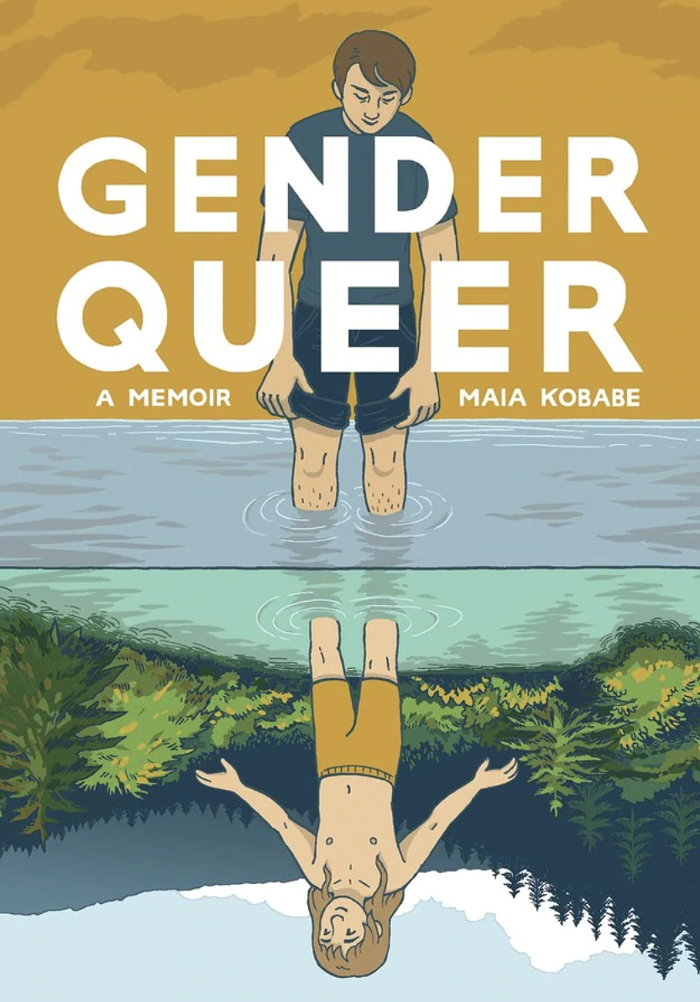 Gender Queer, a Memoir
by Maia Kobabe (Oni Press) Starting with an off-the-grid upbringing in NorCal, Kobabe gives us a catalog of intimate moments—the desires and bodily sensations that e struggled to make sense of, eventually landing on a genderqueer identity and e/em/eir pronouns. E shares such vulnerable material as period nightmares, masturbation thoughts, and traumatic gynecological visits. This generosity of truth has been rewarded with Gender Queer becoming becoming the #1 most frequently challenged book in libraries last year, and the subject of a current lawsuit in Virginia to prevent Barnes & Noble from selling it to minors—a shameless effort to restrict young people's access to information about gender and sexual diversity. Find out what The Republicans are trying to keep from their children by reading Gender Queer today!
---