D

espite its continuing changes, Portland remains a goldmine of small local businesses that deserve your support. Every time you shop locally, your money is pumped right back into Portland's economy—making life better for everyone who lives here. And every time you shop on Amazon, a baby koala dies. (Not really, but… maybe?)
The point is: Whatever you can find on Amazon, you'll find a more interesting, better-crafted (and quite possibly less expensive) version in a local Portland shop. But don't take our word for it! In this special SHOP LOCAL: EMPLOYEES' PICKS edition of the Mercury, we've enlisted the opinions of some of the coolest, smartest employees in Portland to tell us where they shop, eat, drink, and have fun. They have not been paid or coerced giving us any opinion other than their own, SO LISTEN TO WHAT THEY HAVE TO SAY. And say hi to 'em the next time you see them on the street. Like local businesses, they're really what makes Portland a great place.—WM. STEVEN HUMPHREY
Sponsored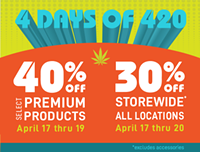 30-40% off Premier Dispensaries April 17-20
Flower, pre-rolls, edibles, carts and more.
These 4 Days of 420 are for you.
---
---
Brenna Gay
Writer, bartender, brewery sales rep
As the brewery sales rep for Kells, a bartender at Mediterranean Exploration Company, and a writer contributing to the Continental Writing Club podcast, Brenna Gay knows about all the good beer/book spots. She was also in the Navy, and lived in various places (Arizona, Hawaii, Oklahoma, Utah, and Ohio, to name a few) before setting up more permanent digs in Portland five years ago, and recently graduating with a communications degree from Portland State University.—JENNI MOORE
DAEDALUS BOOKS
(2074 NW Flanders)
"They're community-driven and community-focused. If I'm walking into Daedalus and I'm like, 'Hey, I'm looking for this book,' or I'm thinking of this idea to get a Hanukkah present or a Christmas present for somebody, they'll be like, 'Oh, we don't have that exact copy, but not only can we order it for you... have you seen this?' They'll bring you back to their private library... and help connect you with other resources. They're so passionate. They're so nerdy. They're so on top of their game."
WILLIAM TEMPLE HOUSETHRIFT STORE
(2230 NW Glisan)
"It's one of the last not-for-profits that actually benefits—at low or no cost—mental health counseling, food bank, clothing closet, rental assistance. They are a huge benefit to the community. So instead of shopping at Salvation Army, [by shopping here] you're actually benefiting local people who actually need the resources. And they're still really cheap—a really good selection."
SMALL BAR
(919 NW 23rd)
"Small Bar, which is a pop-up on Northwest 23rd, works with pFriem and is SUCH a good cocktail and beer spot, run by service industry people and with discounts for service industry. Rachel and her boyfriend run it. Total badasses."
---
JoAnn Schinderle
Local comedy genius and "best friend bish for life"
You've seen JoAnn Schinderle's whip-smart, caustic comedy all around Portland (and perhaps even in the 2017 Mercury Undisputable Geniuses of Comedy show). But she's best known for hosting the beloved—and now sadly departed—Control Yourself comedy showcase at the Alberta Street Pub. Before she leaves us to make her fortune in Los Angeles, Schinderle shares some of her secret fave Portland places and people.—WM. STEVEN HUMPHREY
TREEHOUSE STICKERS
(treehousestickers.com)
"If you need a logo, label, or even a pic of your silly noggin in sticker form, this is the spot! Super easy and intuitive website, friendly staff, AND THEY DELIVER!"
FARMA
(916 SE Hawthorne)
"This place is like the Abercrombie & Fitch of weed stores. Everyone working there is so beautiful and I end up buying anything they suggest, because I want them to like me."
JORDAN WILSON DESIGNS
(jordanwilsondesigns.com)
"A pizza cook at a brewery (to pay the bills) who internally ladder-climbed to become lead designer of a complete company re-brand, this dude IS the Portland dream. Hire him for designing needs—I only trust JWD posters for any project I create."
---
Matt Allen
Ice Cream Man, Expensify
Matt Allen is a master on many subjects, including live music, beer koozies, and—especially—pinball. He's currently working at Expensify, but during his off-hours roams the city armed with quarters in search of the best tables to play a few rounds before hitting a show. So while his days slinging free ice cream at music festivals under the banner "Ice Cream Man" are largely behind him, you can still find him flipping fingers at your local dive, cheap beer in hand, or out at the hottest show of the night.
For the ultimate in pinball questing, Allen tells us, "The first thing you need to do is download 'Pinball Map' for your phone. It'll tell you where machines are around Portland and other cities. You can also sort by 'recently added,' and 'number of machines,' which is helpful."—NED LANNAMANN
QUARTERWORLD
(4811 SE Hawthorne)
"QuarterWorld has been open almost two years and they have more than 30 machines on tap (and they sell beer all day!). The only downside is they charge a cover."
GROUND KONTROL
(115 NW 5th)
"Everyone loves Ground Kontrol and for good reason. They should have the old location reopened soon, which will push their total number of machines to over 30. They're currently the only place in town to play Aliens pinball, too. Side note—no beer 'til 5 pm, although happy hour goes 'til 7 ($2 PBR!)."
C-BAR
(2880 SE Gladstone)
"The pinball spot I would spend more time at if I lived closer is C-Bar. They always have funky machines like Banzai Run, Tales from the Crypt, and Total Nuclear Annihilation. They're kid-friendly AND have 20 beers on tap! A must-hit spot if you're in Southeast."
HONORABLE MENTIONS
"Scoreboard Sports Bar (4822 SE Division) always has a quality lineup of machines, with a few outliers like Dirty Harry and Earthshaker. Bottles (5015 NE Fremont) has stepped up their game recently with additions of Junk Yard, Whirlwind, and High Speed II. Their cheap beer selection could use some upgrades though."
---
Miko Gemechu
Hair stylist/curly hair wizard
Don't be fooled by Miko Gemechu's age; she may be only 22, but the Jayah Rose stylist does hair like a seasoned pro. Whether I want a sleek look, a cut for my naturally curly hair, or a protective style like twists or cornrows, I always know I'm in good hands in her chair. After finishing beauty school, Gemechu earned a station at the reputable salon two and a half years ago. These days, she's in high demand, keeping a busy work calendar and uploading her beautiful work on Instagram. (Follow her on IG: @beautybymiks.)—JENNI MOORE
NEW SEASONS
(3445 N Williams)
"I always shop at the hot deli section at New Seasons, but I also use their natural products for skincare. It's close to my workplace and I can always count on them to provide me healthy and fresh foods that my body needs."
THAI NOON
(2635 NE Alberta)
"Thai Noon is an amazing place to get lunch. They have [lots of] Thai dishes I enjoy... my favorite dish is the pineapple fried rice."
MID-K BEAUTY SUPPLY
(5408 NE MLK)
"I shop there for almost everything I need for my job. From hair supplies to equipment, I love how they provide everything I need to give my clientele the best service, and I can always count on them when I run out of something."
---
Kira Gallagher
Bartender at the Conquistador Lounge, Sandy Hut, and Elvis Room
Kira slings drinks at three of my favorite bars in town, and always looks damn great while doing it. She's a Portland native who finds comfort in the old and established shops in Portland, with a strong preference for thrift stores, which makes sense, since she's always wearing cool vintage items.—ELIZABETH MOLLO
RED WHITE & BLUE THRIFT STORE
(19239 SE McLaughlin, Gladstone)
"My dad has been running the store for the past 30 years, so I've been shopping here since I had my own money to spend. I've found some of my favorite clothes, decorations, and jewelry here. It's pretty much the best place ever and that's not just because my dad manages it."
VILLAGE MERCHANTS
(4035 SE Division)
"They always have something I'm looking for, as well as stuff I never knew I was looking for."
MONTICELLO ANTIQUE MARKETPLACE
(8600 SE Stark)
"This is a newer one for me because I just recently discovered it, but I quickly fell in love with getting lost in the large selection of booths, and have found some amazing stuff here. And the staff is super friendly!"
---
Leila del Duca
Comic book artist and writer
Leila del Duca is behind some of today's best comics—the co-creator and artist of Shutter, she's also worked on books as wide-ranging as Scarlet Witch, The Wicked + The Divine, and Afar. She's currently drawing the ongoing series Sleepless, a clever, fun fantasy romance that upends the conventions of both fantasy and romance. Here are her fave local hot spots.—ERIK HENRIKSEN
BOOKS WITH PICTURES
(1100 SE Division)
"Their selection of comics is great! During the year or two they've been open, they've created a great community with weekly drawing nights, signings, and events that bring comic fans and creators together. They're super inclusive."
LAURELHURST THEATER
(2735 E Burnside)
"It's only $4 a movie, they have pizza and beer, and their selection spans the classics and newer movies. The location is great for going out to drinks with friends to have intense talks about what we all just saw."
CLIVE'S PUBLIC HOUSE
(5010 NE Oregon)
"Clive's is a pub inside Rose City Futsal.(Futsal is indoor soccer on a smaller court.) I've had a lot of fun playing futsal there, and Clive's is a great place to grab a beer and bar food afterwards. I'm a fan of eating more calories than I just burned off, so it's perfect."
---
Jamie Alexander
Server at Cultured Caveman, ESL teacher
When she's not off exploring the world, teaching English as a second language, racing regattas out on the Columbia River, or serving up tasty paleo treats at Cultured Caveman, Jamie Alexander can be found sharing her unbridled love for adventure by hosting wayfaring couch surfers and introducing them to Portland's many hidden treasures.—CHIPP TERWILLIGER
RIMSKY-KORSAKOFFEE HOUSE
(707 SE 12th)
"I love taking unsuspecting visitors to this peculiar little dessert and coffee spot and seeing if they notice anything strange. If you already know the secrets, don't give it away! Sit in the right spot, see if they figure it out (it's surprising how many don't). They might think it's odd when you tell them they have to use the restroom, but do it anyway."
GRANDPA'S CAFE
(3832 N Interstate)
"Beneath the Polish Hall on Interstate resides a hidden Polish restaurant that's only open a couple times a week. I used to live in Gdansk and it's great to pretend I'm back in the land of pierogi and kielbasa. Also, pick up some Wedel dark chocolate from their little store, it's seriously the best ever!"
OREGON WOMEN'S SAILING ASSOCIATION (OWSA)
(865 NE Tomahawk Island)
"Did you know there's an association in Portland that teaches women to sail and it only costs $50 a year? It's true, join it! Their BOAST program even allows accepted members to share a sailboat for the year and learn to skipper the Columbia on their own. On clear days you get a breathtaking view of Mount Hood and it's so fun to offer guests a unique view of our beautiful city."
---
Alison Hallett
Director of Marketing & Community Engagement, Hollywood Theatre
In a long-ago era lost to the mists of time, Alison Hallett was the Mercury's arts editor—but after she escaped, she found her way to the Hollywood Theatre. Ever since, she's been a driving force behind some of the theater's biggest developments, from the Hollywood's cool microcinema at the Portland airport to the successful Kickstarter that saved Movie Madness. Here are her local faves.—ERIK HENRIKSEN
WALLACE BOOKS
(7241 SE Milwaukie)
"The sheer number of books crammed into Wallace Books defies the constraints of time and space. It's a book-lover's bookstore, stuffed to the absolute rafters with perilous stacks of new and used books. Dying in a collapsed heap of mid-'90s Booker winners is a distinct possibility, and now that I think about it, there's no other way I'd rather go."
PORTLAND MERCADO
(7238 SE Foster)
"Ninety-five percent of my basic needs can be met at the Mercado, Portland's excellent Latin American public market and food cart pod. Get sangria from Barrio and a bean-stuffed huarache from Adelas, a cardamom latte from Sandino, or drag home a gigantic burrito from Fernando's and consume it over the course of several days. It's the best."
RED CASTLE GAMES
(6406 SE Foster)
"This super-friendly neighborhood game store caters to board game aficionados and serious RPG fans as well as thirty-something women who only just discovered that D&D is fun. (My new game binder has an elf on it!)"
---
Tom Humphrey
Graphic designer and art director of Reed magazine, host of XRAY.fm show Backroad to Nowhere (Sundays 6-7pm)
It wouldn't necessarily seem like American primitive records and Pacific Northwest native plants go hand-in-hand, but local DJ Tom Humphrey recently turned me on to his three favorite spots to find native plants. "I used to spend all my money on records," Humphrey says. "Now I spend it on plants (and records). Plants like Bigleaf Lupine or Goatsbeard are as local as Dead Moon or the Wipers."—SUZETTE SMITH
BOSKY DELL NATIVES
(23311 SW Bosky Dell, West Linn)
"You could spend hours exploring the paths and greenhouses of this mossy and magical place. They sell plant species that have been growing in Oregon for thousands of years, and even built a small apartment for a pair of nesting screech owls that return each year."
XERA PLANTS
(1114 SE Clay)
"The magic here is in the curation. They specialize in plants that have adjusted to Western Oregon's climate, with a sizable selection of hard-to-find native plants, like a flower called Prairie Smoke that sometimes goes by the apt name Old Man's Whiskers. Anything you take home will be interesting and unique."
ECHO VALLEY NATIVES
(18883 S Ferguson, Oregon City)
"A creek runs alongside this hidden nursery set against a forest. It feels like it's lost in time. (I imagine a Neil Young soundtrack circa 1972.) Besides endless charm, they have the best deals on plants like huckleberries and native lilies."
---
bart fitzgerald
Artist, speaker, curator
bart fitzgerald is a writer, visual artist, and lecturer whose work explores Black social life, theology, and radical queerness. fitzgerald also curates and hosts the popular weekly dance parties Decadence and Legendary Mondays, and is usually the best dressed person at the club, with an eye as keen to fashion as it is to local culture. Here's where fitzgerald shops for clothes.—SANTI ELIJAH HOLLEY
MACHUS
(542 E Burnside)
"My closet is replete with dramatic black T-shirts. Some might incorporate a sleek gold chain to stand in as a collar, and others add an asymmetrical hem, or—the favorite of my collection—a deceptively simple cotton T with a train that extends down to the knee. I've found most of these at Machus. With a range of designers from tried-and-true Helmut Lang to the more recent Willy Chavarria, Machus is a streetwear lover's dream, with a fashion-forward lens on menswear that keeps me coming back."
COMMUNION
(3556 SE Hawthorne)
"Most of my looks are complemented with a hat, and more than likely it's one I scored at Communion. With an extensive collection of Brixton caps, I'm always ready for a trip down Hawthorne, for some wide-brims (and a few artisanal doughnuts)."
BAIT
(818 SW Broadway)
"Toys are fun. Shoes and streetwear are even better. At Bait, you can bring the kids along (the adult ones, at least) and spot some dope collectibles and fan favorites, all while selecting the latest sneaker releases and exclusive streetwear finds. The well-curated boutique is expertly arranged and impeccably lit, in both ways. Check in with Dell, and tell him bart sent you!"
---
Erika M. Anderson
EMA
Erika Anderson puts on a great rock show.(She recently finished a tour with Depeche Mode.) Her songs are gritty, anthemic, and often related to social or political issues. Plus her stage persona is cool, confident, and tough. I'm always impressed by how simultaneously stylish and comfortable Anderson looks on stage—perhaps less rare for women in rock than it used to be—so I asked for her favorite local "tough but casual" clothing spots.—SUZETTE SMITH
RED LIGHT CLOTHING EXCHANGE
(3590 SE Hawthorne)
"Before every tour I hit Top to Bottom and Red Light. It's a killer combo. I always find my T-shirt soulmate at Red Light."
TOP TO BOTTOM
(5420 SE 82nd, Ste. A)
"Top to Bottom probably isn't very sustainable or organic, but it's great if you're on a budget. It's got both basic and super wild shit you can't find anywhere else. I'm really tall and usually wear men's clothes, but at Top to Bottom the sizes go all the way up to XXXL. Last time I went I stocked up on scrunchies and gigantic basketball shorts because being a woman on stage dressed like some sort of hardcore scumbag feels fun and defiant."
GEN X CLOTHING
(7999 SE Powell)
"Before this last Depeche Mode tour, I hit up Gen X on 82nd and got a weird, like, 'bondage hoodie' is the best way I can describe it. It got lots of compliments!"
---
Kevin Sampsell
Publisher, writer, bookseller
If you've picked up a small press title in Portland, chances are good Kevin Sampsell had something to do with it. The Powell's small press expert has a spidey sense for up-and-coming indies, and runs his own local publishing outfit, Future Tense, where he's published snappy, smart work by writers like Elissa Washuta, Chelsea Hodson, and Wendy C. Ortiz.—MEGAN BURBANK
RICH'S CIGAR STORE
(820 SW Alder; 922 NW Flanders)
"It's pretty dang incredible that this place started puffing in 1894. And I honestly can't tell you how pipe tobacco gets grown or why it smells so good, but entering this place is like walking into a smoky heaven. It also has the BEST magazine and newspaper selection in town—even better than that giant bookstore on Burnside."
SCRAP
(1736 SW Alder)
"This odd little wonderland is like an enchanted junkyard of crafty detritus, if such a place were organized by elves with OCD. Whoever decided they could fill buckets with colorful plastic eggs, flooring samples, half-used paint tubes, and discarded cassette cases is probably a genius and should get a raise. I go here often to scour for new stuff to collage with, and I always leave giddy and inspired."
PIP'S ORIGINAL DOUGHNUTS & CHAI
(4759 NE Fremont)
"Okay, so maybe I don't really 'shop' here, per se, but they do have some stylin' swag to go along with their mouth-pleasing mini-doughnuts and smooth-as-velvet chai (which you can order in a flight!). Believe me, I know my doughnuts and these hot bites are the best on the whole West Coast, plus their social media game is stellar and they treat their employees and the community like beloved family. They really are a remarkable example of a small business doing good things."
---
Elissa Hall
Interior design maven
Elissa Hall does interior styling, prop styling, vintage furniture restoration, and custom upholstery with her business, Lush and Plush (she also offers tutorials on her blog). Hall's got a serious talent for creating comfortable, stylish spaces, and breathing new life into vintage items. Here are her top three places to shop for vintage housewares in Portland.—CIARA DOLAN
VILLAGE MERCHANTS
(4035 SE Division)
"I started going to Village Merchants years ago to affordably furnish my apartment as a twentysomething in Portland. Not much has changed since then, I just go more frequently because I'm styling way more spaces now, and they have a massive selection of vintage and contemporary items. I've scored everything from '70s pendant lamps to a pair of Rachel Comey clogs, and items are super affordable."
RERUN
(707 NE Fremont)
"ReRun also offers an eclectic mix of vintage and new items at excellent prices. However, it's a bit smaller than my other two picks, and inventory changes daily. I've found a few Pendleton blankets, a plywood Eames chair, and purchased an unreasonable amount of throw pillows there. The staff is always chill and it's a convenient spot to drop by for prop styling needs."
ARTIFACT
(3630 SE Division)
"Artifact is the place to go for vintage textiles. They offer an impressive selection of handwoven rugs for a fraction of the cost of most places. You can also find macramé, sheepskins, kilim pillows, rattan—lots of vintage '70s vibes. Plus, they have an on-site seamstress (Drea of Hidden Opulence), so you can renew favorite vintage items that you already own."
---
Brittany Bennett
Graphic artist and nail tech at Fingerbang 
Brittany Bennett is among the many revered nail technicians at Fingerbang. Her work is an incredible blend of high, design-driven sensibilities and a bold dash of glamour. She's unafraid of metallics but can also work stunningly in muted palettes. True to Fingerbang standards, she's an artist (as you can tell from her expertly curated local picks).—CASSIE RIDGWAY
GEM GEM
(2324 SE Belmont)
"Gem Gem is close to my heart, since Allison Bartline created the necklaces and bracelets we wear at Finger Bang. They also curate a selection of really amazing jewelry designers on top of being designers themselves, and I'm always coveting the pieces there."
SHE BOP
(909 N Beech, Ste. A; 3213 SE Division)
"She Bop is an awesome woman-owned sex toy store, and everyone who works there is incredibly knowledgeable, kind, and inclusive. They also hold a lot of great classes and informative workshops for the community."
APPETITE
(2136 E Burnside)
"Appetite is a gorgeous shop run by two sisters who curate really beautiful plants, candles, and vintage home goods. They also produce their own collection of textiles and bags!"
---
Daniel Girón
Dance instructor, preschool teacher, and Father of House of Ada
Originally from Veracruz, Mexico, Daniel Girón is now a dance god in Portland. When not collecting trophies through the ball scene in the Northwest and beyond for his kiki house, the dancer teaches others how to vogue, waack, and shake it in various Latin dance styles.—EMILLY PRADO
VITALIDAD MOVEMENT ARTS CENTER
(116 SE Yamhill)
"This place has been my dance studio home for the last three years and just relocated from its original Hawthorne location. Although the space has quadrupled in size, it hasn't [lost] the intimate, welcoming ambience I prioritize."
KILLINGSWORTH DYNASTY
(832 N Killingsworth)
"Every second Saturday of the month for the event CAKE, my house baby Syndel (AKA Nightmare Ada) gogo dances at this party. The music and vibes are always on point, and this party truly puts Black and Brown talent at the forefront."
LUCKY DEVIL LOUNGE
(633 SE Powell)
"The dancers and customer service have always been admirable, but what truly brings me to that place is their goddamn grilled chicken alfredo pasta. I took my dad to this place on his 50th birthday and I think I've taken all my friends there at some point since."
---
John Naekel
The Old Gold, Paydirt, Tough Luck
John Naekel is a publican—part of the team responsible for the Old Gold, Paydirt, and Tough Luck bars, with a fourth opening in the former Pub at the End of the Universe spot later this year. So while he earns a living making whiskey-drenched playgrounds for grownups, he's also an expert at collecting toys for the kids in all of us. "These are my three favorite places to buy things that I pretend are for my kids," Naekel says.—NED LANNAMANN
BRICKS & MINIFIGS
(3040 NE Sandy)
"It's LEGO paradise. It's a genius LEGO resale store, where you can buy loose LEGOs, preowned sets, and individual minifigures (or, as my son James calls them, 'guys')—all displayed in glass cases. They are a national franchise, and Spencer, the owner of the Portland store, is a great guy and super helpful. It gives me that same feeling I had walking in to the neighborhood baseball card shop in the '80s as a kid. Bonus: It's right next door to Hollywood Liquor. LEGO building with your kids pairs best with bourbon."
BOYS FORT
(1001 SW Morrison)
"My wife probably gives this store the best endorsement—she says it's her 'go-to' any time she wants to buy me a gift. They carry an amazing selection of Portland brands and artists. Great T-shirts, books, art, odds and ends. For anyone that has ever asked about the wooden signs in our bars, Boys Fort carries lots of stuff from that artist: Brian Kappel (AKA Space Monkey Designs). For those of us that buy everything online, it's one of the last true retail experiences that feels special."
BAIT
(818 SW Broadway)
"It's not hard to sell me on a store where all of the mannequins wear stormtrooper helmets. While they're probably best known as a sneaker/apparel store, Bait carries some of the coolest and most unique vinyl toys around. It's right across from Nordstrom, so if my wife and daughter are having fun shopping there, my son and I sneak over to Bait and grab a couple of Mystery Box figures. Mystery Boxes are the best: It's gambling with toys."
---
VNPRT
DJ, community organizer, tastemaker
With many eclectic sounds and tastes in his record collection, VNPRT's live sets can be best described as musical gumbo. In addition to DJing, VNPRT (Vincent Magee) also started Chapter Collective, a community organization that curates safe spaces for partying and fellowship, while providing resources for the surrounding arts community.—SANTI ELIJAH HOLLEY
SPECK'S RECORDS & TAPES
(8216 N Denver)
"Located in the heart of the Kenton neighborhood, Speck's is becoming a community staple. I personally love the way they care about building relationships rather than making a sale. As well as having a quality selection of records, co-owners Michael and Maya [Gersten] allow local artists to use their space for shows, release parties, and art installations."
FUTURE SHOCK
(1914 E Burnside)
"If you're looking for a wide [music] selection with moderate pricing, check out Future Shock! Like Speck's, Future Shock hosts local shows and events, such as 'A Beat Happening,' curated by Luvjonez!"
CROSSROADS MUSIC
(8112 SE Foster)
"Been looking for that one record for a long time, but still fighting the urge to purchase it on Discogs? You may find some luck at Crossroads Records! Their shop consists of over 50 dealers under one roof! You may want to spend a good four-plus hours there, because you never know what you might find."
---
Krysta McDaniel
Apparel manufacturer and florist at Solabee 
Krysta McDaniels is the owner/designer for Frond Apparel, an up-and-coming company in Portland that specializes in garments that blend natural fibers with modern design sensibilities. Her personal style is both light and dark, and she has a keen gauge for staple elements in fashion and home decor.—CASSIE RIDGWAY
PALACE
(2205 E Burnside)
"I really love their selection of clothing, apothecary, and home goods. They carry so many makers and brands I really admire, and I love going there." 
SHIPWRECK
(805 N Killingsworth)
"Marcy [Bruce] has a lovely space with great vintage clothing, jewelry, and some of my favorite ceramics. This shop is also home to some very cute clogs. A lot of the stuff she carries is locally made, too."