Shop Local 2019
Buying stylish gifts for your loved ones is a tactile experience, one that can only be achieved by walking into one of the many great local boutiques and stores that Portland is famous for. There are too many to include here, but try these for starters.
CLOTHING
Wildfang This feminist-forward shop started with the belief that "a womxn has the right to wear whatever the hell she wants and be whoever the hell she wants." And Wild Fang backs it up with expertly tailored blazers, hoodies, button-ups, work shirts, and of course, the must-have "Wild Feminist" tee. (Plus, every year they raise hundreds of thousands of dollars for immigrant, reproductive, and human rights.) (404 SW 10th)
Sponsored
Win a behind-the-scenes tour of our kitchen, see how we make our artisan edibles, and get some swag.
Shipwreck! At Shipwreck!, you're going to find a lot smartly-priced secondhand and vintage clothes, ceramics, and jewelry from local artists, plus a top-notch collection of clogs, and one of the best shop dogs in town. (805 N Killingsworth)
The Pencil Test An Alberta mainstay, the Pencil Test knows its way around a bra. So of course a perfect gift would be making sure your friends have a perfect fit from Pencil Test's resident experts—but don't sleep on their extensive array of undergarments and swimwear... all gorgeously functional. (2407 NE Alberta)
Artifact This is a great place to find oddball old-timey knickknacks for the picky friend in your life, but Artifact also has an A-plus collection of vintage wear you won't find in your neighborhood Goodwill, such as jerseys, jumpsuits, coats, pants... all the things that you won't be able to resist keeping for yourself. (3630 SE Division)
Shop Boswell  Top-notch hat maker Brookes Boswell owns and curates this shop where you'll find the wares of hot new designers in a variety of fields: clothing, ceramics, jewelry, and housewares. Oh, and of course you'll find lots of Boswell's gorgeous hats to put on your friends' (or your) head. (729 SE Morrison)
Communion  You have hip friends. They need hip clothing and accessories. This is why you'll be checking in with Communion, who supplies such hipness to those who want to look their best. For the guys, check out their flannels, baseball caps, and raingear. For the gals: sweaters, jumpsuits, and blazers. For everyone else: belts, beanies, and bags. (3556 SE Hawthorne)
JEWELRY
Gem Set Love This long-running shop (formerly Gilt) has a HUGE selection of vintage and new engagement rings and wedding bands, and their knowledgeable staff are on hand to help you find that perfect ring you'll wear every day for however long you happen to be married. (720 NW 23rd)
Altar This shop has so many different kinds of jewelry—everything from understated and pretty to big and witchy. And don't miss out on their women's clothing that spotlights their own excellent designs. (3279 SE Hawthorne)
Betsy & Iya A longtime staple in the Portland jewelry scene, they make all of their jewelry in the back of their store and carry accessories and jewelry from other curated brands. (1777 NW 24th)
Oko Ranging from minimal to ornate jewelry designs, don't miss their ceramics, wall art, and housewares. (811 E Burnside)
BAGS
Black Star Bags This is the place for all of your waterproof bike bag needs, and they make everything in-house. (2033 SE Hawthorne)
Queen Bee Another great place to get locally produced, waterproof bike bags, but of the more feminine variety. (3961 N Williams)
North St. Bags Yet another in-house-produced waterproof bike bag brand, which also sells great duffels, laptop cases, tool rolls, and pouches. (1551 SE Poplar)
BlaqPaks Still not finding what you need? BlaqPaks' water-proof, Portland-made bags are extremely popular and definitely worth a look. (0315 SW Montgomery)
Sponsored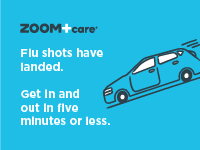 ZOOM+Care makes flu shots easy and safe. Schedule ahead, skip the line—get in and out in 5 minutes.