There are more than enough hip-hop and soul acts to see at this year's PDX Pop Now!, Portland's free and all-ages music festival going down under the Hawthorne Bridge on July 20 and 21: Raquel Divar, ePP, Stevo the Weirdo, Brown Calculus, Danny Sky, and Adebisi. But if you're still hungry for more hip-hop and R&B this month, here are three upcoming shows and a couple new songs from Portland artists worth checking out.
Sponsored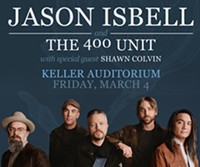 Jason Isbell has established himself as one of the most respected songwriters of his generation. Don't miss Jason Isbell and the 400 Unit, March 4th at Keller Auditorium!
---
"Panic," Eso.Xo.Supreme and Chi Duly
Cue the airhorns: Portland R&B artist Eso.Xo.Supreme returns with another summer slapper. With "Panic," he's bringing an uptempo dancehall vibe that's perfect for any cookout or party. In his typical airy AutoTune, Eso.Xo.Supreme sings a catchy, ebullient melody over an addictive beat produced by Portland artist Chi Duly. The song is just under three minutes long, but it's sure to have your waist whining and begging for a repeat.
---
"Jolly," Myke Bogan
On July 19, Portland rap staple Myke Bogan will drop "Jolly," the first single from his forthcoming album. Clocking at two-and-a-half minutes, "Jolly" is cheery and romantic, with the EYRST rapper performing a sing-song chorus about feeling at home with a new love interest and wanting long-term commitment.
"The song is about a summer fling that becomes an actual relationship, when a man makes a promise to love his woman for exactly who she is," Bogan says in a recent news release. With production by 2thirty5 (who also did work on Myke's Joe Fontana project), the song has a sick bassline and an ultra-chill vibe. (Sat July 20, 8 pm, Bossanova Ballroom, 722 E Burnside, $20-25)
---
Mic Capes, Scooty, Bocha
What more appropriate time and place to see North Portland rapper Mic Capes than at St. Johns' funky little Southern-themed bar the Fixin' To on his birthday? Capes is known for his charisma, captivating stage presence, and arsenal of bops that convey the everyday Black experience. You can expect to hear the favorites ("Five Finger Discount," "Jansport," and "Black Pearls"), but get ready for Capes to perform highlights from his new project, Cold Blooded Vol. 1, like "Menace," "Autographs," "Missed Calls," and "Paid in Full." This lineup also features Portland R&B singer Scooty, as well as Bocha, an MC who recently landed on Willamette Week's Best New Band list. (Sat July 27, 9 pm, The Fixin' To, 8218 N Lombard, $10)
---
Adebisi
In addition to their Sunday set at PDX Pop Now!, here's another chance to see Portland-based neo-soul seven-piece Adebisi, led by singer/lyricist Bisi Ashley. Despite their limited online presence, the band's been honing their craft and growing their presence in the scene since 2017. Steeped in jazz and hip-hop, their songs like "Here It Comes" (featuring Mal London) and "Nuisance" are truly sublime. (Sat July 27, 7 pm, Portland Center Stage at the Armory, 128 NW 11th, all ages, FREE)
---
Gifted Gab, Karma Rivera, Mal London, Rev Shines
When Seattle-bred MC Gifted Gab comes to Portland to play a show, it's a rare and exceedingly delightful affair. The artist's witty rhymes are best enjoyed live, and she'll no doubt be performing all the best tracks from her latest project, Cause & Effect. (She also runs a hilarious, take-no-prisoners Twitter account.) This Doug Fir bill also showcases Portland-based rapper Karma Rivera, who recently released a music video for "A Game," a single from her debut EP Don't Sleep on This. Rapper/singer Mal London adds even more vibey allure to the bill, along with heavily seasoned DJ/producer Rev Shines (of Lifesavas). And bitch, you shan't miss it. (Tues July 30, 9 pm, Doug Fir Lounge, 830 E Burnside, FREE)