The Portland Trail Blazers' have had only two radio play-by-play announcers since the team's inception in 1970. The first was Mr. Rip City himself, Bill Schonely. "The Schonz" wore the headphones from 1970 to 1998, coined the phrase "Rip City," and, among Blazers fans, is considered nothing less than royalty. At a virile 87 years of age, he can still be found roaming around at games, appearing as a team ambassador, giving out prizes to season ticket holders, and even singing songs like "America, the Beautiful" before tip-off.
The second—the man still speaking into the mic today, transmitting from Rip City Radio AM 620—is Brian "Wheels" Wheeler. If you consider yourself a Blazers fan but have never listened to one of Wheels' broadcasts, you better check your credentials.
Sponsored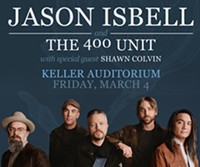 Jason Isbell has established himself as one of the most respected songwriters of his generation. Don't miss Jason Isbell and the 400 Unit, March 4th at Keller Auditorium!
---
Crabbe Hoop On Harden Turnover 113-05
---
For the last 19 years, Wheels has traveled with the team, announcing 82 games a year with his buttery voice and boisterous bravado. (He called his 1,700th game for the Blazers this season.) A creative, on-the-fly wordsmith, Wheels is a sports almanac personified, with an infectious joy and devotion for the home team. Some might say his methods border on "homerism"—a biased broadcasting style in which the announcer is a glorified cheerleader—but there's a difference between excitement and untruth. Sure, Wheels will explode with a raucous "BOOM-SHAKA-LAKA!" after a Blazer slams a monstrous dunk, but his emotion doesn't signal a bias. His enthusiastic exclamations and catchphrases—"Yes sir," "Oooh, that was NASTY!," "The voodoo that you do so well," and "Ring it up!"—are what make his broadcasts so engaging.
From a hotel room in Atlanta, late on a Thursday evening, Wheels spoke to the Mercury about his history in radio, his tumultuous introduction to the Blazers, and the future of broadcasting in an era where technology threatens to overpower the radio dial.
---
The passion that Wheels conveys over the airwaves is palpable—tune in for even a second, and you can tell Wheels loves his job. So it comes as no surprise that he knew what he wanted to do from an early age, as a child growing up in LA.
"I played sports just like any other kid. I was fairly perceptive, and figured out early on that while I could play just about any sport I wanted to, and be competitive, I wasn't gonna excel at anything," Wheels tells me. "I thought, 'What's the next best thing I could do to try and stay involved if I can't play?' It was my mother who said, 'Well, you like to talk a lot. Maybe you can do something with that.' And I said, 'All right. Sure. I'll be a broadcaster.'
"I was 10 or 11 years old at the time," he continues. "I went and told all my friends that that's what I wanted to do. Anyone at that age is encouraging to a friend that tells them what they want to be. So we'd play touch football in the street, or go to a playground to play basketball, and they'd say, 'Announce the game while we're playing!' So I'd do that."
Even when Wheels wasn't calling a street game, he still tried to hone his craft. "I grew up an only child," he says. "I'd have a Nerf ball and Nerf hoop, and I'd kinda announce my own games. You know, in my right hand 'Johnson' had it, in my left hand, 'Smith' had it," Wheels laughs. "I was doing a game one time and my door was partially open. My mother walked by in the hallway and said, 'Quit talking to yourself!' I said, 'Mom, I'm just doing the game!'"
---
---
Wheels ended up taking his ambition all the way to Chicago's Loyola University. By the second semester of his freshman year, he'd worked his way into doing color commentary for the men's basketball team. By his sophomore year, he was the sports director for Loyola's radio station.
"As sports director, of course, you make the decisions on who was entitled to fill the various roles," Wheels says. "Since the guy who had done the play-by-play broadcast graduated, I looked around at all the available candidates for the position and determined that I was the most qualified to have the incredible job."
Wheels finished college calling play-by-play, and after he graduated, took his talent to the local commercial stations. While announcing college games was all well and good, Wheels had his sights on the big leagues. That jump proved to be difficult, since his audition tape had no NBA games or atmosphere on it.
Still, in 1993 he took a job at SportsRadio 950 KJR as the pre- and post-game host for the Seattle Supersonics. It wasn't play-by-play, but it was a foot in the door. While he was in Seattle, he continued to apply for jobs across the NBA. He got shot down for a job in Toronto because he wasn't Canadian. He lost out in Philadelphia to a guy who did backup for the Warriors, again running into the issue that his audition tape only had college games.
It wasn't until Wheels got a gig with the Sacramento Kings, similar to his work with the Sonics, that he was able to get fodder for his audition tape. His first season in Sacramento, Wheels filled in for the Kings' play-by-play announcer for 11 games, finally getting that elusive NBA action.
Then he heard there might be a job opening in Portland.
---
"I started to see what I could find out about the Blazer job," Wheels tells me. "I saw that what had happened was, they were gonna move Schonz out of the position. It became public that it was not his idea. The public figure for the team, Harry Hutt, was getting death threats," Wheels says. "It was a very sticky, messy situation. I remember thinking, "Gosh, whoever gets this job is gonna be walking into a hornets nest."
He applied for the job anyway—but, believing his feet might not be big enough to fill Schonely's shoes, he continued to pursue other options, including a job with the Miami Heat.
In June of 1998 he was on the road in Troy, Michigan, with the WNBA team the Sacramento Monarchs when he called home from a Doubletree to check his messages. What he found was a message from Harry Hutt and a request for a conversation. One call later, Hutt offered him the job: no interview, no meeting, just an invitation to fulfill his dream of becoming a full-time NBA play-by-play man.
---
Nurkic Lillard Back 2 Back
---
"I hung up the phone, and was trying to process what had happened. Then I thought, 'I think I've just been offered the play-by-play job at the Portland Trail Blazers... and I've got nobody to celebrate with!'" Wheels remembers. "So I called everybody I'd ever said hello to in my life."
In Portland, Wheels readied himself for a press conference and his introduction to the city. Feeling "like the President," Wheels was coached on what to say and how to deal with questions pertaining to the exit of Schonely. Confident in his skills and personality, he took the advice, but went with his own instincts—appealing to Portlanders in his own way, assuring them he wasn't there to erase Schonely's legacy.
Unfortunately, Wheels was hired during the NBA lockout of the 1998-1999 season. Even with no games to call, the organization tried to introduce Wheels to the fans. For Wheels, the pressure was on.
"We had a luncheon one time, and a longtime season ticket holder came up to me. She said, 'So, you're the new guy, huh?' And I said, 'Yes, yes,'" Wheels says. "She said, 'Hmm. Well, when we start playing games again, I'm gonna give you two games.' I said, 'Oh. Okay. I guess I better get all my kinks out of the way after one game, because it sounds like you're not gonna be around if I don't have it done after two.' She said, 'That's right.'
"Once the games got started," Wheels says, "before the end of that first season, she saw me again and said, 'You know, we didn't really wanna like you too much, but... you're all right.'"
---
Once he got into the swing of things, Wheels started establishing his fervent announcing style for the Blazers.
Back in Chicago, Wheels explains, "The announcers I was listening to were Harry Caray and Jack Brickhouse. I was stunned initially listening to them, because they would say 'we,' 'us,' and 'them.' They were kind of rooting for the home team! The people I listened to in LA were objective. I grew up listening to one style, and then, as I finally got to do some games myself formally in college, I [was] listening to a whole different style. I think I became somewhat of a hybrid of the two styles. I've never said 'we,' 'us,' or 'them' on the air in regards to the Blazers, but I think people know for sure I want the Blazers to win."
It's true: When listening to Wheels call a Blazers game, you don't even need to know the score. His intonation and delivery tell the whole story. If the Blazers are smoking the other team, he's buoyant and lively. When they're slumping, he sounds defeated and bummed. It helps listeners feel what's happening, but Wheels points out it can be a dangerous practice.
"People are sometimes split on the emotional part of it," he admits. "Certainly nobody thinks it's a bad thing when the team is doing well and I get excited. They enjoy that emotion. But when the team isn't doing well, I have to fight it, because ultimately, it's my job to keep people listening. It's a battle to be a fan—to want the team to do well, but also know that you've gotta describe what's going on," he says. "I never want somebody to say I couldn't keep listening because the team wasn't doing well."
---
With all the screens that sports fans can access these days, radio broadcasts could eventually become obsolete. When Wheels was growing up—and calling his own games in his bedroom—only a handful of games for any sport would be televised; you'd have to rely on the radio for the rest. Today, there are countless apps, websites, and TV sports packages—making it easy to catch a game live, wherever you are.
Wheels thinks radio still has a niche. A few years ago, he explains, the Charlotte Bobcats tried to do away with their radio program—but the NBA said no dice.
"Hopefully there's always gonna be a place for radio. People are still in their cars commuting. Gosh, if you're in Portland, you're spending more time in traffic than ever," Wheels says. "From that standpoint, there's always gonna be a place for radio. I think for the art of play-by-play, radio is the true medium for it."
If play-by-play is an art form, Wheels is a master. During his first year with the Blazers, he got the stamp of approval from a man who knew something good when he heard it.
---
---
"In my first year at a home game, Stevie Wonder comes in and sits in the first row, right near our bench," Wheels says. "I was wondering during the game, 'How is he getting any enjoyment out of this?' I knew he couldn't see. The game ended, and one of his people in his party came over to me and said, 'Stevie wanted me to tell you he had an earpiece in during the game and he was listening to you. He followed every bit of the game and he wanted to pay you a great compliment about how well you did. In fact, he wants to meet you, if you have the time,'" Wheels remembers. "I thought to myself, 'There's the ultimate test.' If I can have a blind person appreciate what I'm seeing, that's the ultimate compliment—that I must be being descriptive enough to give him a good feel about what was happening.
"To me, that's what radio is. It's the greatest challenge—to try and be able to paint a picture of what's happening, be descriptive as you can, and have somebody feel the emotion and sense what you're seeing without them seeing it. It's the most fun and most rewarding thing. I hope it doesn't go away."