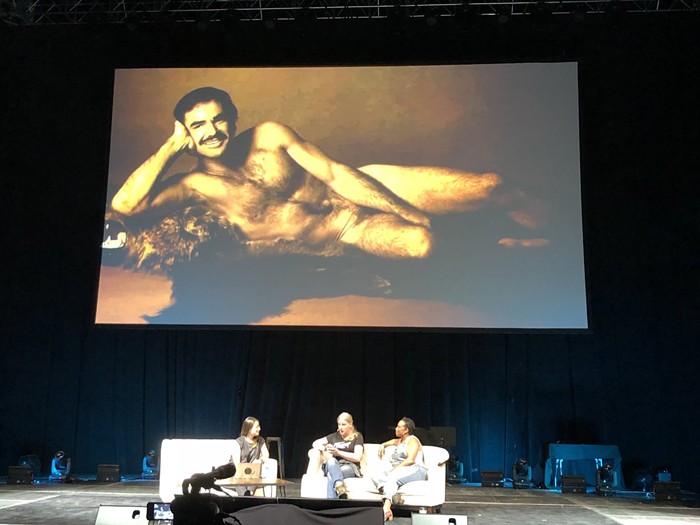 I woke up Monday morning, tired AF but smiling. XOXO 2018 (my first!) is over, and Monday was the bittersweet start of the rest of the week. After three and a half straight days of constant stimulation—interesting conversations! Strange new games! Talks from smart and funny and famous people!—the comedown is harrrrd.
Especially when I got to stand within 10 feet of MOTHERFUCKING LIZZO.
I'm exhausted. I'm sad to be at a desk. But I'm feeling inspired. Here's a snapshot of some of the coolest things from XOXO 2018, with a focus on the last two (heretofore) unblogged days of the fest:
Me, when someone tries to tell me my jumpsuit is too flashy (@lizzo) pic.twitter.com/WKKsKTYhyl
— Andrea Damew🍥🍥d (@adamewood) September 10, 2018
LIZZO
The final performance at the festival was a surprise appearance by hip-hop artist Lizzo, who is one of my absolute favorites and an incredible feminist and body positivity performer. She's in town for a show with St. Vincent and Florence & The Machines, and XOXO managed to snag her for a short show. Seeing someone who will—mark my words!—headline her own arena tour one day soon from third row seats was amazing. And watching her destroy Lauryn Hill in the XOXO Baby Ketten Karaoke room after her set was just… wow.
SECRETS AND ART
Three payphones were scattered around the venue, all designed to get people talking and guessing three clues. Those who figured them out got access to a secret bar! (I figured it out, but then ran out of time to get to the actual bar because I am a dumb dumb). In another portion of the massive coliseum was an art project where people wrote postcards to themselves one year in the future. Seeing some of the notes people agreed to share to their 2019 selves gave me some serious feels.
DIVERSITY
The commitment by the organizers of XOXO fest to bring in speakers of all races, genders and life experiences is unparalleled. I had never heard of Contrapoints from Natalie Wynn, but boy am I a subscriber now. Writer Ijeoma Oluo spoke about her experiences trying to devote her energies to her community, instead of helping white people process. "No one handed us a book on race," she told the crowd. "If we had to start learning at five on our own, you can start at 30." Comic MariNaomi repeatedly cried as she described times when she's learned her database of POC and queer comics got someone a paid gig.
New Yorker food writer Helen Rosner talked about her recent Twitter viral moment—regarding her use of a $400 Dyson hairdryer to dry chicken skin prior to roasting—to reflect just how fucked up misogyny can get. It's a long story, but science shows that drying the skin makes it crispy. She is an expert in her field. Media outlets instead played it as "crazy woman uses frivolous beauty item to cook a raw bird." SIGH. Her repetition of: "I am really smart, and I am really good at what I do, and you should fucking listen to me" is a key mantra for pretty much anyone who isn't a straight white dude.
But as to that crowd: White guys were probably (?) still the majority of attendees, but not by much. Women, non-binary and people of color were really well represented—and seeing that both on stage and in person was really something special.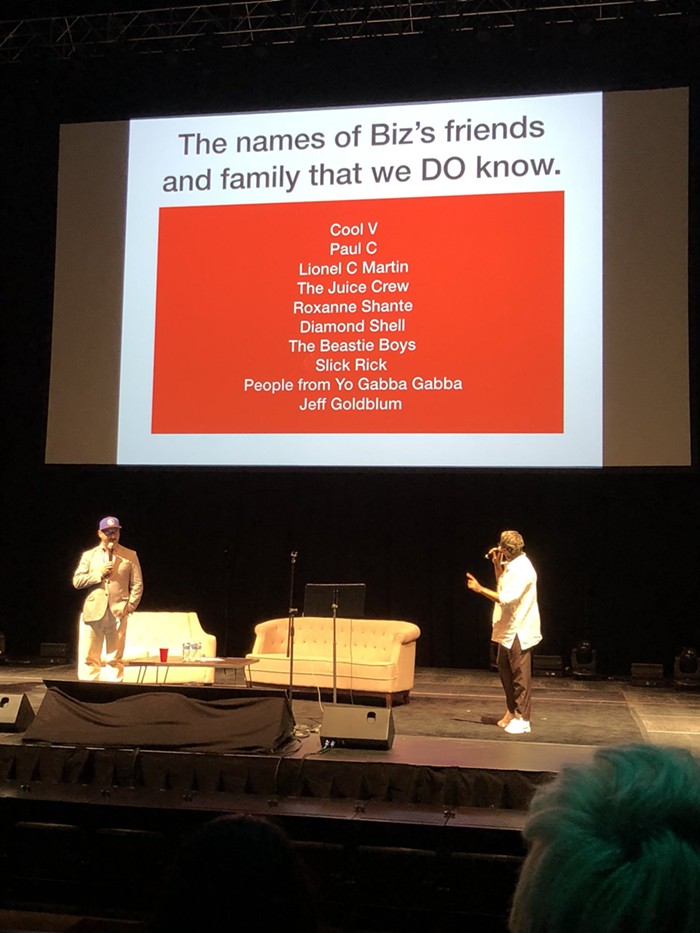 COMEDY
I'm already a huge John Hodgman fan, but seeing him pair up with rapper/comedian Jean Grae for the first West Coast outing of their show Jean and John was a riot. Watching the pair break down Biz Markie's Just a Friend and what it means in the #metoo age was crying funny, but also sad to see another seemingly innocuous bit of nostalgia come under the microscope.
Hari Kondabolu gave a searing and hilarious speech about representation and The Simpsons based on the fallout from his release of The Problem with Apu. He observed that Matt Groening and company are now rich, old white dudes and have come to represent the establishment. This is true, and CAN WE TALK ABOUT HOW THEY THREW LISA SIMPSON UNDER THE BUS WHEN THE SHOW DISSED KONDABOLU'S DOCUMENTARY?!
FOOD CARTS
Ok: This one was actually kind of a mixed bag. XOXO focused on bringing in carts and vendors owned by POC and other minority groups, and so there was an amazing array: Po Shines! Pastrami Zombie! Koi Fusion! Tamale Boy! But I think they underestimated how many people would stay on site for their meals, especially considering the fact that the area around the Moda Center isn't super pedestrian friendly and the food options aren't great. Vegan and vegetarian options were wiped out early and often, and lines snaked on forever. I'm sure they'll iron it out for next year.
Which, by the way, seems like it's happening. Organizers have said they're commiting to an XOXO 2019, even if they can't guarantee it will be the same as this year. See y'all then!
---
Read our other coverage of XOXO:
XOXO Fest, Day 2: Lisa Hanawalt, Demi Adejuyigbe, Is This Las Vegas For Nerds?
XOXO Fest, Day 1: FREE Carly Rae Jepsen Soda, the Albina Vision Project, Cameron Esposito's Rape Jokes
XOXO's New Look: Changes to the Fest and Expanding to Veterans Memorial Coliseum