The Financial Survival Guide
Just because you're trying to save money doesn't mean you have to live like a pauper. In fact, the proliferation of cheap entertainment readily available at our fingertips is probably one of the reasons there's so much disparity in the US economy—the rich get richer while the poor are distracted watching Netflix (or Crackle, which is free). Fortunately, a 150-foot yacht won't bring you enlightenment, while the ideas that can be shared through books, art, music, and film are the things that make us truly wealthy.
Sponsored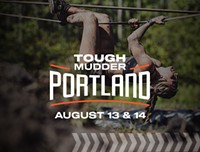 Lock in your summer adventure, Portland. Join us for world famous obstacles over a 5K or 10K distance.
Yeah... let's keep telling ourselves that.
Bottom line: Your all-important dollar needs to go toward basic survival, like food, shelter, and—if possible—investing in the future. But sensibly scraping by isn't a whole lot of fun, so when it's time to relax and let off steam, here's how to entertain yourself by spending very little.
GET CARDED
First thing first (and you knew this was coming): Get yourself a goddamned library card already. Multnomah County has one of the best library systems in the country, and if you're not taking advantage of it on a regular basis, you're wasting money and knowledge—you might as well throw 20-dollar bills into the recycling bin and hold your breath to burn off brain cells. It's not just because of all the books you can read for free, which includes basically every book ever written, even recent bestsellers, provided you don't mind putting yourself on a waitlist. Nor is it all the other media the library has to offer, including movies and music and magazines and newspapers.
It's better than that: Your library card also gives you access to Hoopla, a digital platform that allows you to stream and download all kinds of things, from albums by Taylor Swift and Queen to recent big-screen hits like RBG and Mandy. There are comic books galore and a lifetime's worth of television.
But for devoted couch potatoes, Kanopy is where it's at. Added in October 2018 to Multnomah County's library service, it's a movie streaming platform with a shockingly deep catalog that includes the classic world cinema of the Criterion Collection, the historic Hollywood hits of Paramount Pictures, the hippest indie flicks of today from A24, and tons more. Just a quick scroll through Kanopy's front page reveals a wealth of stuff to keep you occupied; if you can't find something to spend your six free Kanopy rentals per month on, maybe this whole "movie" thing isn't really your jam.
Lovers of music can take advantage of the Library Music Project, a streaming service with dozens of local bands at the ready.
Library cardholders can also use My Discovery Pass, a partnership program with local organizations. Each year, you—yes, you!—are entitled to two free passes to the following: the Portland Art Museum, the Portland Opera, the Hollywood Theatre, the Northwest Film Center, Literary Arts, Rose City Rollers, Artists Repertory Theatre, and one free pass to the Chinese Garden. That's more than seven free dates' worth of entertainment right there, and all you have to do is use your library card to log in and reserve your pass.
Beyond the Stream
If physical media is still your thing, there are ways to fill your shelves by spending very little. Avid readers should bookmark booksalefinder.com, which lists a ridiculous amount of used book sales across the country. They're mostly held as fundraisers for local libraries—Multnomah County Library, for example, holds two huge sales each year at the Doubletree Hotel, and Fort Vancouver Regional Library also sells discarded library books regularly. Some of the smaller libraries in the area also have "bag" sales, as in: bring a bag and fill it up with books for just a few dollars. It's the best way to undo your recent KonMari purge.
If you're into music, be advised that people hate CDs now, so you might be able to get a whole bunch for cheap or free. Check Craigslist and Nextdoor to see if anyone's tossing their collection. If you're into vinyl, it's a bit trickier, since people actually like records again. You can sometimes find freebies if you keep your nose to the ground, but you'll most likely come away with scratched copies of lame albums by the likes of Ray Conniff and Rod McKuen. Keep an eye on Everyday Music's social media for when they slash the prices on their 50-cent record bin in half. Music Millennium hosts a couple of yearly sidewalk sales, with boxes of two-dollar records and other discounts. Jackpot Records also has a dollar record sale each year during the Hawthorne Street Fair in August.
With the not-at-all-shocking death of MoviePass, film buffs can't scrimp quite as easily, although the Academy Theater is a good place for cheap second-run movies, and Living Room Theaters has discounted tickets on Mondays and Tuesdays. For blockbusters, Cinemark's Century 16 Eastport Plaza multiplex also has discounted Tuesdays. If that's not enough, look into a subscription service called Sinemia, which works very much the same as MoviePass, but is substantially more difficult to use, and nickels-and-dimes its subscribers with an assortment of undisclosed fees.