The Portland Dive Bar Preservation Society
EVEN SOME of the diviest of bars have a quirk or a hook—maybe it's shuffleboard, or 13 li'l smokies for a $1.50, or a Bloody Mary that includes a Slim Jim for a garnish. Checkered Flag doesn't have such things. At first glance, the most noteworthy thing about the place might be free-pool Sundays.
Sponsored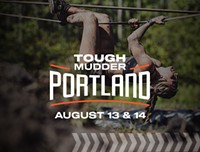 Lock in your summer adventure, Portland. Join us for world famous obstacles over a 5K or 10K distance.
Even the exterior is unremarkable. Nestled along a pockmarked stretch of 82nd, across the street from a 7-Eleven and not too far from a pair of hourly motels, Checkered Flag almost disappears underneath its drab siding and red-painted brick.
I walked into this joint for the first time on a Saturday afternoon, having little idea what to expect. The inside is pretty spartan, as far as dive bars go, anyway: a few beer signs and a large Oregon Ducks poster, as well as a board advertising a St. Patrick's Day potluck. The space is small, too—more like a clubhouse. There are pool tables, and in the corner near the back entrance are the video lottery machines, where a few people sat, entranced.
My first thought was, "This is it?" There weren't even any paintings of naked women with gravity-defying breasts behind the bar. Or yellowed bumper stickers with phrases like, "I'd Rather Be Fishing" or "Friends Don't Let Friends Drive Fords." Just a "We Are Cash Only" sign, which is comforting.
But people are all you need, and the longer I sat at the bar—a few seats down from five or six middle-aged-and-older gentlemen—the more I warmed up to the place (with the help of $3 happy-hour well whiskey and Cokes). I struck up a conversation with Bo, who's been coming to the Checkered Flag for some 15 years. Everyone knows Bo. In fact, everyone knows everybody (and it's a diverse crowd, too). Bo referred to the place as his office, and said many of the bar's patrons are like family. And I believed him. Just to make his point clear, though, he directed me to the end of the checkered bar top, where a plaque and a pool cue were hanging above one of the stools in memory of a regular who'd died a few years ago.
Hell, the fact that a complete stranger like myself is already on a first-name basis with the bartenders and some regulars says something about Checkered Flag. It's cozy—I've been in three times since that first visit. A Sunday night brought in a slightly younger (though not much younger) crowd that made use of the free pool. A late weekday afternoon saw the usual suspects—including Bo—drinking tall cans of Busch. Blazers games are shown on a medium-sized flatscreen, and the juke occasionally gets a little action.
Like any good dive worth its salt, Checkered Flag's drinks are cheap and stiff—a top-shelf whiskey like Tullamore Dew will run you about $6-6.50, and PBR tallboys and Miller Lite and Hamm's pints are always two bucks. (The darkest beer you'll find is a Natian Undun Blonde Ale.) Food? Well, they'll gladly fry up one of the three menu items—chicken fingers, fries, or tots—but strongly recommend that you bring in food from the Mexican restaurant across the street.
Like many of the other bars we're profiling in this issue, Checkered Flag is a time capsule, noteworthy in its un-noteworthiness (there's not even a single Yelp review). From what I gathered by talking to the regulars, this neighborhood bar has been around since at least the 1960s. It was a biker bar at one point, but shifting dynamics in Portland and changes in ownership through the years haven't really changed the Checkered Flag. Time will tell if that remains the case. I like its chances.