The Weed Issue 2019
The
SPLIFF Film Festival
, presented by your pals at the
Portland Mercury
and Oregon's Finest, is coming soon, on Sat April 20—and the fest promises to offer only the
very
best in short films made by and for stoners.
Sponsored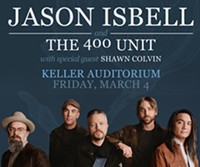 Jason Isbell has established himself as one of the most respected songwriters of his generation. Don't miss Jason Isbell and the 400 Unit, March 4th at Keller Auditorium!
In anticipation of SPLIFF, the staff at Portland's beloved video store Movie Madness got together to recommend some stoner-centric flicks—all of which, natch, can be found at Movie Madness. Read on for recommendations written by trusty Movie Madness employee Quinn, and then keep on reading for even more picks from the rest of Movie Madness' brilliant-and-only-possibly-slightly-stoned staff!
House (Hausu)
Some movies make you feel stoned even if you're stone sober, like they're got their own built-in contact high. House is definitely one of those films. it's a frenetic, psychedelic, absurdist daymare that hits you like a strong sativa and doesn't let up until your brain is fully fried—the perfect solution for when you have a drug test coming up and can't afford to risk partaking in the real deal. You could, however, theoretically get twice the bong hit for your buck if you watch it after you've already taken a few tokes. Either way, you're in for a wacky good time, jam-packed with inexplicable editing choices, nonsensical plot points, highly hallucinatory imagery, and incredibly imaginative and bizarre death sequences. Enjoy!
Solaris (1971)
I initially tried watching this one sans the addition of any consciousness-altering chemicals and I just couldn't get into it. Maybe it was just a little too glacially paced and ponderous for my ADD-addled brain to process at the time. But after consuming copious quantities of a certain special medicinal herb everything magically fell into place and I found myself becoming miraculously mesmerized by this sublimely beautiful and cerebral cinematic meditation on… wait, what exactly was it about again?
Bongwater
Not a great film, per se, but it's a stoner flick that's set and filmed locally, so I had to include it on the list! Featuring a now very famous cast (Jack Black, Luke Wilson, Brittany Murphy) during the early stages of their respective careers, it's a mildly funny and more than slightly stupid snapshot of Old Portland cannabis culture, back when you could still make a living peddling pot out of your house via landline and use it to fund your bad art habit, and before legalization made it not nearly as cool to be a burnout anymore. Bummer dude!
Star Trek: The Original Series
Sci-fi TV and THC: was there ever a more potent pairing? All those spaceships and lasers and aliens and robots—it just seems so much more plausible and relatable when your mind is already 10,000 miles above sea level. Enter
Star Trek
, the ultimate sci-fi show and one of the best complements to blazing a bowl this side of a pepperoni pizza. While probably any of the many series will do, I prefer the OG Kush for its retro cheesy charm, since the lower production values, outdated special effects, and over-the-top acting often yield unintentionally hilarious results that are only amplified with the addition of some of my little green buds. Light me up, Scotty!
Detroit Rock City
It's every parent's worst nightmare: Your kids get addicted to the immoral, Satanic sounds spewing from the radio and proceed to follow their sacrilegious teachings down a dark and twisted path, embarking on an unholy pilgrimage to heavy metal Mecca fueled by teenage testosterone and plenty of potent THC. As an in-depth analysis of the relationship between partying and rock and/or roll music (the original gateway drug!), Detroit Rock City is just as much a stoner movie as it is a rocker movie, and the two genres pair well here. After all, the devil's music always sounds better with a little devil's lettuce!
The Mind's Eye: A Computer Animation Odyssey (and all its sequels)
Prepare to embark upon a cyberdelic journey into the farthest reaches of the computer generated universe, passing through a portal into all sorts of surreal situations and alternate digital dimensions of early '90s nerdiness. You have before you the film series that all but predicted and/or invented the vaporwave aesthetic. It's a trip, so buckle up and get ready to blast off into cyberspace.
Cosmos: A Personal Voyage
Sit back and drool as the coolest astrophysicist in the history of time puts a microscope to the inner workings of outer space, which is, as we all know, probably one of the trippiest topics known to man. On Carl Sagan's seminal pop-science show, many of the most mind-boggling aspects of our infinitesimally small place within the infinite beyond are patiently and expertly explained by its humble turtle-necked narrator—a man who happened to be a casual user of cannabis himself, as well as a vocal proponent of its legalization, proving once and for all that even stoners can be super smart scientist dudes too, man! So, the next time you head down to the dispensary to procure some of that now legal reefer, engaging in an exploding emerging industry worth billions and billions of dollars, just remember that you're actually about to be smoking star stuff. Hail Sagan!
A Scanner Darkly
While most Philip K. Dick adaptations are trippy and mind-bending enough to easily qualify for this list, this one stands out since it's the only one that is actually quite literally all about narcotics. Director Richard Linklater's use of the rotoscoping technique, in which live-action footage is shot and then animated over and embellished, is utilized to great effect, creating a surreal, hallucinatory style that perfectly suits the subject matter and reflects the warped perception of the strung-out characters as they appear to lose their grip on reality. Keanu, Woody, and RDJ are perfectly cast in the roles of paranoid and delusional addicts of a deadly designer drug in a dystopian future where no one can be trusted and everyone is wearing a wire—much the same way I feel about the world when I'm really, really high.
In addition to Quinn, the rest of Movie Madness' staff weighed in with some choice selections too, like....
• Akira
• Clerks
• Donnie Darko
• Fantasia
• Inception
• Inherent Vice
• Holy Motors
• Mirage Men
• Mulholland Drive
• Nashville
• Pulp Fiction
• Tommy
• True Stories
• Samsara
• Wild Zero
• The Wizard of Oz
All the above titles are available at Movie Madness, so stock up in more ways than one and get to it. Meanwhile, SPLIFF hits Revolution Hall on Sat April 20—get your tickets now!