Patrick Buckmaster and Ann Pyne sparkle in the humble café where I've asked them to meet. There's a classic disconnect of seeing nightlife people during the day, and I feel like I invited titans into the human world. Buckmaster looks a little like if Courtney Love and Kurt Cobain achieved pandrogeny in a single body. Wearing a psychedelic, rainbow-patterned long sleeve shirt with emo thumb holes at the cuffs, he pulls the holes over his fingers reflexively and fidgets for the entirety of the interview. Pyne by comparison is calm and composed. A mound of blonde hair sits casually tied atop her head. Her nails are nearly two inches in length—and I fear them. Both Pyne and Buckmaster speak rapidly, and with great passion, about the Portland drag scene where they book shows, host parties, promote events, and just in general try to get their people paid.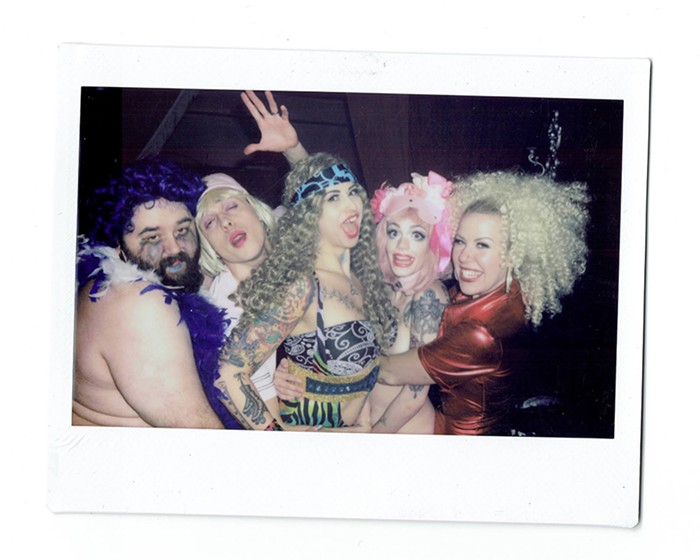 It's 2 pm, and both are just waking up and preparing for another late night at their femme dance party Compact. Then there'll be work to do for the upcoming Pride week, which includes two Club Kai Kai nights and a Sad Day show. Buckmaster has been creating Club Kai Kai events for just about four years, Sad Day for three. NecroNancy is his longest-running project, which has included everything from drag wrestling to an annual Portland's Filthiest Person contest to a wedding night where Buckmaster married himself. (Editor's note: Buckmaster shifts between pronouns fluidly. For this piece, we're using he/him pronouns because that's what he used during the interview. For the future, all bets are off.) Of his different shows, Buckmaster says he's come to think of the events as a process. "It's kind of my tester hierarchy," he says. "You show up? Cool. I'll book you for Sad Day. You do a good job? You do bad job? Whatever. I'll book you for NecroNancy. You start really working at it, you can get to a Club Kai Kai."
I've heard about Kai Kai, but just for clarification I ask, and Buckmaster confirms the terminology: "A Kai Kai is when two drag queens in drag have sex with each other. A Kiki is when drag queens get together and talk. Sometimes at a Kai Kai they talk too—usually my mouth is full—"
"Stop!" Pyne says. She slaps Buckmaster's shoulder, in a motherly way.
I assure them that I'm comfortable talking about sex.
"I know. He's just my child," Pyne sighs.
Pyne joined Buckmaster in putting shows together nearly a year ago. She approached him, out of the blue, after attending a Club Kai Kai during Pride 2017.
"A lot of queer events in Portland, especially drag, are not for gay people," Pyne says. "They're for straight people. That's really common. I thought it was really cool that Club Kai Kai created a space that was meant for queer people. We could be who we wanted without feeling like a showcase for straight people. Straight people are fine. We love our allies. It's just that Club Kai Kai prioritizes queer people."
I've been to Club Kai Kai a few times and felt very included. To be honest, drag shows are the only places where hair as big as mine isn't a big deal. I was impressed by the variety of drag at Club Kai Kai; I saw some female impersonation and some genderfuck. I saw the breathtaking Mr. Pretty with his long golden mermaid tail. Club Kai Kai feels like a salon: There's more socializing than dancing and most of the night is spent wondering what the performers will do.
"Club Kai Kai is pop-up drag," Buckmaster says. "You don't know when, why, or how it's gonna happen. It could happen right at the beginning, or at the end. It's just a pop-up moment. Unfortunately, we can't really do the pop-up element at Pride because it's a larger scale show," he continues, "but whenever we book superstar performers we actually often see people start coming to the smaller, monthly shows too. Fans get to be exposed to drag queens from their own city and their own communities. If these people like Aja, they're gonna love Diva Dott. They're gonna love the House of Ada."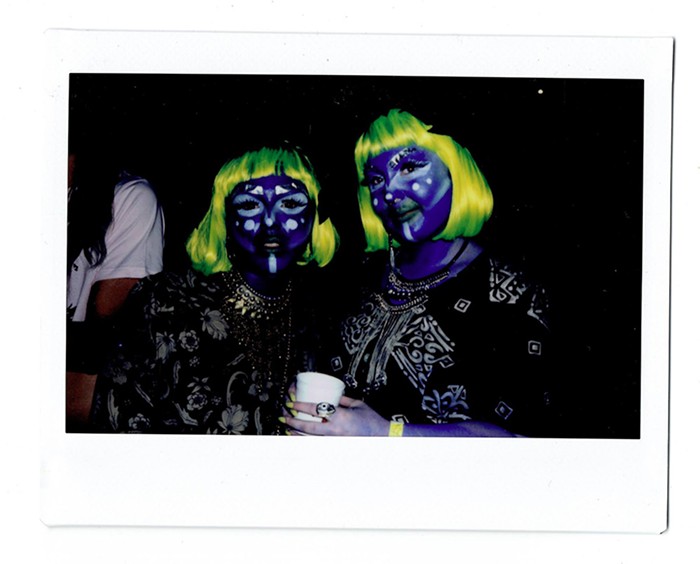 Both of Pride's Club Kai Kai nights will have RuPaul's Drag Race celebrities, but Friday's sold-out show is the first Katya appearance since the mental health break she took in January. Sad Day, a smaller, more intimate drag show, always feels a little more tight-knit and underground. Buckmaster created the drag show series as a performance night for real emotions.
"You can be happy. You can be sad," Buckmaster says. "You can be whatever you want as long as you pay your fucking cover and tip my drag queens."