If it didn't feel like summer before this weekend (and nothing says summer like slackjawed dipshits randomly blowing off whatever illegal fireworks they found in their couch cushions for the two weeks following Independence Day) then this weekend is going to cement the undeniable fact this is summer and we are living it. It's just a question of how that living gets done. Do you wanna float in entertaining style? Do you wanna stand in the purple rain? Feel a mountain of banging beats fall directly into your head? Catch one of the greatest trilogies ever made in 35mm? Or maybe take one more trip to the Goondocks? The summer's only just getting started—hit the links below and load your plate accordingly.
---
Jump to:
Friday
|
Saturday
|
Sunday
---
The Revolution
The Family Stone. The Heartbreakers. The J.B.'s. There have been many great backing bands, but perhaps none were greater than the Revolution, who played that tight, funky-as-hell mixture of rock and R&B that sent Prince into the stratosphere. In the wake of the Purple One's death, the original Revolution have reformed to perform his best-loved hits. The water's warm enough, so let's begin. NED LANNAMANN
9 pm, Roseland, $33-55
Living Legends
The prolific Los Angeles-based indie hip-hop crew consisting of Aesop, Bicasso, Eligh, Luckyiam, Scarub, and Sunspot Jonz swing through Revolution Hall for the Portland stop on a brief West Coast jaunt.
9 pm, Revolution Hall, $25
Federale, Máscaras, The Savage Family Band
Portland's own Federale carries the torch of Ennio Morricone high, with a swarming, psychedelic, orchestral sound that'll splatter spaghetti sauce all over your cowboy boots. NED LANNAMANN
8 pm, The Know, $10
Norm MacDonald
The dry, sarcastic, and hilarious Norm Macdonald is coming to Portland for six shows over three days—what's your excuse for not going to one? Macdonald first came to fame in the mid-90s as host of Saturday Night Live's "Weekend Update," and now, nearly 20 years after he left the show, he may be at the top of his game. His new Netflix special—Hitler's Dog, Gossip & Trickery—got great reviews. If you don't know his standup, check out his emotional set during David Letterman's final show as Late Show host in 2015, and his legendary set during the 2008 Comedy Central roast of Bob Saget. DOUG BROWN
7:30 pm, 10 pm, Helium Comedy Club, $33-43
Eagles of Death Metal, The Delta Riggs
Vocalist/guitarist Jesse Hughes and drummer Josh Homme (Queens of the Stone Age) bring their shapeshifting rock outfit back to Portland for another headlining show at the Wonder.
9 pm, Wonder Ballroom, $25
The Portland Sketchfest
Sketch comedy festivals are institutions elsewhere, and Portland's sketch scene is robust and hilarious, so it's always seemed a sad oversight that we didn't have a fest of our own. Well, NOW WE DO! The Portland Sketch Comedy Festival kicks off this week at the Siren Theater, with a lineup pairing local faves like the Aces and Lone Wolves with fancy visitors like LA's the Groundlings. AT LAST! MEGAN BURBANK
7 pm, Siren Theater, $12-85
Pharmakon, Caustic Touch
Acclaimed experimental musician Margaret Chardiet brings her industrial noise project Pharmakon back to Portland for a headlining show at the High Water Mark supporting her 2017 album, Contact.
9:30 pm, High Water Mark, $12-14
Monster Drawing Rally III
A live drawing event and fundraiser hosted in the museum's courtyard, featuring over 75 Portland-based artists working in three one hour shifts, pulling all manner of monster out of their mind and applying them to paper, where for $35 you can take a unique beastie home with you.
6 pm, Portland Art Museum, free, all ages
Meringue, The Bedrooms, Petite
Support two great causes while soaking in the sounds of dream pop, new wave, and punk. Handing over a fiver for entry will double as a donation for Trans Assistance Project and a portion of all bar sales will benefit Freeform Portland, the newest comer to the city's slew of excellent community-driven radio stations. EMILLY PRADO
8 pm, Pop Tavern, $5
Roll Columbia: Woody Guthrie's Northwest Songs
In conjunction with Woody Guthrie's birthday, Smithsonian Folkways Recordings presents a release show for Roll Columbia, a new album collecting the 26 songs that the legendary singer/songwriter wrote for the Bonneville Power Administration in 1941. The celebration will feature songs and stories from a slew of regional performers including Ben Hunter & Joe Seamons, Annalisa Tornfelt & the Tornfelt Sisters, Orville Johnson, Bill Murlin, Jon Neufeld, Timberbound, and Carl Allen.
8 pm, Alberta Rose Theatre, $18-22
Algiers, Moon Diagrams
Algiers' brand-new record, The Underside of Power, is frenzied and chaotic, with periodic glimmers of clarity. Like on the title track, where pulsing new wave synth melts away and Franklin James Fisher's larger-than-life vocals break through the turmoil. The Atlanta four-piece takes pain-filled but cathartic genres like gospel, blues, and punk, and pushes them to their most challenging, often hook-free extremes. The 2015 single "Blood" remains one of the most haunting tracks that somehow still passes for pop in recent memory. Though The Underside of Power can be all over the place—Pitchfork noted its songs "lack cohesion"—in a time like this, for those identifying as left of outright authoritarianism (as the explicitly anti-capitalist Algiers would), cohesion seems like a laughable goal. CAMERON CROWELL
9 pm, Mississippi Studios, $15
Joseph Arthur, Ray Goren
The Akron, Ohio-hailing folk and rock singer/songwriter returns to Portland to perform his third studio album, Redemption's Son, in its entirety in celebration of the record's 15th anniversary.
9 pm, Doug Fir, $18-20
Rantum Scoot
A whimsical name for a mid-summer evening of solo dance from veteran choreographers Bob Eisen, Gregg Bielemeier, and Linda Austin, as well as a group piece by Leah Wilmoth and Sada Naegelin.
8 pm, Performance Works NorthWest, $12-20

DJ Shadow
Last year, the 20th anniversary of the release of DJ Shadow's Endtroducing..... came and went without much fanfare. There was no extensive 20th anniversary tour. Only a handful of published retrospectives. Shadow issued an expanded version of the album stocked with demos, outtakes, and remixes. But even he didn't seem to make a huge deal of it. Make no mistake: Endtroducing..... is a huge deal. It's a towering artistic achievement, a paragon of sample-based music, and one of the great releases in the past quarter-century of hip-hop AND electronic music. It's a timeless patchwork of sounds—funk, rock, jazz, soul, ambient, and beyond—produced by an obsessive crate-digger with turntables, a drum machine, and a computer. Perhaps Shadow didn't give Endtroducing.....'s birthday a major push because he was focused on promoting his latest album, last year's The Mountain Will Fall. It's representative of his entire career: impressive in both composition and performance, disdainful of genre boundaries, highly listenable, and largely overlooked in the long shadow of his landmark debut. BEN SALMON
8 pm, Roseland, $25
The Big Float
Get ready to get wet, because Portland's best river event of the year is going down on Saturday, July 15... the annual Big Float! For those new to town, the Big Float is a celebration of the Willamette in which 3,000 + fun-havers don life vests and inner tubes (or inflatable swans or floating slices of pizza) for a leisurely and fun float in the river. But that's not all! There's also an inner tube parade, costume contests, and music provided by LoveBomb Go Go, Tony Starlight, and Clinton Fearon & the Boogie Brown Band. Plus you can expect lots of food and drink, and not one but TWO 100-foot long slip-n-slides! (WHAT?!?) Beat the crowds by registering online at thebigfloat.com, grab your fanciest inflatable and sexiest swimsuit, and jump in because it's summer and the Willamette is fine! WM. STEVEN HUMPHREY
11 am, Tom McCall Waterfront Park, $5-10, all ages
Spielberg on Film: The Indiana Jones Trilogy
The Hollywood Theatre's "Spielberg on Film" series is going strong, presenting some of the director's greatest movies—all on 35mm or 16mm. And this weekend's lineup is all Indy, all the time, with the goddamn perfect adventure classic Raiders of the Lost Ark, its dark, weird sequel Indiana Jones and the Temple of Doom, and the crowd-pleasing Indiana Jones and the Last Crusade screening on 35mm! Seeing Indy chase relics, smooch ladies, and defy death on the big screen is about as good as moviegoing gets, and BONUS: So many Nazis get punched! ERIK HENRIKSEN
Hollywood Theatre, see Movie Times for titles and showtimes

Portland Queer Comedy Festival
This week is the inaugural Portland Queer Comedy Festival, a four-day long fest that'll focus on a plethora of queer performers. With five stages around town, it'll be the first and largest LGBTQIA comedy festival of its kind in the US and the first ever in Portland. Headliners include Comedy Central's Kate Willett, Jason Stuart (The Birth of a Nation), Guy Branum, and Maggie Maye. Also, Mercury columnist D. Martin Austin will host several events and do a live taping of his podcast Your Fault For Listening. Don't miss out on this huge gay comedy fest!
Jul 15-16, Various Locations, click here for a full list of performers and schedules
Wimps, Patsy's Rats, Hornet Leg, Mini Blinds, Conditioner
Esteemed label See My Friends Records and beloved community space the American Legion Local 134 are proven beacons of Portland's burgeoning DIY rock scene, so when they team up to present a Saturday night all ages shindig, you know it's going to be quite a treat. In addition to sets from some of the city's best underground pop and shapeshifting punk acts, Seattle's Wimps will be in town to the top off this fully loaded sundae with a bright red slacker-rock cherry. CHIPP TERWILLIGER
8 pm, American Legion Local 134, $7
Cathedral Park Jazz Festival
Maximize the fine Portland summer by spending it lounging on the grass while surrounded by the sounds of the West Coast's longest-running free jazz festival. MARJORIE SKINNER
1 pm, Cathedral Park, free
WWE Presents NXT Live
Live wrestling returns to the Moda Center with NXT Live. Featuring NXT Champion Bobby Roode, NXT Women's Champion Asuka, Aleister Black, Kassius Ohno, Drew McIntyre, Ember Moon and more.
7:30 pm, Moda Center, $20-75, all ages
Defeat Trumpcare March
Socialist Alternative Portland leads this march against the anti-healthcare endeavors of the Trump administration as part of the #OccupyTrumpcare national day of action.
noon, Shemanski Park, free
Harefest 7: Shoot to Thrill, Aerosmith Rocks, Ramble On, Barracuda, All Fired Up, Maiden NW, Washed in Black, Unchained, Lovedrive, The Seekers, Poison'us
If rock is dead, Canby's prepping a damn decent zombie apocalypse. Head south for Harefest, an annual festival of cover bands (with tributes to Guns N' Roses, Van Halen, Heart, and more), camping, and beer. Canby: Always your best for traveling 20 years into the past. DIRK VANDERHART
4 pm, Pat's Acres Racing Complex, $40-100
Matt Wagner
Portland-based comics artist and writer Matt Wagner will be on site signing copies of Mage #0 Hero Denied, the third and final volume in his long-running series chronicling the adventures of Kevin Matchstick.
noon, Cosmic Monkey Comics, free
Pretty Creatives
The winners of NW Dance Project's international choreography contest, Alice Klock and Alysa Pires, show off their world-beating works.
7:30 pm, PSU Lincoln Performance Hall, $20-25
Basic Rights Oregon Benefit Concert
Sabrina Velazquez's alternative pop-oriented singer/songwriter project Montclaire shares the stage with Seattle-based singer/songwriter Sarah St. Albin and Portland post-rock outfit A Collective Subconscious as part of a benefit concert for Basic Rights Oregon.
9 pm, The Secret Society, $10
Barna Howard, Andrew Combs
Barna Howard brings a stripped-down outlaw-country onslaught, full of John Prine-style guitar plucking, Townes Van Zandt-like cautious pessimism, and Kris Kristofferson's storytelling prowess. RYAN J. PRADO
9 pm, Mississippi Studios, $12-14
Portland Highland Games
Scottish culture has given the world many gifts: haggis, kilts, Highlander, Groundskeeper Willie. Today, the Portland Highland Games gives us even more: Delight! at bagpiping, drumming, and fiddling competitions! Behold! caber tossing, where giant dudes throw telephone poles! Fear! for your life during the broadsword demonstration! Ooh and ahh! at adorable border collies! Win! a vacation to Scotland. (Possibly.) ERIK HENRIKSEN
9 am, Mt. Hood Community College, $8-20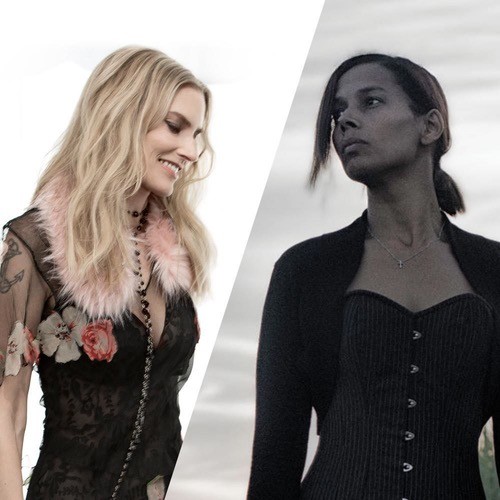 Aimee Mann, Rhiannon Giddens
In the rush to castigate Portlandia for spurring on the city's ever-speedier metamorphosis, I suppose there are those who'd even lump in Aimee Mann for her brief cameo on the show. Don't do that, guys. Mann is a reliable font of thoughtful, witty, downright pretty songs, and she just dropped her first solo album in five years—a dirge-filled collection of loveliness that the elephants at the Oregon Zoo should identify with (RIP, Packy). DIRK VANDERHART
7 pm, Oregon Zoo, $29.50-59.50, all ages
Rozwell Kid, Vundabar, Great Grandpa
With 2014's Too Shabby, West Virginia Weezer fetishists Rozwell Kid produced one of the best pop-dappled punk records this side of Superdrag's Regretfully Yours, or, to use a more recent example, the Sidekicks' Awkward Breeds. As a lyricist, main Kid Jordan Hudkins shuns the pop-punk genre's dense (but typically shitty) metaphor and unflinching candor for inexplicably poignant, "hashtag '90s kid" slackerisms like Too Shabby's oft-cited opening line: "Simpsons season 3 and a thing of hummus/This is all I'm need/I'm, like, super low-maintenance." The group's new record, Precious Art (which is, like, such an ironic title), fails to capture the lightning-in-a-bottle profundity of its predecessor, and the incessant lowbrow pop culture referencing can seem disingenuous. (A line like "And I'm up at three in the morning/For SeaQuest reruns" is the lyrical equivalent of a pre-stressed Aaahh!!! Real Monsters T-shirt.) But these shortcomings are offset by dashes of bored brilliance, like the candy-coated "UHF on DVD" and breakup anthem "Booger," which is both an inadvertent master class in pop poetry and a meta-acknowledgment of the idiom's inherent juvenility. MORGAN TROPER
8:30 pm, Mississippi Studios, $10-12
Perfume Genius, Serpentwithfeet
Perfume Genius is the project of singer/songwriter Mike Hadreas, whose previous albums—2010's Learning, 2012's Put Your Back N 2 It, and 2014's Too Bright—revolve around themes of sexuality, addiction, chronic illness, abuse, and homophobia. He sings about being gay and the frustration of being punished for something he can't control, but greets pain with sardonic wit on songs like "Queen": "No family is safe/When I sashay." Others are more tender, like "Don't Let Them In," where he admits how exhausting it is to constantly repel barbs of hate. With the May release of No Shape, Hadreas imagines his own transcendence in grand, sweeping protest music. This is reflected in fluid movements between genres, from glam rock to the magic of Angelo Badalamenti's piano ballads to stringed chamber folk to TLC-inspired R&B grooves to volcanic pop anthems. They're all united by Hadreas' androgynous voice—he's always commanding the center, through explosive moments of catharsis and lighter-treading hymns. CIARA DOLAN
9 pm, Revolution Hall, $18-22, all ages
The Domestics
Local musicians Michael Finn and Leo London bring their rock and pop act the Domestics to Rontoms for this week's installment of the venue's ongoing Sunday Session series. Eugene-hailing trio Le Rev provide support.
8:30 pm, Rontoms, free
The Goonies
Samwise Gamgee and Doc Block ask Short Round, a chubby exhibitionist, and a bad Michael Jackson impersonator to join them on a treasure hunt on the Oregon coast, where Joey Pants and the FBI dickhead from Die Hard are illegally detaining an ex-football player with encephalitis. Will this motley gang of misfits find Captain Dick Joke's secret stash of gold coins before they're brutally murdered by an English bulldog in a dress? Will everyone speak solely in perforated shrieks and yelps? Will you start to wish you were just playing the old NES game again instead of sitting through your 50th viewing of this tired nostalgia exercise that constitutes roughly 17 percent of Astoria's economy? Hah! C'mon. Goonies never say die, right? It's our time down here! BOBBY ROBERTS
Academy Theater, see Movie Times for showtimes, $3-4
Rockin' for Tony: Quarterflash, Nu Shooz, Jon Koonce & The Lost Cause
A trio of Portland legends reunite for a special musical tribute to longtime local club owner and promoter, Tony DeMicoli, known for his significant role in '80s venues like the punk and art rock space The Long Goodbye, the Luis' LaBamba Club, and Club Key Largo, which he own and managed for over a decade.
7 pm, Crystal Ballroom, $20
Portland Opera: Cosi Fan Tutte
Though the misogynistic undertones of its libretto (and title) can't be denied, there are five good reasons to catch this madcap production of Così fan tutte—which roughly translates to "women are like that"—regardless of its occasional sexism: 1) Nobody goes to an opera for the plotline, anyways. 2) With crisp perfection, Wolfgang Amadeus Mozart composed unparalleled music for the female voice, and leading ladies Antonia Tamer and Kate Farrar are guaranteed to display the upper limits of transportive vocal clarity. 3) All six performances will be sung in Italian, so you can either follow along with the English text projected above the stage, or just close your eyes and allow the most beautiful language in the world wash over you. 4) Intriguingly, Alison Heryer's new costume design pairs contemporary fashion alongside opulent 18th-century attire. 5) Anytime a live orchestra supports an array of unplugged human voices in the utterly kickass Newmark Theatre, it's a special occasion. BRIAN HORAY
2 pm, Newmark Theatre, $35-200
Wonder Woman Wine Flight
A benefit for Betties360, providing Portland girls with access to outdoor activities and life skills training. Pairing eight characters from the box-office blockbuster Wonder Woman with eight wines. Attendees who arrive in costume get $5 off the price.
noon, Pairings, $20-25
Pickin' on Sundays: Lawn Party
Jon Ostrom's band was built to blend roots rock and jazz in a unique fusion of styles. Catch them this afternoon when they keep the Doug Fir's Pickin' on Sundays series rolling on through the month of July.
3 pm, Doug Fir, free
Don't forget to check out our Things To Do calendar for even more things to do!