This weekend is like the entire city realized Fall was coming and tried to fit a full month of summer into three days. But even as Portland Feasts on amazing food, and drinks in Undisputable Genius... the season is changing. Oktoberfests (and Dogtoberfests) prove it. But so what? Even if the leaves turn colors and drift down to the ground—fun is fun, and there's a veritable ton to load on your plate this weekend. Hit the links below and get to it.
---
Jump to:
Friday
|
Saturday
|
Sunday
---
Friday, Sept 15
Jim Gaffigan
Jim Gaffigan can handle the crowds at the Moda Center—he opened for the Pope in 2015. The 51-year-old pasty stand up legend has been consistently hilarious for years, known for his clean but, like, legitimately great jokes about food (his "hot pocket" bit from 2006 is still funny) and laziness, religion, his family, and so on. Some people, like a handful of my colleagues, think he's corny, but he may be the least hateable standup working today! DOUG BROWN
8 pm, Moda Center, $35.75-69.75
Feast Portland
For one long weekend each year, Portland's hard-working Bruce Banner of a food scene gets angry—and we all like it a great deal. It's time for Feast, the Hulkified, drunken, eating-a-"sandwich"-that-looks-nothing-like-a-sandwich food festival of your dreams. From Thursday through Sunday, culinary visionaries from around the world will swarm to town, joining Portland's own stable of incredible chefs in a whirlwind of hedonism that will test even the most committed bon vivant. This bad boy is popular and tickets have been on sale for months, meaning options for you latecomers are somewhat limited. But there are still opportunities to, say, get swankily wine-drunk in Director Park, or slam dance in what the fest describes as "a veritable mosh pit" of face-stuffing delight in Pioneer Courthouse Square. Look, none of this stuff is cheap. Portland is sort of done with cheap. But the city's food star has also never shone quite so brightly. Gorge yourself sloppily in its glow. DIRK VANDERHART
Sept 14-17, Various Locations, Visit feastportland for a full list of venues and times.
Deerhoof, Christina Schneider's Genius Grant, Mayya & the Revolutionary Hell Yeah!
Deerhoof's songs are melodic but disjointed, mature but childish, crunchy but clean. The artistry of their sonic clashing is most obvious in the contrast of lead singer Satomi Matsuzaki's sugary, high-pitched voice against shredding guitars and arena rock drums. Even at their most obscure and avant-garde, Deerhoof's music is jubilant. The San Francisco band's new album, Mountain Moves, is like a dopamine rush to a fantastical world, but they're well aware of what's happening in the real one. Their Twitter account has more tweets about social justice than self-promotion, and they're donating the proceeds from Mountain Moves to the Emergent Fund, in case you needed any more proof that listening to Deerhoof is good for the soul. EMMA BURKE
9 pm, Mississippi Studios, $15-17
Marshall Crenshaw y Los Straitjackets, Roselit Bone
Marshall Crenshaw's 1982 self-titled debut is a textbook example of a great rock record marred by wonky sonics. The cavernous drums and echo-laden vocals recall the brief and awkward period when '50s and '80s production values merged, resulting in one of the decade's worst musical gimmicks. Nonetheless, Marshall Crenshaw contains two of the era's best guitar-pop songs: "Someday, Someway" and "There She Goes Again" (whose ebullient melody is difficult to reconcile with lyrics that reference lite-stalking). The real gold resides in the deluxe remastered version of the album, however, which features an early 1979 pass of the song "Whenever You're on My Mind"—Crenshaw's best composition, which would be re-recorded (and anesthetized) for his second album, 1983's Field Day. But the original, grittier take is everything a perfect power-pop song could hope to be: a jangling, pining paean to starry-eyed romanticism that gets better with every listen. MORGAN TROPER
9 pm, Dante's, $20
Minority Retort
Get ready to laugh that forest fire ash out of your throat because Portland's showcase for stand-ups of color, Minority Retort, is back, with three fantastic hosts—Jason Lamb, Julia Ramos, and Neeraj Srinivasan—even more and performers, including winsome Seattleite Nick Sahoyah to Mohanad Elshieky, king of jokes on Twitter. Go! It's just what you need. MEGAN BURBANK
8 pm, Siren Theater, $10
Tia Fuller Quartet
Saxophonist Tia Fuller has already secured herself a place in the pop pantheon after playing as a member of Suga Mama, the all-female ensemble that backed up Beyoncé during her tours in support of B'Day and I Am... Sasha Fierce. Great as that nod from Queen Bey was, the Colorado-born jazz artist would surely have gotten her profile high enough on the strength of her skills as a performer and composer. Fuller's 2012 album Angelic Warrior sheds some of her smoother, more romantic tendencies in place of a snappy, post-bop approach that, on tracks like "Tailor Made" and "Descend to Barbados," may not feel as open-hearted, but still carries a warm empathy amid her undulating solos. On "Cherokee" and the title track, she's downright pugnacious, as she swings hard against the tumbling agitation of the rest of her band. ROBERT HAM
7:30 pm, 9:30 pm, Fremont Theater, $20-30
Drag Queen Bingo: CHAP Fundraiser
Hospital stays for children and families are made a little bit more colorful thanks to the Children's Healing Art Project (CHAP), an organization that honors art as therapy and connects mobile teaching artists with children in crisis for empowerment. Ticket price to this FUNdraiser includes one drink, but subsequent beverages and rounds of drag queen-led bingo are $5 each. EMILLY PRADO
7 pm, Lagunitas Brewing Community Room, $10
Jenny Don't & the Spurs, The Dalharts
Jenny Don't and the Spurs play vintage country and western straight out of the lonesomest corners of mid-20th century America, Don't and her cohorts sound nothing like a museum piece; rather, there's grit, sadness, and an edge of danger to these rumbling-boxcar country songs. NED LANNAMANN
9:30 pm, LaurelThirst Public House, $7
Doug Benson
Helium presents a special one-off stand-up set with the comedian and actor known for his marijuana usage documentary Super High Me and his popular movie trivia podcast Doug Loves Movies. Note: What used to be a 4:20 set has now been moved to 5, allowing plenty of time to prepare accordingly before heading into the venue. And while you don't need to be stoned to appreciate Benson's brand of comedy, it certainly wouldn't hurt.
5 pm, Helium Comedy Club, $22
The Prince & Michael Experience
Dave Paul dedicates the dance floor to the everlasting magic that both Prince and Michael Jackson created over the course of their careers, including not just the hits, but the b-sides, the bootlegs, and the remixes, too.
9 pm, The Liquor Store, $10
Throwing Shade
On the podcast Throwing Shade, not to be confused with the English DJ of the same name, self-described "homosensual" Bryan Safi and "feminasty" Erin Gibson take it to the limit, all while they address—and make fun of—"issues important to ladies and gays." They're socially conscious improv loudmouths playing sold-out shows across the nation, and you're about to be seeing a whole lot more of them. SUZETTE SMITH
9 pm, Revolution Hall, $25
---
Saturday, Sept 16
SZA, Smino, Ravyn Lenae
SZA pours her honeyed vocals over catchy melodies with brazen, gritty, and sometimes triggering lyrics that dig into toxic relationships, anxiety, and the unattainability of control. I expect her sold-out Portland concert to be a religious experience. JENNI MOORE
8 pm, Roseland, $25, all ages
Polish Festival
Portland's annual celebration of all things Polish is hands-down one of the best outdoor shindigs of the year. Fuel up on a delicious array of pierogi, kiełbasa, hunter's stew, stuffed cabbage rolls, potato pancakes, and imported Polish beer, before making your way over to the main stage where a polka contest and spirited dance party will keep you bouncing and rejoicing late into the evening. CHIPP TERWILLIGER
11 am, St. Stanislaus Church, free, all ages
Jessica Hernandez & the Deltas, Candace
The latest record from Jessica Hernandez and the Deltas comes in English and Spanish versions, but either one clearly shows you the assurance of their terrific-sounding blend of psychedelic rock, neo soul, and Latin pop. What Telephone/Teléfono doesn't show you is Hernandez's formidable presence as a live performer, making tonight's show a can't-miss in any language. NED LANNAMANN
9 pm, Mississippi Studios, $12-14
The Undisputable Geniuses of Comedy
Portland comedy is better than ever—and in this one-of-a-kind show you'll see Portland's funniest people (and hilarious up-and-comers) all on one stage. Stand-up comedians, sketch comedy, funny film shorts, and acts that defy description…all featuring Portland's local "undisputable" geniuses! Hosted by hometown-boy-made-good and returning genius, Nariko Ott! Starring Portland's funniest person 2017 Caitlin Weierhauser, Anthony Lopez, Becky Braunstein, Isaac Pendergrass, JoAnn Schinderle, Adam Pasi, Whitney Streed, sketch comedy group The Aces, and comedy power point from Philip Schallberger. Featuring two hilarious films from 2016's HUMP Film Festival and a slew of other surprises! Presented by the Portland Mercury and Jim Beam.
8 pm, Revolution Hall, $20
Fleet Foxes, Natalie Prass
Portland sure does love its radio-ready indie folk, so this is a prime tour stop for Fleet Foxes, who recently released a sprawling new album, Crack-Up. The "folk" descriptor is often associated with simple banjo-driven instrumentals and drawled vocals, but Fleet Foxes is known for their grandiose spin on the genre. That said, Crack-Up takes an intimate approach, resulting in a more rustic sound with jam-band percussion, homey piano, and tambourine—lots of tambourine. DELANEY MOTTER
6:30 pm, Edgefield, $44-63, all ages
Usnea, Thrones, Hands of Thieves, Ninth Moon Black
Over the past couple of years, Usnea has taken their blackened, funereal doom from Las Vegas' Psycho fest to the Netherlands' Roadburn Festival. Tonight the Portland band's celebrating the release of their third full-length, Portals into Futility, which was inspired by dystopian science fiction's depressing crossover into modern reality. It's rooted in the ideas of novels like Frank Herbert's Dune, Margaret Atwood's The Handmaid's Tale, Carl Sagan's Demon Haunted World, and Ursula K. Le Guin's The Lathe of Heaven, which shares a name with a track on the album. Usnea's sound has progressed into an introspective realm while preserving their signature downcast dissonance, making Portals into Futility a supreme sonic representation of the blight of modern humanity. CERVANTE POPE
9 pm, Tonic Lounge, $7-10
The Kells Summer Smoker: USA vs. The World
Despite what mental image the phrase "summer smoker" probably conjured in your mind, this isn't a pleasant little hotbox in the back of Kells' parking lot. A summer smoker is apparently an amateur boxing event. Meaning shirtless pugilists are going to square off in a ring behind the historic bar and beat the shit out of each other all night long, with some of the country's best amateur boxers going head-up against world warriors—kinda like a real life game of Street Fighter II, but nobody's throwing fireballs or hurricane kicking or letting monsters climb up on the athletes and chew on their necks (seriously fuck Blanka).
6 pm, Kells, $20-25
George Takei, Oregon Symphony
The Oregon Symphony's 2017/18 concert season kicks off with a menu of works that initially blazed musical trails before they aged into deathless crowd-pleasers. There's Beethoven's Egmont overture, perhaps the composer's most concentrated dose of his shakes-fist-at-heavens-then-wonders-at-the-beauty-of-it-all hat trick; Liszt's pioneering and shape-shifting symphonic poem Les préludes; and Richard Strauss' cartoonish, episodic Till Eulenspiegel's Merry Pranks. The program closes with Aaron Copland's Lincoln Portrait, a World War II-era bit of presidential hagiography with George Takei taking the narrator role, reading excerpts from No. 16's speeches. It's difficult to imagine a composer in decades hence writing a work that would similarly exalt our current president, but that puts the onus on Takei and our local orchestra to elevate the piece out of our current state of bitter melancholy to the lofty place of patriotism Copland describes. No doubt they're up to the task. NED LANNAMANN
7:30 pm, Arlene Schnitzer Concert Hall, $40-125, all ages
Slay
Slay is a hip-hop party for LGBT, minorities, and open minded people, providing yet another safe space to twerk, blow off steam, and be yourself in our little sanctuary city. JENNI MOORE
9 pm, Holocene, $10
Junk Bonanza
By the looks of it, the Junk Bonanza is selling itself short with the whole "junk" thing in the title. A long-established smorgasbord of old things for sale arranged into charming vignettes, if you relish drifting through antique shops and hidey-holes of unknown treasure, this is the event for you. MARJORIE SKINNER
9 am, Oregon Convention Center, $10-30
Back to School Night
Some of Portland's finest improvisers take to the Siren stage to school audiences on how off-the-cuff comedy should be done, with performances from Tunnel, The Squirts, and Rat King.
8 pm, Siren Theater, $5
Stammtisch Oktoberfest
It's the time of year where glass boots and lederhosen start springing up out of the ground and taking over city blocks like some sort of sausage-y invasive species. Stammtisch's annual celebration of this season includes a barbecue, games, live German music, giant pretzels, and a whole bunch of Oktoberfest biers to enjoy all weekend long, with special ceremonial tappings throughout the weekend.
Sept 16-17, Stammtisch, free, all ages
Dogtoberfest
This event is not like a regular Oktoberfest, but for dogs. Dogs don't drink beer. Or at least they shouldn't (if you give your dog beer you are a bad human, stop doing that). No, this Dogtoberfest is a fundraiser for DoveLewis, and if you want your doggo to look as awesome as they possibly can, you take them to Dogtoberfest, where they can partake of multiple dog wash and nail trim stations. While they're getting pampered, you can have some food, drink a beer, and even give blood to the American Red Cross.
11 am, Lucky Lab, $20
The Prids, Møtrik, Pacific Latitudes
The Prids might be one of Portland's longest-running bands, having overcome a number of setbacks throughout their two-decade tenure that would've had lesser groups calling it a day. That tenacity carries into the band's music, as they continue to defy trends in a city and music scene that continues to change. The Prids occupy a corner of music where heartbreak and sadness exist under the hue of sunlight breaking through gray clouds. MARK LORE
9 pm, Bunk Bar, $8
The Holy Mountain
An LSD-emulating vision quest that still feels like one of the oddest things to ever hit a screen. Alejandro Jodorowsky's 1973 film remains a compulsively watchable mélange of sexed-up robots, hysterically deadpan dialogue, and unforgettable scatological alchemy. ANDREW WRIGHT
9:30 pm, NW Film Center's Whitsell Auditorium
Sharon Needles
The crown-snatching breakout star of RuPaul's Drag Race season 4 rolls back into Portland to debut songs off her new album, Battle Axe. Featuring support from Ivizia Dakini, Valerie and the Haus of Deville, Daphne Fauna, Rakeem, Yuko, and Anastasia Euthanasia. Hosted By Rap Girl.
9:30 pm, Star Theater, $15-25
---
Sunday, Sept 17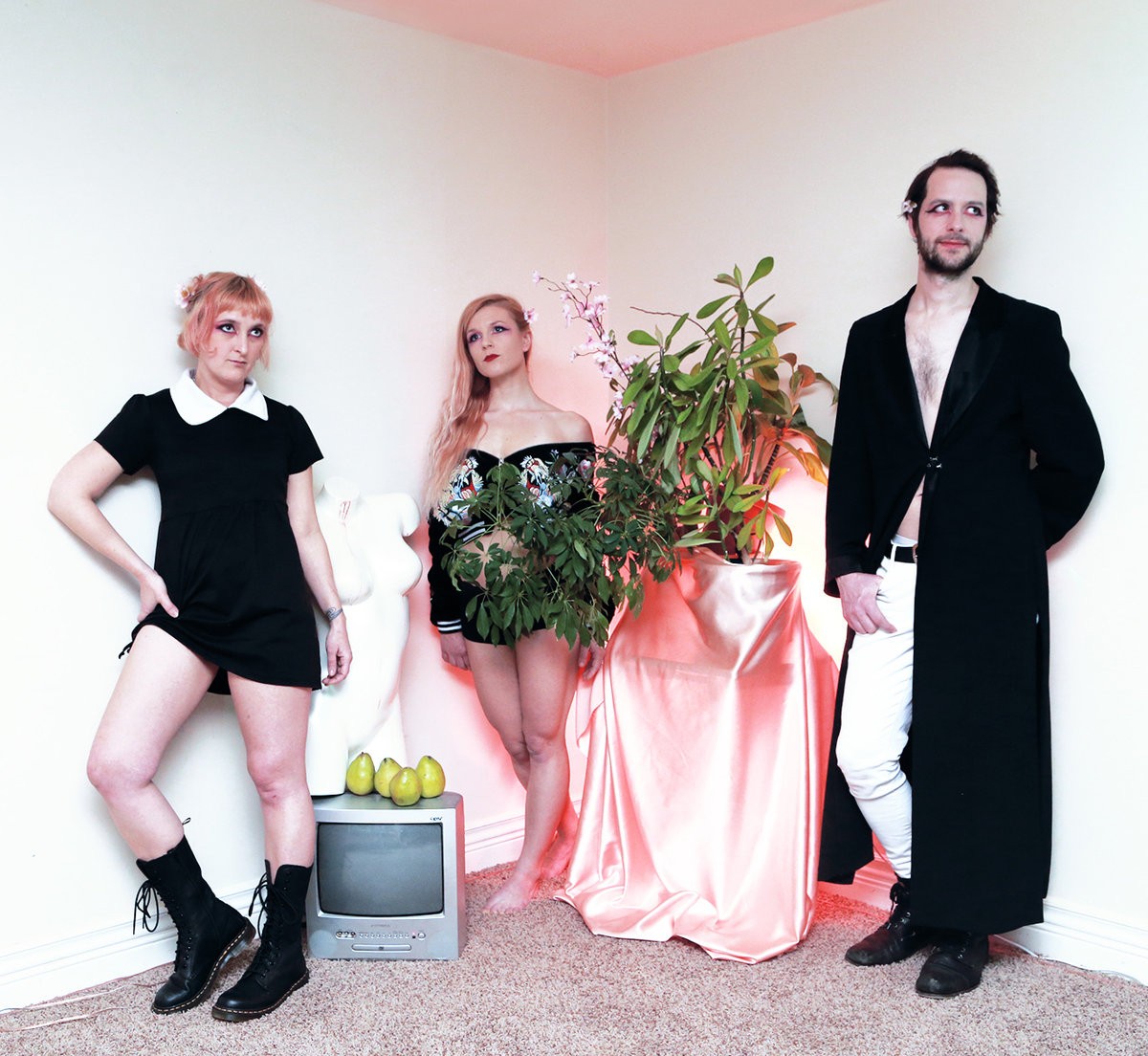 Havania Whaal, Bitch'n, Deathlist, Floating Room
Local noise-pop trio Havania Whaal celebrate the release of their third full-length, Elaborate Minor Crisis, with a headlining show at the Know. Fellow locals Bitch'n Deathlist, and Floating Room provide support with their own shapeshifting brands of punk and indie rock.
8 pm, The Know, $7
BBQ Benefit for Oregon Fire Rescue
The more hotdogs and burgers you eat, the more money you raise for the Eagle Creek fire at this barbeque benefit hosted by a collection of car enthusiasts. Beyond fiscal donations, the group will also collect toiletries, bottled water, clothing in good condition, and pantry goods. For folks attending the Red Door Meet in the evening, you can wash your own car on site at no charge. EMILLY PRADO
1 pm, PREracing, free
Ox, Cockeye, Paper Thin Youth, Hoarder
The Olympia-based queer metal trio makes the trip down I-5 to team up with feminist punks Cockeye and pop punks Paper Thin Youth for what's sure to be one hell of a night.
8:30 pm, High Water Mark, $5
Slutwalk Portland 2017
When a Toronto police officer publically advised women to avoid "dressing like sluts in order to not be victimized" in 2011, worldwide rallies sparked in response. Every year this peaceful demonstration highlights the voices of people most vulnerable to sexual assault including LGBTQI youth, people of color, sex workers, and people with disabilities. Walk with others to make your stance against victim blaming known and hear from a variety of amazing guest speakers. EMILLY PRADO
2 pm, South Park Blocks, free
Willie Watson, Bedouine
There are a few very strong reasons why Bedouine's self-titled debut is one of the best records of 2017. There's the remarkable phrasing of its lyrics, as heard on feel-good rootsy rocker "One of These Days." There's the vaguely "lost LP" sheen of '70s folk ditties like "Dusty Eyes" or "Nice and Quiet." Above all, though, the scrappy project from vocalist/songwriter Azniv Korkejian exhibits an ease and confidence, whether fiddling with dark, denser instrumental interplay as heard on the mesmerizing "Back to You," or woozy psych killers like the cinematic "Summer Cold." Bedouine's imprint goes way beyond folk revivalism, and toward the intangible aural confines of groovy otherness perpetrated by the likes of Midlake, John Grant, and Mac DeMarco, even while invoking the witchy vibes of Sibylle Baier. Korkejian's worldly influence spans her childhood growing up in Aleppo, Syria, to Boston, and eventually Los Angeles. RYAN J. PRADO
9 pm, Doug Fir, $20-23
Babe: Pig in the City
People tend to trip out when told the Mad Max guy is the guy behind Happy Feet and Babe. The confusion is understandable on a surface level—cutesy talking animals having family-friendly adventures doesn't fit too well with one-armed feminist shit-wreckers blowing up the desert in bone-crunching, fast-and-fiery fashion. But when you actually watch writer/director George Miller's Babe: Pig in the City, the storytelling similarities quickly make themselves apparent. The amazing (and amazingly efficient) worldbuilding, the emotion that's shared but not spoken, and the pitch-perfect humor that stops the encroaching darkness from blotting out the hard-earned triumphs. Granted, the pig isn't diving off the back of a truck with spray-paint on its snout, but somehow Pig in the City, with its simple-yet-complicated story of a family trying to win a state fair ribbon, feels like there's just as much at stake. BOBBY ROBERTS
1:30 pm, Hollywood Theatre, $3-6, all ages
The Abbey Oktoberfest
Lots of places are bringing a little bit of Germany to the Pacific Northwest, but the Abbey is one of the few that isn't just dedicating a day or two to drinking, dancing, and sausage-y silliness, they're going full Oktoberfest, running a variety of events (all family-friendly, too!) at their NW 23rd location from Sept 15-17. Proceeds benefit Doernbecher Children's Hospital.
3 pm, The Abbey Bar & Bottle Shop, free, all ages
Manoush Zomorodi
Note to Self podcast host Manoush Zomorodi reads from Bored and Brilliant, which examines the boredom and creativity in our technology-dependent culture.
7:30 pm, Powell's City of Books, free
Magic Men Live!
Magic Men is the first live stage production to bring the phenomenons of Magic Mike, Fifty Shades of Grey and other films of that nature to life. Crank up that Ginuwine and buckle in. (There have been rumors that Channing Tatum himself likes to drop in on these things from time to time to surprise attendees. Are they true? Hmmmmm...)
8 pm, Roseland, $25-75
The Hamilton Mixtape Cabaret
I guess we're gonna find out just how much it is you really looooooove Hamilton, huh.
7:30 pm, Dante's, $15-20
Don't forget to check out our Things To Do calendar for even more things to do!