---
Jump to:
Readings & Talks
|
Performance
|
Visual Arts
---
Readings & Talks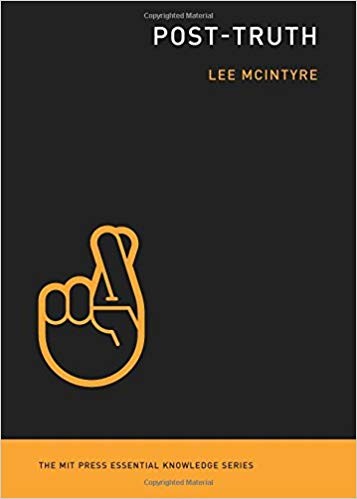 Lee McIntyre
In Post-Truth, Lee McIntyre takes a look at the recent rise of "alternative facts" and "fake news" and offers suggestions into ways in which we can counter this troubling development.
Tue 7 pm, Powell's City of Books, free
Tales from The Long Con Launch Party
Beloved Mercury contributors Ben Coleman and Dylan Meconis are two of the masterminds behind The Long Con, the new comic from local publisher Oni Press! With art by EA Denich, the clever The Long Con tells a harrowing/hilarious tale of the ULTIMATE DYSTOPIA: A post-apocalyptic comics convention that has been going on for years. To mark The Long Con's debut, Meconis and Coleman will be discussing the book and sharing their best (and worst) comic-con stories—with a slew of special guests, including Matt Fraction (Sex Criminals) and Jeff Parker (Future Quest Presents: Mightor)! Like The Long Con, it's gonna be a blast. ERIK HENRIKSEN
Wed 7 pm, Books With Pictures, free
Karen Solomon
Food preservation teacher and cook Karen Solomon returns with Cured Meat, Smoked Fish & Pickled Eggs, her new guide to making protein-rich foods last longer and taste better.
Fri 7:30 pm, Powell's City of Books, free
Rafael Albequerque & Rafael Scavone
The award-winning creative team behind A Study In Emerald celebrate the release of their latest collaboration with a signing and art show at Floating World Comics.
Thurs 6 pm, Floating World Comics, free
---
Performance
Todd Barry, Dax Jordan
Todd Barry doesn't even really need jokes, although he's got a ton of great ones. Give him a couple marks in the crowd, and just five minutes of conversation, and you have a night of comedy with more laughs per pound than any hyperactive loud mouth screaming into the mic. BOBBY ROBERTS
Sat 7:30 pm & 10 pm, Mississippi Studios, $20-24
Mario the Maker Magician
The Old Church hosts an afternoon of kid-friendly magic with a magician who was tabbed by David Blaine as being one of the best in the world.
Sun 4 pm, The Old Churhc, $10-25, all ages
The Music Man
Third Rail presents Meredith Wilson's classic musical not only concert staged, but cast with nothing but women, challenging audiences who might be most familiar with Wilson's story as a vehicle for Robert Preston to take a look at what the songs are saying when the voices singing them aren't men's.
Thurs-Sat 7:30 pm, Sun 2 pm; CoHo Theater, $30
Please Underestimate Me
Jason Rouse directs Jay Flewelling's latest creative endeavor, a combination of traditional play, sketch comedy show, and autobiographical storytelling event, tracing Flewelling's long and winding path through life, with five actors and an ASL interpreter playing Flewelling and his various allies and antagonists at different points along his timeline.
Fri-Sat 7:30 pm, Sun 2 pm; Curious Comedy Theater, $15-25
Proscenium Live
Portland Shakespeare Project and the Proscenium Journal present the fourth annual free festival of new works, featuring staged readings of original plays and one-acts, brought to life by more than 20 of Portland's most well-regarded actors.
Fri & Mon 7:30 pm: Still Looking for Tiger Lily by Anthony Hudson; Sat 7:30 pm: The Great Divide by E.M. Lewis; Sun 7:30 pm: Patchwork Dreams by Patrick Wohlmut; Artists Repertory Theater, free
Roots and Rutas
Karla Mi Lugo emcees and curates this evening of performance focused on the art and experiences of women from Puerto Rico, Guam, and the United States, with pieces by Mi Lugo, Samantha Perez, Min Yoon, and Karen Kunkel.
Thurs 8 pm, Hawthorne Theatre, $10-30
COMEDY MOM
A free, friendly, feminist stand-up showcase featuring sets from Sonia Ruiz, Erin Dougherty, Shannon Sales, and a few surprise guess, as well as an open mic for underrepresented members of the community who are looking to maybe dip their toes in Portland's comedy scene. Hosted by Mel Heywood.
Wed 7 pm, Crush Bar, free
The Cool Kids Patio Show
Andie Main's Cool Kids Patio Show returns to the Doug Fir patio, pairing top-notch stand-up with music from some of the finest singer/songwriters in town. This time, Emily Overstreet provides the sounds, while Nariko Ott, Steven Wilber, and Adam Pasi bring the laughs.
Thurs 6 pm, Doug Fir, free
Pool House
Nick Walker and Milan Patel host the latest installment in this monthly showcase, featuring short films, experimental comedy, characters, special guests, and sets from local comics including Chris Johnson, Zoe Proval, Nathan Hart, Lydia Manning, and Dylan Carlino.
Thurs 9:30 pm, No Fun, free
---
Visual Arts
Cathy Wilkes
There's a funereal feeling to Irish artist Cathy Wilkes' unnamed show (wherein all the pieces are also unnamed) but it isn't about death, confinement, women's work, or mourning. The most Wilkes will allow is that her installations often make people sad. Next year, some of this show's pieces will represent the UK in the 2019 Venice Biennale, which is just about the most prestigious contemporary art exhibition in the whole world. SUZETTE SMITH
Yale Union, Through Sept 16
GLEAN
Featuring new works from artists Carolyn Drake, Liz Grotyohann, Benjamin Mefford, Brittany Rudolf, and Eduardo Cruz Torres, transforming trash from the Metro Central station into art.
The Bison Building, Through Aug 25
Japanese Pop Up Art Show
A pop up shop and gallery from Hello! Good Morning! and Tokyo's Tambourin Gallery, featuring works by Masanori Ushiki, Motohiro Hayakawa,Takuto Adachi, Kenichiro Mizuno, and more.
Hello! Good Morning!, Through Aug 31
A Michigan Winter
An exhibition of new drawings from artist Kris Hargis, created during a 10-week residency at Albion College in early 2018.
Froelick Gallery, Through Aug 25
Why Am I Crawling in this Dirt?
Oakland's Ryan Whelan brings his latest exhibition to Portland, exploring the world of agriculture from his city-based perspective, lending the endeavor a sense of wonder and magic.
Stephanie Chefas Projects, Through Aug 31
Don't forget to check out our Things To Do calendar for even more things to do!