Another weekend in Portland, another set of amazing opportunities to get your soul stirred, your mind blown, your spirits lifted, and your ass shook. Hip-Hop legends abound, potential mayors face the music, PIFF pops off, and a whole lot more to keep this weekend mighty full. Hit the links below and load your plate accordingly
Friday, March 6
Portland International Film Festival
After 13 years with New York's Independent Film Project, Amy Dotson joined the Northwest Film Center in September 2019, following the retirement of longtime director Bill Foster, who led the organization for 37 years. Dotson's inaugural year sees the conjoining of the globally minded PIFF with the Northwest Film Center's other big annual event, the Northwest Filmmakers Festival. The melding of festivals means that renowned international films like Brazil's Bacarau will sit next to Kelly Reichardt's Oregon-shot First Cow, and France's animated dog saga Marona's Fantastic Tale will screen alongside the premiere of Portland filmmaker Jesse Blanchard's full-length puppet monster movie Frank & Zed—putting locally made work on equal footing with films that have played in festivals around the world. (And on equal footing with mainstream blockbusters, too: This year's PIFF also includes screenings of Pixar's latest, Onward.) Visit cinemaunbound.org for a complete list of PIFF entries, venues, and showtimes. (March 6-15, Various Locations) NED LANNAMANN
Telefon Tel Aviv, Chasms
Chicago-based producer Joshua Eustis steps away from his roles as a touring member of Nine Inch Nails and producer for Puscifer to bring his own IDM, ambient techno, and glitch project back to the touring circuit. (Fri March 6, 6 pm, Holocene, $15)
A live weekly concert series benefitting Portland artists. Streaming online at XRAY.FM + YouTube.
Hot Snakes, Kills Birds
With a lineage that includes bands such as Drive Like Jehu, Obits, and Rocket from the Crypt, San Diego snarlers Hot Snakes have come and gone and come again—and thankfully, at present, they're grand-slamming fresh bruisers with their 2018 album, Jericho Sirens. See the post-hardcore legends tonight and pretend no time has passed. (Fri March 6, 9 pm, Doug Fir Lounge, $28-32) NED LANNAMANN
Lucky Lab's Barleywine Festival
Lucky Lab's annual celebration of one of the biggest, maltiest, knock-you-on-your-ass-style beers in brewing history features over 70 varieties rotating through 20 taps Friday and Saturday. Admission includes a festival glass and four tokens, with additional four ounce pours for $2.25. The Lucky Lab sits right next to three bus lines, and the Portland streetcar, and this is mentioned because you definitely do not want to get in a car after sampling this malted heaven all day. (Fri-Sat March 6-7, noon, Lucky Labrador Beer Hall, $16)
Marc E. Bassy, Gianni & Kyle
The San Fransisco-hailing singer/songwriter and former vocalist for the pop band 2AM Club brings his soulful R&B sounds to Crystal Ballroom for the Portland stop on a tour supporting his latest album, PMD. (Fri March 6, 8 pm, Crystal Ballroom, $22.50-25, all ages)
Keane, Saint Sister
The reunited English alt-rock and Britpop quartet comprising of Tom Chaplin, Tim Rice-Oxley, Richard Hughes, and Jesse Quin returns to town for the first time in nearly a decade for an all-ages show supporting their latest, Cause and Effect, the band's first album since 2012's Strangeland. (Sat March 6, 8 pm, Roseland, $35-40, all ages)
Drama, Ric Wilson
Na'el Shehade and Via Rosa definitely live up to the name Drama, but the Chicago duo create it with subtlety. Shehade's beats aren't overbearing, and instead hang mystically behind Rosa's supple vocals. The project's mellow dramatics could score both late-night dance parties and solitary introspection. On this return visit to Portland, Drama will be joined by self-proclaimed "electrified motivational funk hop pop poet" Ric Wilson who will expand your mind with his entertaining combo of funk, R&B, and rap. (Fri March 6, 9 pm, Wonder Ballroom, $15-17, all ages) CERVANTE POPE
Coco Montoya
The Santa Monica-hailing blues guitarist and singer and former member of John Mayall & the Bluesbreakers brings his solo stuff back to the Jack London Revue for a headlining set supporting his latest album, Coming In Hot. (Sat March 6, 9 pm, Jack London Revue, $20-25)
Disney's Frozen
The Portland premiere of the hit Broadway adaptation of that one movie with "Let it Go" in it. It's setting up shop in the Keller for the good part of a month, so you'll have plenty of options to go, and go again, which you'll probably be doing if you have children. (Fri March 6, 7:30 pm, Keller Auditorium, $45-140, all ages, through March 22)
Curl Up & Die, Hate Offering, The Globalist, Moonkisser
Las Vegas metalcore vets Curl Up and Die brings their reunion tour to Dante's, with Hate Offering, The Globalist, Moonkisser holding down the local support. (Fri March 6, 9 pm, Dante's, $15-17)
Blackwater Holylight, Abronia, Night Swim
Blackwater Holylight lurched onto the local music scene last year with a promising self-titled debut album that found the band traversing several avenues of heavy music: hard rock, doom metal, shoegaze, psych, and beyond. On their sophomore effort, Veils of Winter, Blackwater Holylight ditches the paint-by-numbers approach in favor of finding their own way. Opening track "Seeping Secrets" features about three minutes of capable, earth-moving doom riffage before bassist Allison Faris and guitarist Laura Hopkins deliver a glistening chorus that instantly brings the song into perfect balance. Bluesy, rock 'n' roll swagger collides with the motorik beat on "Motorcycle." "The Protector" is heavy yet seems to float on a cloud of burbling bass, faded synths, and dead-eyed vocals. And "Death Realms" is a smeared, punchy dream that earns a comparison to My Bloody Valentine, but also doesn't get lost in its own fog. (Fri March 6, 9 pm, Mississippi Studios, $15-18) BEN SALMON
Colin Hay
The Scottish-born Australian musician known for fronting the new wave pop/rock outfit Men at Work before perusing his own solo career returns to the stage at Revolution Hall for the Portland stop on his latest North American tour. (Fri March 6, 8 pm, Revolution Hall, $47.50-59.50)
Ceremony of Sludge
The Ceremony of Sludge mini-fest closes in on a decade strong, bringing you a landslide of headbang-worthy heavy metal and doom from near and far played at ear-melting volumes at the Kenton Club. (Fri March 6, 8 pm, The World Famous Kenton Club, $10)
Iris Dement
The Paragould, Arkansas-hailing singer/songwriter brings her modern blend of country, folk, and Americana back to the Aladdin Theater stage. (Fri March 6, 8 pm, Aladdin Theater, $32.50-35, all ages)
Killer Kate: A Drag Tribute to Kate Bush
Host and producer Violet Hex links up with headliner and co-host Mars to celebrates the one-year anniversary of the Killer Queen drag show with a special installment paying tribute to legendary English singer/songwriter Kate Bush. With performances from Phatima Rude, One Half NelSon, Rita Lynn, Heatherette, Loretta Good Lordchild, and many more. (Fri March 6, 7 pm, Clinton Street Theater, $15, all ages)
---
Saturday, March 7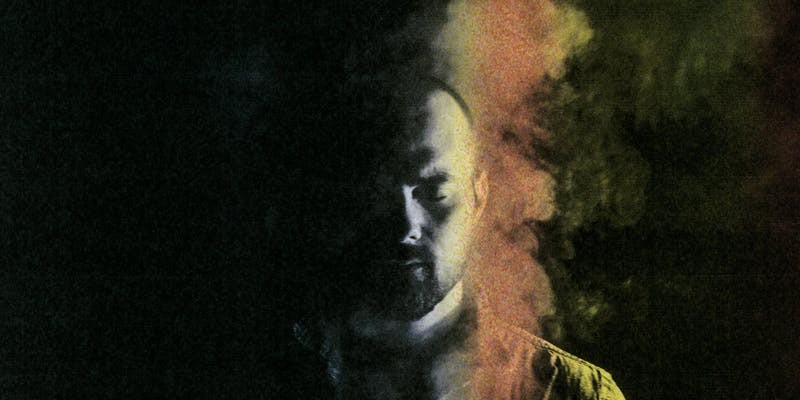 Ásgeir, Khushi
Ásgeir Trausti Einarsson crafts elegant folk music with restrained electronic elements, setting his tender, sweet, silkily high-toned and ethereal vocals against it. I'm reminded of the very first Bon Iver album, when Justin Vernon was recording all by himself in an isolated cabin in Wisconsin, and you could hear it in the songs. Ásgeir's music has a similar feel, though it's somehow brighter, lusher, and sexier, while still maintaining a subdued tone. His 2020 third album, Bury the Moon, is an early contender for my Best of 2020 list. (Sat March 7, 9 pm, Doug Fir Lounge, $25) LEILANI POLK
Respect! Ladies of Vintage Soul!
Respect! returns loud, brash, bold, and full of timeless soul for 2020 with DJ Action Slacks at the helm—one of the very best at reminding this city that nobody did it like Ruth Brown, Koko Taylor, Big Mama Thornton, Nina Simone, Betty Wright, and of course, Aretha Franklin. (Sat March 7, 9 pm, The World Famous Kenton Club, $7-10)
Petunia & The Vipers, Jenny Don't & The Spurs
In the tradition of first-wave rock 'n' roll, Vancouver, BC's Petunia and the Vipers offer slick steel-guitar leads à la Don Helms, stand-up bass, kazoos, and some of the best goddamn yodeling you're ever going to hear. The Vipers' live penchant for exploding into dynamic Western swing is infectious and invigorating. (Fri March 6, 8:30 pm, Bunk Bar, $10) RYAN J. PRADO
Eric Nam, Frenship
At the 2020 Golden Globes, Parasite director Bong Joon Ho said, "Once you [English-speaking audiences] overcome the one-inch-tall barrier of subtitles, you will be introduced to so many more amazing films." Well, the same is true about non-English lyrics. Because, sure, smoking-hot, bilingual, heartthrob Eric Nam recently released a debut English record, Before We Begin, with the very danceable, posi break-up anthem "Congratulations." But if you ignore his Korean-language singles you're going to miss out on all the light-hearted bangers he made before this, like "Runaway" and "Potion." Okay, actually it looks like they made an English version of "Runaway," but what about "Potion?" Won't somebody please listen to "Potion?" (Sat March 7, 9 pm, Wonder Ballroom, $30-32, all ages) SUZETTE SMITH
The Original Dark Brews Festival
If you love stouts and dark ales, congrats: You are a sophisticate who deserves delicious drinkable rewards, and the Dark Brews festival is dedicated to providing exactly that, with some of the Northwest's most talented brewmasters sharing their best dark beers at the new East Portland location of the legendary John's Marketplace. Participating breweries include Breakside, Fort George, Reubens, Alesong, Ecliptic, deGarde, and more. (Sat March 7, 11 am, John's Marketplace, $15)
La Chute's Mark E. Smith Birthday Celebration
Fans of the Fall, and that band's cranky and impassioned lead singer Mark E. Smith, in the US are few but they are a dedicated crew. Just a few days after Smith's actual birthday—and a month after the one-year anniversary of his death—his legacy will be honored anew by one such gang of enthusiasts: the Fall tribute band La Chute. This early evening, all-ages show at Kenton neighborhood record (and tape) shop Speck's will open with another post-punk racket performed by Plastic Harmony Band. And it's your last chance to hear La Chute with founding guitarist Ross Morgan. (Sat March 7, 7 pm, Speck's Records & Tapes, $5, all ages) ROBERT HAM
The Ballroom Thieves, Harlequin Gold
Boston trio the Ballroom Thieves bring their soulful folk-rock sounds back to Mississippi Studios for a headlining set supporting their latest album, Unlovely. (Sat March 7, 9 pm, Mississippi Studios, $15-18)
Jeff Parker & The New Breed
The Jack London Revue serves up an intimate evening of jazz with Chicago experiment scene staple and longtime Tortoise guitarist Jeff Parker and his latest project, featuring Makaya McCraven on drums, Josh Johnson on sax and keyboards, and Paul Bryan on bass. (Sat March 7, 8 pm, Jack London Revue, $25)
Møtrik, Party Witch, Slanted Floors
Møtrik belongs to the massive faction of American bands that have copped Germany's more otherworldly musical elements. But on Safety Copy, the group expertly ties those sounds together with decades of greasy rock 'n' roll mutations. Møtrik's sincerity, and their respect and love for the music, seals the deal. (Sat March 7, 8 pm, The Fixin' To, $7) MARK LORE
The Shivas, Máscaras, Bad Shadows
Fresh off the release of their 2019 Tender Loving Empire-issued album, Dark Thoughts, beloved Portland psych and garage rock outfit the Shivas return to the stage for a Saturday-night show at Polaris Hall. (Sat March 7, 8 pm, Polaris Hall, $10-12)
Cheers to Seven Years
Portland Cider Company throws itself a big ol' birthday party in their Clackamas taproom, including special tappings of over 40 favorites pulled from the cellar, cidery tours, anniversary releases, unique merch, and more. Free to attend, commemorative glass and drink tickets start at $20. (Sat March 7, 3 pm, Portland Cider Company, free)
Flannel Fest
Flannel Fest brings the spirit of the Seattle grunge scene down the I-5 with tribute sets from Washed in Black (Pearl Jam), Superunknown (Soundgarden), and Plush (Stone Temple Pilots). (Sat March 7, 8 pm, Aladdin Theater< $20-26, all ages)
The Bylines
Curious as to what "cinesonic pop noir" could possibly sound like? Get that curiosity satiated the Alberta Rose Theatre as part of a special album release celebration for the Bylines' latest, Day & Night. (Sat March 7, 8 pm, Alberta Rose Theatre, $25-45)
The Aces: Ghost Town
Local sketch comedy geniuses The Aces say "howdy!" once more as they mosey onto the Siren stage for another set of outlandish scenarios designed to hustle, rustle, cajole, and woo big campfire-sized guffaws out of you. Also, there's probably going to be a petting zoo. Starring The Aces themselves, Shelley McLendon and Michael Fetters. (Sat March 7, 7:30 pm, Siren Theater, $15-20)
30th Buckman Art Show & Sell
Featuring over 110 artists and craftspersons selling new and original works, including paintings, furniture, textile, photography, and more, as well as activities for younger children, food carts, a zine making session from Rock & Roll Camp for Girls, and entertainment by student performance groups. (Sat-Sun March 7-8, 10 am, Buckman Arts Elementary School, $2-5, all ages)
---
Sunday, March 8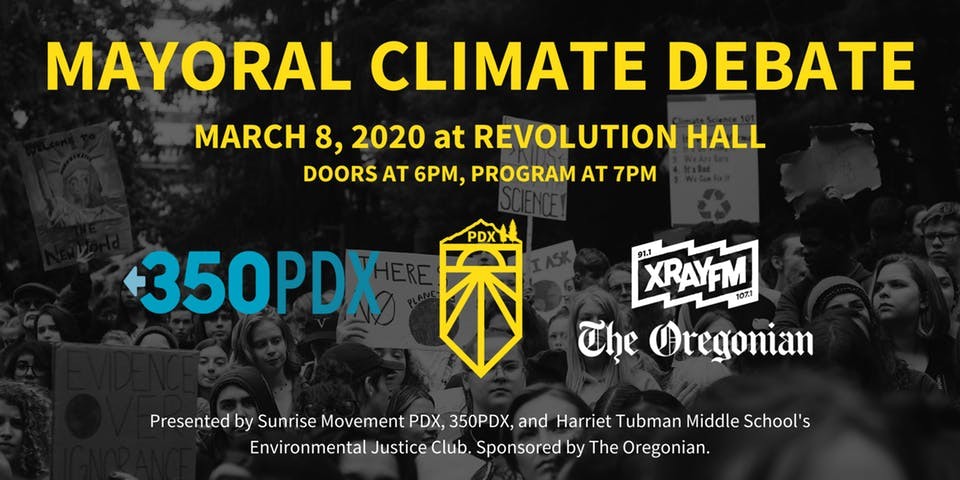 Portland Mayoral Climate and Environmental Justice Forum
In case you didn't know, we're in a state of environmental emergency. So it's fitting that the first 2020 debate to feature all the major mayoral candidates—including Mayor Ted Wheeler—will focus on one issue: the climate. This debate is being hosted by the youth-led organization Sunrise PDX, 350PDX, and the Harriet Tubman Middle School Environmental Justice Club. Topics will likely include the planned expansion of the Interstate 5 freeway in the Rose Quarter, what the city can do to reduce fossil fuel reliance, and, um, maybe plastic straws? (Sun March 8, 7 pm, Revolution Hall, $10, all ages) BLAIR STENVICK
E-40, Too $hort, Mack 10
A pair of Bay Area legends bring their co-headline tour to the Roseland stage, with fellow West Coast hip-hop trailblazer Mack 10 along to round out the proceedings. (Sun March 8, 8 pm, Roseland, $50)
Portland Timbers vs. Nashville SC
The Timbers welcome the newest team in the MLS Western Conference to Providence Park as they look to close a season opening home stand with a win. (Sun March 8, 4 pm, Providence Park, $30 & Up, all ages)
SheBrew
The sixth annual celebration focusing on the women in the craft beer and cider industries, SheBrew has impeccable timing, arriving on International Women's Day and taking over Castaway, featuring over 40 total brewers sharing their wares, with many having created special drinks specficially for this festival. Proceeds benefit the Human Rights Campaign and the Oregon Brew Crew. (Sun March 8, noon, Castaway, $25-30, all ages)
Donnie Horn, Darcelle
Donnie Horn's Darcelle: Looking From My Mirror chronicles the life and career of Walter W. Cole, aka Darcelle, the beloved Portland entertainer and Guinness World Record holder for oldest drag queen performer. Horn will be joined in conversation by Walter W. Cole. (Sun March 8, 2 pm, Powell's City of Books, free)
Bill Frisell
Jazz guitarist extraordinaire Bill Frisell's name may be on the front cover of his latest album Harmony in a bigger font than the rest of his bandmates, but the rest of his team—vocalist Petra Haden, cellist Hank Roberts, and guitarist/bassist Luke Bergman—deserve equal billing. Frisell takes a slightly diminished role in these compositions, quietly humming in the background of tunes or doubling Haden's vocal melodies. When he does solo, it comes out shyly: a gentle flutter of notes as he takes to the air to join the rest of the flock on their journey south. (Sun March 8, 8 pm, Aladdin Theater, $35, all ages) ROBERT HAM
Colin James
The Canadian rock and bluesman out of Regina, Saskatchewan returns to the Alberta Rose Theatre for a headlining show supporting his latest album, Miles To Go. (Sun March 8, 8 pm, Alberta Rose Theatre, $20-35)
Oregon Symphony: Dance Party!
The Oregon Symphony put together a program solely intended to make little kids shake their booties, with a program including the "Mambo" from West Side Story and Leroy Anderson's Sandpaper Ballet. (Sun March 8, 2 pm, Arlene Schnitzer Concert Hall, $11 & Up, all ages)
Rebel Souljahz, Vana Liya, Kelandy
The Honolulu-based reggae quartet brings the "Peace Love & Aloha" Tour to the mainland. (Sun March 8, 8:30 pm, Wonder Ballroom, $22, all ages)
Christopher Paul Stelling
North Carolina-based folk singer/songwriter Christopher Paul Stelling returns to town for a headlining show supporting his new Ben Harper-produced album, Best Of Luck. (Sun March 8, 8 pm, Mississippi Studios, $15-17)
Don't forget to check out our Things To Do calendar for even more things to do!
As you're considering going out in Portland, remember that it's important to always wash your hands and stay home if you're sick. Currently, Oregon and Multnomah County have not put any restrictions in place regarding group gatherings due to the coronavirus, but it's a good idea to double-check event websites directly for cancellations or postponements before leaving the house.