So the first week of March was already pretty... eventful, let us say, but that's precisely why heading into week two we really need a damn week full of events, like some amazing comedy shows, some neck-breaking, head-banging rock extravaganzas, hip-hop wonderlands on display, and a whole lot more. Hit the links below and load your plate accordingly
---
Jump to:
Monday
|
Tuesday
|
Wednesday
|
Thursday
---
Monday, March 9
Beach Bunny, Field Medic, Indigo De Souza
Fresh off a tour supporting beloved Toronto punk outfit PUP, Chicago singer/songwriter Lili Trifilio and her rising alt-pop and indie rock band make their way to the Aladdin Theater for a sold-out gig of their own. (Mon March 9, 8 pm, Aladdin Theater, $14-17, all ages)
Dim Wit, Cryogeyser, Sour Widows, Surfer Rosie
Portland's Dim Wit and Surfer Rosie roll out their new lineups as part of a stacked bill at the Black Water Bar, with like-minded California indie rock and dream pop outfits Cryogeyser and Sour Widows rounding out the all-ages show. (Mon March 9, 8 pm, Black Water Bar, $6-10, all ages)
Chasing Desolation, Couver, Gravity Blanket, ISCH
Los Angeles rockers Chasing Desolation bring their "Back From The Grave" Tour to the Twilight stage, with  Couver, Gravity Blanket, and ISCH rounding out the proceedings. (Mon March 9, 8:30 pm, Twilight Cafe & Bar, $8)
Body Worlds
OMSI gets fleshed out (aaaaahahahaha get it) when the traveling Body Worlds exhibit returns to Portland. Why is it called Body Worlds? Well that's because it features more than 200 human bodies peeled, prodded, and protruding for all the world to see. This time around, the touring program is focused on "The Cycle of Life," which apparently now includes the part where if you're lucky, your dead body is PEELED AND LACQUERED to go on museum tours. It's pretty awesome. (Daily through Sept 13, OMSI, all ages)
---
Tuesday, March 10
Fennesz, Britton Powell, Visible Cloaks
A quarter century on, Austrian guitarist/laptop musician Christian Fennesz is still creating ambient music of stoic grandeur and subliminal beauty. He debuted on record with 1995's Instrument EP, four tracks of beatless industrial klang in the vein of early Cluster, and on subsequent early Mego releases, laced static and glitch into poignant melodies, peaking on 2001's Endless Summer. Fennesz has spent the last two decades refining his sound into less abrasive realms while collaborating with esteemed artists such as Ryuichi Sakamoto, David Sylvian, Jim O'Rourke, and King Midas Sound. With his latest album, last year's Agora, Fennesz has produced his most eventful work in years—ambient music of thrilling cinematic drama. Don't miss this rare Portland appearance by a master. (Tues March 10, 8 pm, Holocene, $20-25) DAVE SEGAL
Rory Scovel, Nick Youssef
Rory Scovel's 2017 Netflix special Tries Stand-Up for the First Time established the South Carolina-hailing comedian as one of the funniest stand-up comics working today. Catch up with him tonight when he swings through Mississippi Studios along with Los Angeles comedian Nick Youssef as part of the "Comedians Following Tool on Tour" Tour. (Tues March 10, 8 pm, Mississippi Studios, $22-25)
PUP, Screaming Females, The Drew Thomson Foundation
The best pop-punk songs are abbreviated battles between sadness and joy, in which neither side ever wins. Sublime tension is the thing, and PUP understand this better than most. The Toronto band's third album, Morbid Stuff, is a bummed trip through mid-20s frustration and malaise, but the drunken self-recriminations and lovesick kiss-offs are delivered with the sort of wide-eyed vim that can only be accessed in ecstatic states. Every song is a shout-along anthem of devastation and glee, resignation and resplendence. Are you fed up with your life but so stoked to even be alive? PUP is for you. (Tues March 10, 8 pm, Roseland, $24-26, all ages) CHRIS STAMM
Amanda Shires, L.A. Edwards
An opportunity to take in the very unique song stylings of the singer/songwriter/violinist Amanda Shires, on her "Atmosphereless" tour to support her fifth album, To the Sunset. (Tues March 10, 8 pm, Aladdin Theater, $25-28)
JonnyX & the Groadies, Edwørd
Portland's premiere space-age black metal band links up with fellow metal rippers Edwørd to bring the Tonic Lounge's much-missed Heavy Tuesdays series back to life at the Twilight Bar. Heavy Tuesdays = two bands, two-dollar entry, and two-dollar beers all night long. (Tues March 10, 8:30 pm, Twilight Cafe & Bar, $2)
Freedom Hawk, Old Kingdom, Time Rift
Virginia trio Freedom Hawk bring their heavy and soulful blend of metal and psych rock to the Doug Fir Lounge. Like-minded locals Old Kingdom and Time Rift round out the bill. (Tues March 10, 9 pm, Doug Fir Lounge, $10-12)
---
Wednesday, March 11
Tool
The 13-year wait for Fear Inoculum, the latest album by slithery quartet Tool, seemed borderline excessive; an impious gestation period that promised either an abomination or a glorious new evolutionary stage for heavy-lidded prog-metal. The truth lies somewhere in the middle. The album's 10 tracks stay the course with unusual time signatures, shuddersome production techniques, and touches of sly humor. At the same time, the canvas Tool is using feels much bigger, as they let musical ideas stretch out and grow and allow for grooves that are easier to sink into and get comfortable within. At least until the knives come out. (Wed March 11, 7:30 pm, Moda Center, Good Luck on the Ticket Resale Sites) ROBERT HAM
Young M.A.
Young M.A—born Katorah Marrero—is unique among her peers. While her low voice, stud swagger, and off-the-charts machismo may give the impression she uses alternate pronouns, the artist has made it clear she's perfectly at home in her assigned female gender. She named her 2017 EP Herstory, after all, and followed that up with last year's critically acclaimed Herstory in the Making. While Young M.A's sexuality is definitely part of her content, it's not a gimmick she's leaning on. She didn't set out on some heroic mission to pave the way for other queer rappers. She simply came into the game as the real her—for better or for worse. Now M.A is unintentionally changing the narrative for what is and isn't acceptable in rap, just by being authentically, unapologetically herself. (Wed March 11, 9 pm, Hawthorne Theatre, $21-99) JENNI MOORE
A Bowie Celebration
The Crystal Ballroom hosts a tribute to David Bowie spotlighting his beloved albums Diamond Dogs and The Rise and Fall of Ziggy Stardust and the Spiders from Mars, headed up by frequent Bowie collaborator Mike Garson, along with fellow Bowie band alumni including Gerry Leonard, Carmine Rojas, Kevin Armstrong, and Alan Child, and a variety of special guest vocalists. (Wed March 11, 8 pm, Crystal Ballroom, $35-40, all ages)
Lost Lander, Arrow of Light
Portland singer/songwriter Matt Sheehy brings his beloved indie-rock project to the Doug Fir Lounge for a hometown show supporting the band's 2019 album, Aberdeen, inspired by Sheehy's time spent as a forester in Aberdeen, Washington as a way to find some clarity in the midst of a fraught period of his life. (Wed March 11, 9 pm, Doug Fir Lounge, $10-12)
Music Trivia Night
Women in Music Portland set up shop at Dig a Pony for a one-off night of music trivia. Gather a team of up to 6 minds and plunk down $5 to reserve a table and compete for fabulous prizes while sipping special cocktails mixed up just for this Women in Music event. Don't have a team but still want to compete? Feel free to RSVP as a single-player and link up with other Women in Music members at the event, or play solo and keep all the prizes for yourself. (Wed March 11, 6 pm, Dig a Pony, $5)
Pallavi Gunalan
Curious Comedy hosts this Laugh Lounge presentation starring stand-up (and biomedical engineer!) Pallavi Gunalan, with support from her friends Becky Braunstein, Phillip Schallberger, Jaren George, and Ben Harkins. (Wed March 11, 7 pm, Curious Comedy Theater, $10)
Wishbone Ash
Guitarist and songwriter Andy Powell and his pioneering British rock band who first made waves in the early and mid-1970s return to the Aladdin Theater stage in support of a brand new studio album. (Wed March 11, 8 pm, Aladdin Theater, $35)
---
Thursday, March 12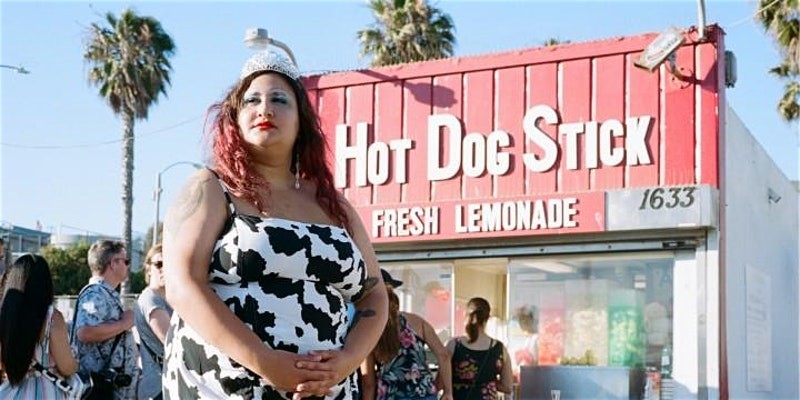 Palehound, Adult Mom
Boston-hailing singer/songwriter Ellen Kempner and her dynamic indie rock trio return to Portland for a headlining show at the Doug Fir Lounge, with fellow East Coast artist Stevie Knipe and their ever-evolving bedroom pop project, Adult Mom, rounding out the bill. (Thurs March 12, 9 pm, Doug Fir Lounge, $13-15)
Kurt Braunohler
Comedian Kurt Braunohler is wonderful, weird, and ever so likable, with jokes about the particular sadness of being a ginger going blonde with age, and the best goddamn impression of a beaver you'll ever see in your life. It's just really cute and great and defies all description. I know that sounds weird, but it's true, and if you want to understand why, you'll need to see it for yourself. (Thurs March 12, 8 pm, Helium Comedy Club, $17-33) MEGAN BURBANK
Schaus, Amenta Abioto, Jame Doe
Do you like your electronic pop with a little bit of a warp in it? That welcome bit of unsteadiness that feels like you've got the perfect buzz on? Then, friends, this is the show for you. (Thurs March 12, 8:30 pm, Holocene, $8-10) ROBERT HAM
Live Wire! Radio
Portland's own syndicated variety show returns to the Alberta Rose Stage, adeptly hosted by the ever-amiable Luke Burbank, with special guests, including comedian and "Gilmore Guys" and "Punch Up The Jam" co-host Demi Adejuyigbe and author and journalist Sierra Crane Murdoch, along with live music from Oklahoma-based folksinger/songwriter Samantha Crain. (Thurs March 12, 7:30 pm, Alberta Rose Theatre, $20-35)
Casey Neill & the Norway Rats
Casey Neill's voice is warm and avuncular, seemingly designed for delivering hard advice and tough love. Unlike most bands specializing in Americana these days, there's no gratuitous banjo, but there is a sense of open spaces and solemnity that combine with Jenny Conlee's keys and accordion to give the songs a hymnal quality. The Norway Rats capture the isolation and bigness of the American West as it is now—not as that imagined, mythic place that probably never existed. (Thurs March 12, 8 pm, Mississippi Studios, $12-14) REBECCA WILSON
Ice Princess, Pinkzilla, Stöller
A band of hooded druids who possess solid chops that equal the vocals of their possessed leader, the Ice Princess—a half-dark/half-light nymph-witch with an impressive vocal range. For proof, check out "Eternal Night" on Bandcamp and revel in the rock. (Thurs March 12, 9 pm, The Fixin' To, $7)
The Wood Brothers, Birds of Chicago
An evening of folk and blues with this trio consisting of brothers Chris and Oliver Wood, as well as multi-instrumentalist Jano Rix. (Thurs March 12, 8 pm, Crystal Ballroom, $30)
Third Eye Blind, Saves The Day
A pair of '90s pop-rock and emo mainstays link up to bring the "Screamer" Tour to the Roseland stage. (Thurs March 12, 8 pm, Roseland, $45 & Up, all ages)
Gerle Haggard
The transformative sounds of Gerle Haggard gain an extra level of transformation when you place their takes on Merle Haggard's country classics under the stars of the OMSI planetarium. (Thurs March 12, 7:30 pm, OMSI, $15)
Jamestown Revival, Desure
The Texas-based Americana and folk rock duo headed up by Jonathan Clay and Zach Chance swing through the Aladdin Theater to head up an all-ages show supporting their latest album, San Isabel. (Thurs March 12, 8 pm, Aladdin Theater, $22, all ages)
Don't forget to check out our Things To Do calendar for even more things to do!
As you're considering going out in Portland, remember that it's important to always wash your hands and stay home if you're sick. Currently, Oregon and Multnomah County have not put any restrictions in place regarding group gatherings due to the coronavirus, but it's a good idea to double-check event websites directly for cancellations or postponements before leaving the house.