In the end, the thing that saved the Independent Publishing Resource Center (IPRC) from becoming yet another casualty of Portland's ongoing rental crisis was—interestingly enough—the nonprofit's own programming.
Sponsored
Sketch comedy troupes from all over N. America descend on The Siren Theater for 3 glorious nights.
Last year, the much-loved DIY publishing outfit found itself in a situation many Portlanders are increasingly familiar with when their landlords, W Harrison Investments LLC, tripled the rent at the organization's Southeast Division location. With no choice but to find a new home, IPRC staff bootstrapped hardily to raise over $20,000 through a well-organized Kickstarter campaign.
It seemed that if anyone could survive Portland's rent apocalypse, it would be the IPRC. By fall, they were in final talks about renting the former Citybikes Annex building at 734 SE Ankeny. It seemed like a done deal. But over the winter, there were rumors of a negotiation impasse, and in February, everything suddenly fell apart, leaving the IPRC right back where it started.
When the next blow landed—IPRC executive director A.M. O'Malley announced her intention to step down and move out of state—many began to wonder if Portland would lose yet another arts nonprofit to the displacement that can strip a city of its art and culture institutions during a housing crunch. But IPRC Board President Brian Tibbets began shadowing O'Malley, preparing to operate as interim director while the board and mostly volunteer staff feverishly searched for a new building and attempted to coordinate an enormous move—into a building they hadn't yet secured—all within a matter of months.
"That was April," Tibbets told the Mercury last week during an interview and tour of the new IPRC space. "It was a whirlwind. We were already past the end of our lease." But the IPRC saved itself. In a serendipitous turn of events, a student with ties to building owners Edy, Morton & Edy, LLC was taking an art class at the IPRC and picked up the nonprofit's newsletter outlining their desperate search for a new space. Edy, Morton & Edy got in touch with Tibbets soon after. With a new lease signed by the end of May, the IPRC moved shop during the last two weeks of June—hat yanked from under the descending door, Indiana Jones-style.
Operating in a soft-open stage since July 17, the IPRC's new location in the Southeast Industrial neighborhood of Buckman currently exists in two parts—the classrooms, offices, and library face Northeast MLK, with the studio entrance off Southeast Main—but Tibbets says he expects construction on an adjoining hallway to be completed early next year. Accessibility (integral to the IPRC's mission) will be temporarily challenging, but both entrances have detachable ramps, and Tibbets says his landlord has made a good-faith promise to increase the building's accessibility, also within the year.
So it's a hopeful next chapter for the IPRC, albeit with double the rent and detachable ramps. Tibbets insists the new rate is still a great deal. They've added two restrooms—a big deal to anyone who ever stood in the line at the old spot—and gained around 500 more square feet. That means more space for programming and rentals to help pay the increased rent. Next month, Tibbets says the IPRC will begin a nationwide search for a permanent executive director.
"We have at least five years here," he says. "Long-term hope for the IPRC is that we'll find a permanent home that we can own and then we won't be tied so tightly to whatever's happening in the Portland rental market. That's going to be a reality a lot of mid-size Portland nonprofits are going to have to face as this situation continues to develop. Hopefully we'll be able to continue to weather it."
Sponsored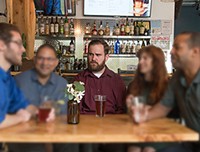 Adults aged 18-35 with good hearing will be paid for their time. Located at the Portland VA Medical Center