A group of ornately decked-out young people form a circle under pulsing disco lights in NYX Nightclub, a recent addition to Old Town's slew of sweaty dance spots. Brandon Harrison, sporting a red beret instead of his otherworldly "Hydrangea Strangea" drag persona, rhythmically chants over the energetic dance-pop track booming from the speakers.
"Category is... art heaux," he says. And the competition begins.
Illuminated by photographer Rakeem Salt's handheld flash, extravagantly painted and embellished folks take turns strutting into the circle in search of 10s—a passing score needed from judges­­ to advance to the next round. An intensely poised contestant enters the ring with a stunning blush kimono, sleek black wig, and Japanese kitsune mask. Exclusively referred to using feminine pronouns, the host says she's serving "concept art face." She exits after swiftly securing her 10s. Later, a towering contender elegantly twirls onto the floor wearing a perfectly tailored floral jumpsuit with a plunging neckline. Despite the darkness of the room, a pair of tiny circular sunglasses stays miraculously perched on the bridge of her nose. And her face—airbrushed in an ombré of pistachio and rose to match the jumpsuit—remains stoic and self-assured.
After nearly 10 minutes of individual walks, sirens blare and the battle commences: They now compete head-to-head, until one final contestant remains.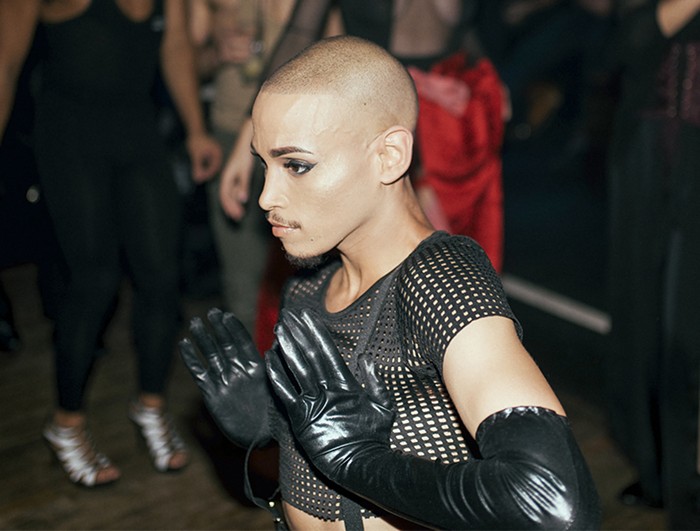 Portland Ballroom, also known as #PDXBall, is a monthly gathering that continues the decades-long tradition and evolution of drag balls, which are a unique subculture separate from drag shows, albeit a derivative. In Portland and beyond, every ball features a handful of categories (like art heaux) in which participants compete against one another for the winning title. Unlike larger, more serious balls—like New York City's Latex Ball (now in its 27th year), which caters to the scene's crème de la crème—Portland Ballroom is a laid-back, tenderfoot affair referred to as a kiki.
The first Portland Ball was held in June, inspiring the event's organizers to host an educational course on ballroom etiquette and its vivid history for the first time in November. As the organizers grow into their roles as teachers, they stress the importance of fostering and maintaining an atmosphere of intentionality and respect as the scene flourishes. That means passing along the scene's history and preserving its oral tradition.
Kerry Yamaucci ended up in Portland by way of Hawaii and Arizona. She says understanding the historical context of ball is essential before jumping in.
"The ballroom scene was centered on building community and literally keeping each other alive during the AIDS epidemic," she says. "That's how a lot of children found resources to live better lives and practice safer practices. With Portland being so white, a lot of people don't quite view the aspect of community as so important—but we need to center it back on community."
Competition rarely equates with community, but for ball scene participants, it's impossible to have one without the other.
Even as balls have been synonymous with formal dance and heterosexual elitism for centuries, sometime between the 1920s and '30s, drag balls quietly emerged in Harlem to provide a space for communities of gay men. The earliest iterations of drag balls were lavish costume parties, but over time they became the queer answer to beauty pageants. With the passing decades, the most coveted looks shifted from sparkly Las Vegas showgirl to elegant old Hollywood and later, sleek supermodel fashions. That said, traditional notions of beauty were still celebrated and reigned supreme.
As word of the counterculture spread, drag balls were frowned upon by uptight society, and outlawed. Nevertheless, drag balls persisted, and like much of the queer community, they continued to thrive underground.
As highlighted in the 1990 documentary Paris Is Burning, drag balls—simply referred to as "balls" under the umbrella of ballroom culture—have continued to evolve. And with that came a deeper sense of inclusion and kinship. While balls provided a sense of security and self-expression for some, many Black and Brown performers were treated like spectators for years—often excluded from participation or ignored in competition.
After decades of being pushed to the sidelines, an exclusively Black and Brown drag ball circuit formed during the 1960s. With this increased attention, however, participating in balls became even more dangerous than before, inspiring the organizers to move the start time to the wee hours of the morning for added security. Unlike those held at the midnight hour, Black and Brown balls began between 3 and 5 am, which made the festivities more accessible for sex workers, and the practice continues to be honored in the New York City ball circuit today.
By the mid-'70s, Crystal LaBeija, a Black drag queen from Harlem, introduced the concept of ballroom houses. Modeled after family units, mothers and fathers of houses provide guidance, love, and community for their children in the ballroom scene—often in place of biological relationships. Houses marked a new shift from balls as a pastime to an act of survival. Even if members weren't interested in competition, they still had a place to call home.
Daniel Girón, father of the House of Ada in Portland and a dance instructor at Vitalidad Movement Arts Center, was 11 when his family relocated to Oregon from his hometown of Veracruz, Mexico. When he was 23, he decided to leave Wilsonville for Portland in pursuit of dance.
"It didn't take long to realize that although there were a lot of gay dancers, there was not a queer scene for dancers," Girón says. "The more I learned about dance, I started finding out about vogue."
Voguing, which is often conflated with ballroom culture and often overshadows it, is a style of dance that originated as a game between gay inmates at Riker's Island who battled each other by quickly striking poses to mimic the poses of models in Vogue magazine. In Portland, Girón is a leading instructor of the dance style, and the ballroom scene here emerged in part from collaboration with his vogue students and friends.
Kumari Suraj, an internationally renowned leader of vogue, waacking, and house dances, taught Girón how to vogue, and after a few years living in Portland, began to lay down the foundation for the future ballroom scene.
"[Suraj] noticed there were a few voguers in town, so she decided to throw a couple of balls in 2014," says Girón. "Through her I was able to train, travel, and learn more about the culture, which led me to kiki with friends."
Suraj hosted Nostalgia and Waack Fest a few times per year, while Critical Mascara—the now-defunct TBA event hosted by Pepper Pepper that was dubbed a "post-realness drag extravaganza"—provided another yearly space for LGBTQ people to gather and meet likeminded folks. In 2014, during an installment of kiki function Love Ball, Girón formed House of Ada; at Critical Mascara 2015, he befriended Yamaucci, Harrison, and Marquise Dickerson. Together with Leigh Sachiye and Paula Metzler, the six are leading the ballroom scene in Portland today.
---
---
Harrison and Sachiye (both Portland locals who met while taking dance lessons from Girón) formed House of Flora in the spring of 2016.
"House of Flora was more about drag and the look," says Harrison. "We were coming in for the categories of runway and face. It was nice to have House of Ada, which was very vogue and dance-centered, and then have this other house that could offer the girls something slightly different."
He explains that house relationships are friendly and symbiotic, with each unit encouraging the other to step up their respective game in all categories. Unlike established houses in New York City with decades of history and legacy, Portland's houses are referred to as kiki houses, because they're new and flexible, with fluctuating membership.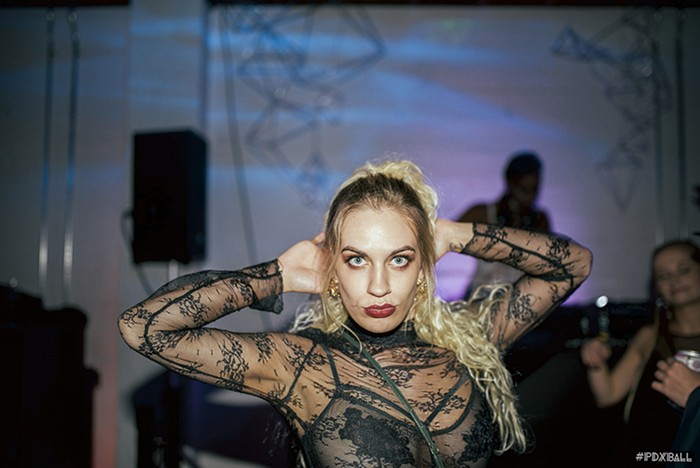 "With a growing scene, it's super important not to be vicious—because it's going to turn people away," says Harrison. "We're literally all learning. We're not professionals. We share resources and try to build community."
While Harrison continues to guide House of Flora as the father, Sachiye has stepped down, and Metzler—a Sexy Heels instructor at Vitalidad who came to the US from Fukuoka, Japan when she was five—is the House of Ada mother.
"I make sure the children of the house are feeling good about themselves, their place in the community, and have a platform where they can choreograph or do an important performance," she says. "I want to be their mom and make sure they feel valid as fuck in the community, because they are amazing and I love my babies."
While the ballroom scene is revered for serving excellent looks, Sachiye stresses the importance of seeing the deeper meaning behind houses and their histories.
"People conflate an artist collective with a house," Sachiye says. "But the idea of a house is centered on community, while art collectives might be focused on image and production of work."
When Dickerson adds that it's especially disrespectful to claim the title of a house without ever winning, Yamaucci quips, "How are you going to keep your house warm without a trophy?"
Sachiye cries, "The children are freezing!"
Jokes aside, Portland's ballroom scene can be summarized by this display of balanced playfulness and ferocity. As the six performers accept the onus to share their knowledge within the city's scene and beyond, they frequently remind me of their newbie status when compared to the larger, flourishing network of balls around the country.
"All of us are in a really unique position because we're now the leaders in this community, but all of us are students," Sachiye says. "We might be bigger fish in a small pond here, but when we went to New York—"
"We were guppies!" Harrison finishes.
Metzler says that one way the group chooses to further the tradition of making balls inclusive while remaining uniquely Portland is with their category distinction.
"Our categories aren't as specific to gender, which is a very traditional way to set categories. But instead [ours are] OTA—or, open to all," she says.
"We're so small, OTA is the best way for us to go," Harrison adds. "We [also] include a gender-neutral and gender non-conforming division for folks who don't believe in gender or whose gender is not represented."
"Even though we're trying to build the scene, we are respecting the legacy. We want to make it Portland in a way that can still be respectful," adds Girón.
Each of the scene's leaders is grateful for the strong kinship and visibility they attribute to the ball scene, and for the empowerment they get from being involved. Sachiye says the ball community has helped her feel like she has a place that's honored within the LGBTQ community.
"There's really not a space for women and femmes in the gay scene," she says. "But I've found people that really see me and celebrate my femme-ness and things that other people outside of this community dismiss or actively try to shut down. The idea that you can come into a space like this and be celebrated—that's really powerful and beautiful."
For Yamaucci, she's thrilled to reclaim a mentorship role.
"As I've become more secure in being a trans woman and what that means and looks like to me, it's meant helping other trans women figure out what that looks like and feels like to them," she says. "Before transitioning, I was really into LGBTQ student resources and providing support. When I transitioned, I felt like I lost a lot of that, because I didn't know what was happening and didn't know how to handle it. It's nice to be back in a position where if people do have questions, I have some answers, ways to help, [and]know people who can do this. What I used to say was, 'You're always one gay away from solving your problem,' and I feel that a lot more."
---
"The idea that you can come into a space like this and be celebrated—that's really powerful and beautiful."
---
As a queer Black femme, Dickerson echoes similar sentiments.
"Being involved in the ballroom scene has helped me connect to all parts of myself," Dickerson says. "It's helped me find the power in being a femme and embracing that. I'm able to use that as an armor as I walk through the world. It's really hard to be Brown and queer, especially here. How our scene differs from LA or New York is that those scenes are so Black and Brown and queer. We struggle to find each other here, but [the ballroom scene] gives me a link to the ancestors and people that came before me. That's why I love it so much."
Portland Ballroom will continue to host monthly balls and plans to teach another etiquette course at the beginning of 2018. As the histories of queer culture are carried through oral accounts, the dates vary depending on sources, but the team is excited to keep learning and sharing with others.
With growth, they say it's even more imperative for them to stay true to the history of ballroom culture and respect its traditions.
"I'm not Black or Latinx and I'm not a trans woman, but this culture is a really beautiful gift," says Sachiye. "It's something that all of us must try really hard to preserve and honor."
"It's important for people to know how to act at a ball and how to walk," adds Dickerson. "If you're a white body walking these categories, it's important to understand and respect the culture that you are, honestly, a guest in. You're really just on vacation."
"It's a visa," Yamaucci says.
"If you're not careful, it will get revoked," Sachiye warns.