Maneesha Horshin
Pussy Riot at the Crystal Ballroom
Sponsored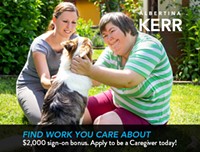 Become an Albertina Kerr Caregiver & help people experiencing intellectual and developmental disabilities.
Last night at the Crystal Ballroom, Maria Alyokhina and Ksenia Zhivago of Pussy Riot engaged in a conversation with moderators John Sepulvado of OPB and local musician/author Storm Large. The evening began with a 13-minute trailer for an upcoming documentary about the Russian feminist collective called Act & Punishment, followed by a lengthy dialogue and half-hour Q&A session.
The conversation itself was awkward, to say the least. Hecklers (yes, for real) said "Blah blah blah" while Large spoke, and in response to an audience member's question during the Q&A, another attendee yelled "DUH!" This made for a PALPABLY uncomfortable atmosphere for both the audience and members of the panel. It seemed like some members of the audience were unfamiliar with the concept of a conversation, where people are allowed to ask questions (even the ones that seem obvious).
Today Large responded to a tweet about the event:
Agreed. One interviewer and a tighter schedule (stage manager) would have definitely helped, too. https://t.co/qnMMdGJZaA
— Storm Large (@Stormof69) February 10, 2016
Sepulvado began the moderated discussion by asking Alyokhina what a typical day is like for a woman in Russia. She was unsure of how to answer, since her entire experience as a woman in Russia has been in the context of being a woman activist. These identities—woman and activist—are inextricable, and therefore it would be difficult for her to imagine life as a woman in Russia as a non-activist.
Alyokhina went on to describe her first brush with activism, when she fought to save a forest in Southern Russia. She had a baby at the time, and described pushing a stroller around while she collected 10,000 signatures. It was the first time her efforts had resulted in concrete change, but she did note that the process took over a year. While it was a victory, this also disillusioned her to working within the Russian bureaucratic machine.
When asked about her experience living in the penal colony, she described waking up every morning at 5:20 am. Most of the women were sent to a sewing plant to make (ironically enough) army and police uniforms, starting daily at 6:20 am, where they work 12-14 hour days with no holidays or breaks, and a pitiful monthly salary. But not Alyokhina.
"I caused too many problems," she said. While she endured over half a year in solitary confinement, Alyokhina says she preferred this to coexisting with more than 100 other female prisoners. She was only permitted to see her child once every three months, and these visits were contingent on her good behavior.
Alyokhina described living in prison as a "24-hour fight for your human dignity." She is still enraged by the Russian prison system's means of "correction," particularly the institution's corrupt system of profiting from unpaid or underpaid labor, which she likened to Soviet-era gulags.
The other member of the Pussy Riot collective who spoke last night, Ksenia Zhivago, is a visual artist who studied in London for six years, an experience she said opened her up to radical expression through art. Unlike Alyokhina, she has never been to jail, but she still wanted to engage in social and political issues from her home country. Zhivago met the members of Pussy Riot in 2014, and decided she wanted to use art as a means for making the Russian prison system "much more transparent." She went to protests, demonstrations, and meetings to learn more about the way art is used in political propaganda.
Both she and Alyokhina cite Petr Pavlensky as the "best contemporary artist in Russia." Pavlensky is currently imprisoned for his striking "living pain" performance art, in which he often inflicts bodily harm on himself to make a political statement. Russian authorities have deemed this "vandalism." In 2013 he nailed his scrotum to the brick ground in Moscow's Red Square. The year prior he had literally sewed his mouth shut to stand in solidarity with the then-incarcerated Pussy Riot. Alyokhina and Zhivago sold T-shirts last night to help pay for Pavlensky's lawyers, so he can have the best and strongest legal team possible.
They described encountering a man in Seattle the day before, who told them he wanted to be radical but didn't want to go to jail. Alyokhina pointed out that Americans are lucky that they can identify a line between being radical and being imprisoned; in Russia this line is not so clear. Zhivago also noted the subjectivity of "crime." The separation between prisoners and "normal people" is largely imagined, especially in Russia, since authorities have the power to interpret art as vandalism or hooliganism. In Russia, posting an opinion on social media that goes against hegemonic ideals can result in arrest. This consistently blocks calls to action from radical groups like Pussy Riot, and prevents them from affecting positive change through media. They have no choice but to be radical if they want to communicate their message. "If you choose not to accept this kind of order, you risk losing everything," Alyokhina said.
She also noted, "The most important thing is to remember the names of those who are still behind bars, and those who perish due to the government's violence." She believes Pussy Riot got worldwide support because they were imprisoned, and because standing in solidarity with her, Tolokonnikova, and Samutsevich was as easy as putting on a colorful balaclava. Pussy Riot's strong, visual symbol helped their movement spread globally. It's more difficult to rouse support for artists like Petr, whose visual symbols are jarring and intentionally repulsive.
During the Q&A, several Portlanders asked Alyokhina for advice on how they might enact radical change in America. "I'm not an oracle," she responded. "If something makes you pissed, and you feel like you have to act, then do it." Conversely, when someone asked her where she gets her courage, Alyokhina looked confused. "If you're scared, don't do it," she said. Her actions in Pussy Riot were inspired by her feeling so irate, so enraged, that her fears were blinded by her anger. She suggested that if you don't feel that strongly about something and your interest isn't genuine, don't bother.
Alyokhina also paraphrased a Voltaire quote when one member of the audience—a self-proclaimed clown-by-trade named John—asked what role comedy plays in political activism. "What is funny can't be dangerous anymore," she said.