Wandering the South Waterfront's small grid of streets feels like living in a model of a new development in a city planner's office—or, as a friend of mine put it, like being a Sim. It's obvious some unseen hands have recently painted these roads onto the riverbank, drag-and-dropped a condo tower, then another, and added some stock restaurants: Donut Shop, Burger Place, Pizzeria.
It should not be a surprise at this point that one of those invisible hands belongs to ubiquitous local chain restaurateur Micah Camden and his partners. Literally in a row on SW Gaines, at the foot of a condo giant, sit three Camden-founded projects: Blue Star Donuts, Little Big Burger, and the hot shot newcomer, Heart Pizza.
This location of Heart Pizza is the second for Camden and partner Matt Lynch, preceded by a tiny downtown storefront on SW 13th and to be followed by a Rose Quarter spot. True to the casual chain model, the menus are the same at each location and the decor is aggressively repeatable.
The pizza is Neapolitan: crusts thin and chewy, baked fast in an imported brick oven. The pizzas are actually amazingly light: On a hungry day, you might eat a whole one for dinner and not feel like a monster.
The pies are $12 (veggie) or $13 (meat), and $1 of that goes to a charity or nonprofit cause. You're really paying as little as $11 for a pizza, and donating $1 to charity. That's smart shopping with a heart! (Oh, I get it.)
The pizza menu is split evenly between meat and veggie pies, and a little less than half use tomato sauce. The rest have a white cream panna sauce, which isn't greasy or heavy, but does leave many of those white pies a touch too sweet.
The sausage and fennel pizza is a standout, with plenty of spicy, meaty flavors built on that panna sauce. The rapini pie is probably the only truly spicy item on the menu, with big, rough chopped Calabrian chilies softened with aged balsamic vinegar.
The bacon version, one of those already sweet panna pies, is near dessert territory with caramelized onions, whole grapes, and saba (cooked grape juice). This was a divisive pie in my house, but I thought the grapes lent it just enough acidity to keep it from candy territory.
A more disappointing cousin is the Oliveto. With roughly one whole Castelvetrano olive per slice, a single bite brings the brine, but the rest is just garlic bread, dominated by citrus sweetness from orange pesto. Trying to taste the whole pie together felt like a losing game of chess.
There's a Caesar salad, and one called the Peasant: pancetta, chicories, walnuts, balsamic, arugula, and radicchio. Neither is as satisfying as the simple arugula and prosciutto salad, light and easy with goat cheese and a bright lemon shallot vinaigrette (all salads $8).
There's not a lot to make you want to stay in either location: basic wine and cider, a couple Italian beers in bottles (Peroni!) and cans of Ex Novo's reliably tasty IPA and lager. Takeout involves a surprisingly cute pizza box. (Look at the little heart cutouts!) But those crisp, chewy crusts quickly become gummy—so quickly that unless you live very close to a Heart Pizza location, you might want to preheat the oven while you go pick it up. (And if your Postmates order is on a bike... all is lost.) However, they reheat just fine and actually offer surprisingly toothsome cold-slice leftovers.
But review coverage like this may be irrelevant. If Camden's past is any indicator, then like the LEED-certified towers of Babel casting shadows over its doors, Heart Pizza is now simply a fact of the city. It's cheap enough, fast enough, good enough, and it's growing in the purest way a business can grow: virally. Not because demand necessitates it, but because growth is its prime function. Heart Pizza doesn't make pizza, it makes money.
Whether these self-replicating micro-chains are a good thing is up for debate, but they contribute to a feeling of tininess I can't shake. That South Waterfront area feels so disconcerting because it's not a microcosm of anything—it just is a microcosm. It's a postcard from New Anywhere, USA—and you're reduced too, a miniature model of you, the satisfied customer.
But hey, there's pizza, so how bad can it be?
Sponsored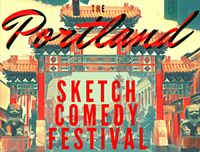 Sketch comedy troupes from all over N. America descend on The Siren Theater for 3 glorious nights.