As far as my western American mind- set goes, if you're not at a café to wake up, you're there to meet a friend, or work quietly on a laptop, or even just geek-out on coffee. If you eat anything, it's probably from a pastry case—maybe just a bagel with cream cheese.
Sponsored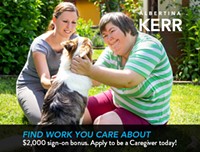 Become an Albertina Kerr Caregiver & help people experiencing intellectual and developmental disabilities.
So when you get great food at a coffee shop, it feels like someone just showed up with a giant check.
This is what happened at Guilder Cafe. I'd walked by the Northeast Fremont shop and noticed the pretty packaging of the Junior's Roasted Coffee bags—mathy-looking tricolor line drawings, rocketships and boats on white bags—and my coffee geek roommate and I decided to try the goods.
We chatted with roaster/co-owner Mike Nelson about Guilder's varied, complex coffees that are currently roasted in Southeast (soon to be roasted in-house). The coffees come from various farms and regions, the selection informed by Nelson's academic research in environmental science. In true café fashion, the conversation then turned, as always, to Star Wars and Stranger Things.
Feeling peckish, I ordered a "savory toast." The description sounded like some veggies on a piece of bread, but it was giant-check amazing. The white bean salad was light and flavorful, the raw and pickled roots were crisp, and the egg rich and warm ($8.50, $2 extra for the egg). Prettier and presumably less terrible for me than the benedict I'd have had elsewhere, it tasted like unclogged arteries and Instagram likes.
The menu also includes pastries from Shoofly, sweet ($8) or savory ($8.50) porridge (I prefer the housemade berry jam in the sweet; the savory actually feels heavier), a breakfast sandwich called Miracle Max, and a farro-and-rice "Inconceivabowl" ($10). (Somehow Guilder's is at least the second Princess Bride-themed menu in Portland, after Victoria's.) They even have cocktails, most of them named for characters in the comic book Saga (a first, I think, for Portland). Of these, The Will is a favorite. Made with rum, tea syrup, bitters, and soda, it's a lighter, floral take on a standard rum and Coke.
All in all, Guilder isn't trying to force you into anything new: It's still counter service and a menu that seems modest until you eat from it. The staff here aren't reinventing the wheel, they just make a fine one.
Meanwhile, slightly north, a coffee roaster of southern (hemisphere) influence is turning a different kind of wheel: Australian coffee roaster Proud Mary has opened a café and roastery on the swiftly reinvented 2000 block of Alberta.
The model is downright un-American: table service coffee. While the centerpiece is still an espresso bar, and they do offer coffee to go and a case of mostly housemade pastries, this place is huge, with plenty of seating and a big kitchen.
And that kitchen, like Guilder's, is pumping out some impressive food. But this menu looks like a proper brunch spot's: hotcakes, hash, granola—plus some more unique fare. If you wake up with a sweet tooth, get the banana bostock, a twice-baked brioche topped with bananas, caramel, and a hazelnut frangipane that shows Proud Mary's not too proud to embrace the state nut of its new home. If you lean savory, the miso smoked trout is a standout—available as a side ($5) or a full plate with soba noodles and a mild kimchee ($16). There's even breakfast sashimi, a delicious idea, though the fish—local wild albacore—doesn't quite shine, buried as it is in spices and seasonings ($16).
Proud Mary is a café first and foremost, and as big as the food menu is, the drinks list is bigger. There's tea and chocolate from Australia, housemade juices (get the Kermit, one of those rare perfectly balanced green juices with just enough apple and lemon, $6.50), tonics, and smoothies. Shamefully, my favorite was the berry-purple Smooth Barney, which contains ice cream but is listed under smoothies, so I'll keep telling myself it's healthy ($7.50). There's a milkshake section, too, but as coffee geek roommate says, if you're going to call a banana/chocolate/peanut butter shake a "Mrs. Mia Wallace," you have to take the hit and charge $5 for it. (Proud Mary's is $8.)
The coffee has to impress as much as Portland's homegrown favorites, and it does—from basic blends to the coffees from the showcase farm, which the crew talk about unpretentiously. They also drop a card with the menu describing the current farm and the coffees, which range in price and obscurity and are available in different brewing methods, iced or hot.
The card included a photo of one of the Aussies with the Hartmann coffee farming family in Panama. Coffee Geek Roommate said, "Hey, that guy's making our coffee." And so he was. In fact, a lot of the staff at Proud Mary are Australians. If that dedication to their origins—moving staff thousands of miles—and attention to local product isn't proof that we can MAGA with immigrants, I don't know what is.
To Portlanders, the hustle and bustle at Proud Mary is bound to feel more brunch spot than coffeehouse. It will take a little customer training, but I think we'll cotton to table service café life. Whether that will ever allow for the friendly atmosphere Guilder offers is harder to figure. It might not matter; not every café has to be some "third place" community space, but neither does having a tableside server necessarily stop a community from forming. You can still strike up a conversation about Star Wars if you want.