Tucked to the side of the Vtopia vegan cheese shop and behind a curtained door, stepping into Ichiza Kitchen & Tea House recalls a trip to the cramped and rowdy stalls in Tokyo's famous drinking and yakiniku-heavy Golden Gai district, with two key differences: Ichiza serves no alcohol and the menu is entirely vegan.
There are still grilled "meat" skewers, except now they're faux shrimp, chicken, or beef, and shots are replaced by a meticulous tea service with loose-leaf offerings bearing great names like "Duck Shit" and "Hairy Crab" oolong.
Opened earlier this summer in Goose Hollow, Ichiza (named, the menu says, for the Zen principle of contemplating one's path) features pan-Asian small plates and entrees that feature fake meats of the ilk enjoyed by Buddhist monks.
To contemplate the path of Ichiza Kitchen raises the key question of reviewing a meat-free restaurant as a dedicated omnivore: Should one evaluate it for the flavors it can bring despite being restricted from using traditional Asian flavor-builders like fish sauce, deeply rich bone-infused stocks, and bonito? Or does one look at Ichiza in the grand context of Japanese and other Asian establishments across the city?
Answering the first question: Is it good for being vegan? The answer is an unqualified yes.
There are certain dishes that excel for omnivores and herbivores alike, especially the take on a Filipino Orchid Pancit ($11). Unsurprisingly, of the fake meat options, it's easiest to make something taste like chicken, with springy rice noodles, vividly purple cabbage, crisp carrots, and a surprisingly bright and acidic sauce.
An ongoing special—a take on dim sum rice noodle rolls ($5)—incorporates smoky "pork" for a satisfying bite. Pan-fried and steamed turnip cakes ($6) are a faithful dim sum favorite done right, with a sweet and savory shiitake mushroom dipping sauce.
In fact, ordering scattershot from the small plates while splitting a large-portioned entree is probably the best way to dine. Every order arrives at the same time, so expect a wait before you're served—all the better to sip that oolong tea, poured painstakingly by your waiter after steeping tableside.
Like a Shinjuku drinking stall, Ichiza seems to grow busier as the evening wears on, even on a weeknight. Its tables are suited to groups no larger than four, while smaller parties squeeze onto stools and small tables around the side of the room. If you've got a wait, grab a Prosecco and a vegan muenster cheese from Vtopia to bide the time.
While each visit to Ichiza was satisfying overall, there are places where the menu, which relies heavily on portions of that fake meat, falters. The Lan Zhou "beef" noodle soup ($11), promised a broth made from 12 medicinal herbs and a slow-cooked beefy flavor. Instead, it was a thin soup with a distinctly herbal flavor that was intriguing on first sip, but off-putting by mid-bowl. A "salmon" bowl ($10) featured a thick base of white rice and crispy "salmon" fillets, which, while the proper shade of pink-orange, had the texture of a deeply overcooked fish, and not much flavor to back it up.
Ichiza relies deeply on their meat replacements in its dishes, and for that, I think it suffers, if only because the kitchen misses an opportunity to play with vegetables in a way that would make them sing. Instead of trying to replicate a rich beef broth, why not chart a new course?
Wed-Sun 3-10 pm. No reservations, not good for large groups.
---
Don't forget! The Portland Mercury's VEG WEEK is heading your way!
Mon Oct 9-Sat Oct 14
Featuring great vegan entrees at great Portland eateries for HALF THE PRICE.
Get all the info you need and check out the participating restaurants at portlandvegweek.com!
Sponsored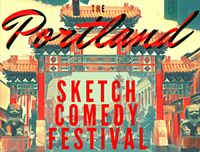 Sketch comedy troupes from all over N. America descend on The Siren Theater for 3 glorious nights.