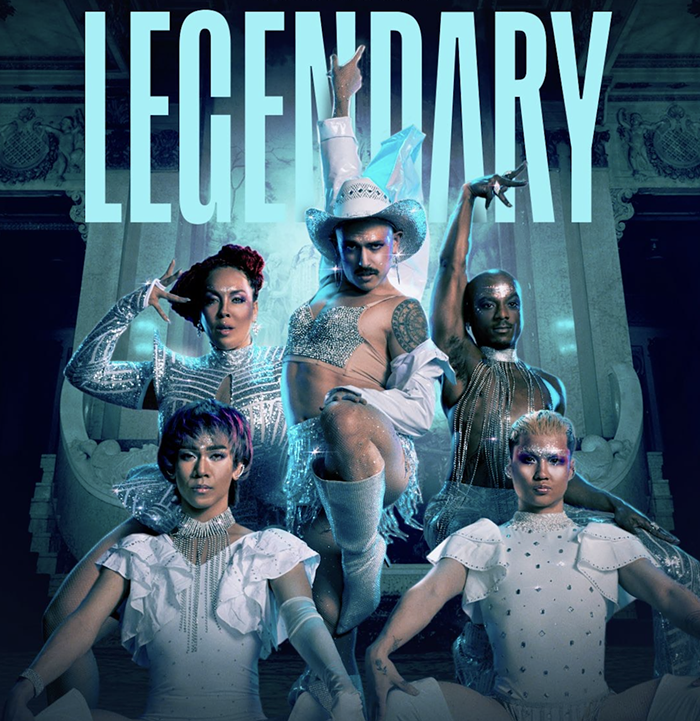 Portland is about to, once again, shine in the national eye. That light is sparkling on the city's own House of Ada, which (like many ballroom houses) is a family—a family that pushes the boundaries of fashion, style, and dance as a nuclear unit.
If you sympathized through the trials of local designers on Project Runway or dipped deeper into the city's food scene when it hosted Top Chef, you can now dive into the third season of HBO's ball culture competition Legendary and see hometown heroes House of Ada compete for $100,000 and the show's title of "legendary status."
---

Related reading: Ballroom Glossary courtesy of your friends at #PDXBallroom
---
Ball culture has been pretty well explained to the mainstream at this point—certain touchstones would be the controversial but groundbreaking 1990 documentary Paris is Burning and the award-winning FX drama Pose—but suffice to say ballroom culture is the scene Madonna stole vogueing from, and there's a whole lexicon of other styles and dances that started there as well.
House of Ada's house father Daniel Girón, called Papi Ada, couldn't reveal many details about where his house eventually landed in the show's ranking, but he says he and his house's children will cement the Pacific Northwest's place on the ballroom map.
"We're the first gender non-confirming house on the show," Girón told the Mercury. "Making it on the show and getting to represent in that way is huge. We are representative of queer immigrants in ballroom."
Originally from Veracruz, Mexico, Girón moved to Portland in 2012 to study dance. He credits his housemate Kumari Suraj, who goes by Vanity Ada, with introducing and mentoring him to the city's ballroom culture scene.
"[Vanity] was the one making the big moves," Girón said. "They were the person bringing real ballroom legends to Portland to teach workshops, to host events. I was the one making moves to train myself and train the community—establishing the community," Girón said.
---

Related reading: Portland Is Burning
---
Unfortunately, Girón couldn't bring his whole house to Legendary, and had to select between his children. You can expect to see some prime moves from Sophora Ada and Babi Ada, two of Girion's most promising students. And make sure to look for Virgo Ada, who is actually Girón's former rival. Before Virgo moved to Portland to join the House of Ada, the two often faced off in competitions, tactically pitted against one another due to complementary features and styles.
"You never know what you're going to get when you put us against each other, but you definitely know you're going to get a show." Girón said of the show's performances. "It's going to get hyped. The room will explode."
He described the house's competition aesthetic as a modern ballroom update on the pixies from Disney's 1940 Fantasia—which makes sense as House of Ada takes its name from the Spanish word "hada," meaning "fairy."
"It can be as simple as monochromatic earth tones—bringing that into our looks—or the way we do our makeup, having a little bit of glitter as representation of being this shiny little magical creature," Girón said.
For all their natural sparkle, the house members auditioned for four months before securing their spot in the season's competition. Due to the pandemic, the process involved daily testing and adherence to strict social distancing guidelines.
"A reality TV show is a completely different type of work environment," Girón said. "There's a difference between working full time and working the full day: getting up, having a schedule, you're doing a photoshoot, you're doing an interview, you're rehearsing, you're eating, then you have to go back to the wardrobe team. You're creating not just choreography, but also music from scratch, concepts. It's just nonstop work, work work. But it's also what we already do—just super amplified times ten."
"I trust that our work will speak highly of us," Girón said. "We really got a chance to represent hard for the Pacific Northwest and tell our story as best as we could, so I'm proud of what we accomplished."
Though House of Ada doesn't have any public watch party appearances planned for the Legendary third season premiere, Girón said the house will judge its upcoming birthday ball: It's Raining 10s, where Girón hopes to better unite West Coast houses from Seattle and Tacoma.
"When people talk about ballroom, the extensions of it, there's New York, there's LA, there's Chicago, and there's a few other places that are well known for being established," Girón said. "They're really starting to see Paris ballroom and the talent there. But I hope before they skip all the way to another continent, they bring it back to the US, because the kiki scene in the Pacific Northwest has been doing it for eight years, and we're ready to make some noise."
---

The first three episodes of HBO Max's Legendary are available to stream Thurs May 19. House of Ada hosts It's Raining 10s at Portland's Vitalidad Movement Art Center, Fri June 17, 9 pm, $20, tickets here.