With the obvious exception of Sgt. Pepper, no album from the late '60s has been canonized and mythologized like the Band's 1968 full-length debut, Music from Big Pink. Released with only a crude Bob Dylan painting on the cover to identify it—the group's generically un-Google-able name hadn't been decided on yet—the album was a sober, sepia-toned antidote to the color wheel of popular music at that time. As psych grew druggier and soul became more politicized, the four Canadians and one Arkansan who made up the Band modestly offered a ragged collection of unvarnished tunes designed to sound old as dirt.
Sponsored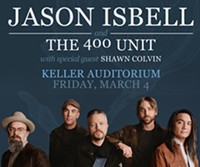 Jason Isbell has established himself as one of the most respected songwriters of his generation. Don't miss Jason Isbell and the 400 Unit, March 4th at Keller Auditorium!
Of course, these guys weren't a bunch of upstarts—their anonymity disguised the fact that these were seasoned pros, having served as backing band on Dylan's first electric tours, and before that, apprenticing with rockabilly ambassador Ronnie Hawkins. By the time of Big Pink, they'd played across North America countless times, evolving into an incredibly tight outfit that could play blues, country, folk, gospel, and rock 'n' roll with equal aplomb.
In 1967, the Band retreated to upstate New York to work with Dylan on the fabled "Basement Tapes" and to write their own songs, building up the repertoire that became Music from Big Pink. While not actually recorded in the salmon-colored house from which the album took its name (as is often misreported, even to this day), Big Pink virtually invented the homespun, back-porch vibe that became central to the folk-rock movement that was about to unfold.
A trio of golden-anniversary editions of Big Pink are being released this week to celebrate its 50th birthday: a two-LP vinyl version with the album pressed at 45 RPM for extra fidelity (on either black or pink vinyl); a CD version with a smattering of bonus tracks; and a deluxe box including the LPs and CD, plus a Blu-ray disc featuring a 5.1 surround-sound mix, a slender booklet, a trio of lithographs by photographer Elliott Landy, and a superfluous 7-inch of two of the album tracks, again, for some reason.
The deluxe box is an expensive splurge, and apart from the 5.1 mix, I don't think it offers a whole lot to justify its price tag—unless you're that one person who really likes those dumb lithographs that're making all of these "deluxe" box sets needlessly expensive. (Hey, lithograph guy! Stop fucking it up for the rest of us!) The accompanying booklet is also a real missed opportunity, featuring a cursory, four-page essay by David Fricke and virtually no worthwhile technical information about the recording of the album itself.
All iterations of this anniversary set feature a new remix of the album, done with sparkly, modern-day technology by Bob Clearmountain, the '80s producer whose name became synonymous with big-beat dance remixes on the flipsides of dozens of 12-inch singles. He's an odd choice to retool Big Pink's decidedly subdued sound, and the results are mixed. "The Weight," for example, sounds oddly boomy; the vintage studio ambience from the original recordings seems to have been recreated digitally (and not subtly, either). But "Tears of Rage"—the mournful, molasses-slow ballad that, surprisingly for its time, served as album opener instead of a more conventionally peppy track—is given an extra dollop of majesty by Clearmountain's heavy hand on the echo knob.
Assuming that the original mix of Big Pink will remain in print, Clearmountain's remixes are interesting, if unnecessary, diversions. And while this 50th anniversary set misses the mark of serving as the definitive edition of a classic album—for that, just pick up whichever previously existing version of Big Pink you please—the extravagance with which it's been commemorated is appropriate for such a foundational work.