If a classic American pale is like a high five, a hazy IPA a fist bump, and a Belgian lambic a peck on both cheeks, barrel-aged beers are the bear hugs of the beer world. Typically, the barrels that age them are former bourbon homes, since those casks can only be used once by distillers—and they make beer taste so damn good. A rich imperial stout matured in a used bourbon cask wraps its arms around you and straddles the line between warmly embracing you and taking your breath away.
Yet even before the pandemic shuttered taprooms, consumer interest in such opulent, corpulent beers showed signs of waning. The devotion spent—in terms of cash, time, and space—to collect multiple bottles that individually cost more than a six-pack and cellaring most in order to, say, one day enjoy a vertical tasting of five vintages of Deschutes' The Abyss or Pelican's Mother of All Storms, is equal parts awesome and ridiculous. Many of us who performed such rituals found ourselves with overflowing closets of liquid bear hugs. Famously, San Diego's Ballast Point Brewing ordered an employee to dump some 1,300 oak vessels of high-end beer down the drain in 2019.
Now a number of Pacific Northwest brewers are breathing new life into barrel-aged beers.
The pioneering days of finishing strong beers in used barrels took place in the early '90s, primarily within the domain of Midwestern breweries. Two decades later, most craft breweries had some sort of barrel aging program. Hair of the Dog Brewing founder Alan Sprints racked a strong ale into his first used barrel in 1994, staking the Pacific Northwest's place in the world of dark beer craft. Whether it was foreshadowing or post-shadowing of the past few years' barrel-aged comeuppance, Sprints announced his retirement in 2022. 
However, that retirement didn't include this year's new batch of Don barleywine, which Sprints recently announced he brewed and bottled for an April 2023 release. He also alluded to other, upcoming barrel collaborations—likely with Labyrinth Forge Brewing Company, to whom Sprints has leased the former Hair of the Dog building at 61 SE Yamhill. "They'll give my equipment new life and welcome guests back into the tasting room, in the next few months," he said.
Breakside Brewing's barrel program manager Dan Hynes told the Mercury that, while overall, Breakside is making fewer barrel-aged beers, they're making more varieties. "We've increased our options. We have a larger variety of objects in smaller format," Hynes said. "Only speaking for us, we've moved toward our in-house inspiration. We're looking for unique expressions between a beer, barrel, and time... they express themselves in vastly different ways."
For instance, one blended barrel-aged stout, dubbed Skweee, folds a combination of 11 casks into a bruiser that tops 12% ABV. Elements include a smoked Baltic porter aged in rye whiskey for five months, a double wheat porter aged ten months in barrels used to make bourbon-aged maple syrup, and a chocolate stout aged in bourbon casks for 14 months. Increasingly, these beers spotlight interesting casks such as Sweet Creature of Bombast: a fudgy imperial stout composed of a whopping 19 various casks, some of which slumbered for over two years. Others look like This Great Stage of Fools, which plays around with culinary ingredients such as pecans, pandan leaves, marshmallow, and allspice.
It's not just Breakside right-sizing barrel libraries. "In 2017, it seemed to be what everybody's doing so we went big." Baerlic Brewing's co-owner Rik Hall said. "Huge. After we got it all out of barrels, we couldn't sell as much as we'd bottled." 
"[We've done] wine barrels, gin barrels, a pale coffee beer, cocktail- and culinary-inspired beers," Breakside's founding brewmaster Ben Edmunds said. "Customers lost interest in those experimental, barrel-aged beers. Dan and I are big-tent brewers, but the market has gone toward a narrowing of barrel-aged stouts and barleywine."
Hall says Baerlic has gone in a different direction. "We took 20 barrels of imperial stout and split them into four brands," he explained of Grand Cru (straight bourbon-aged stout), Mexican Hot Chocolate (aged with chocolate and spice), Ginger-Coconut, and Coffee-Vanilla-Cacao. "It's easier to sell four different brands than a lot of one."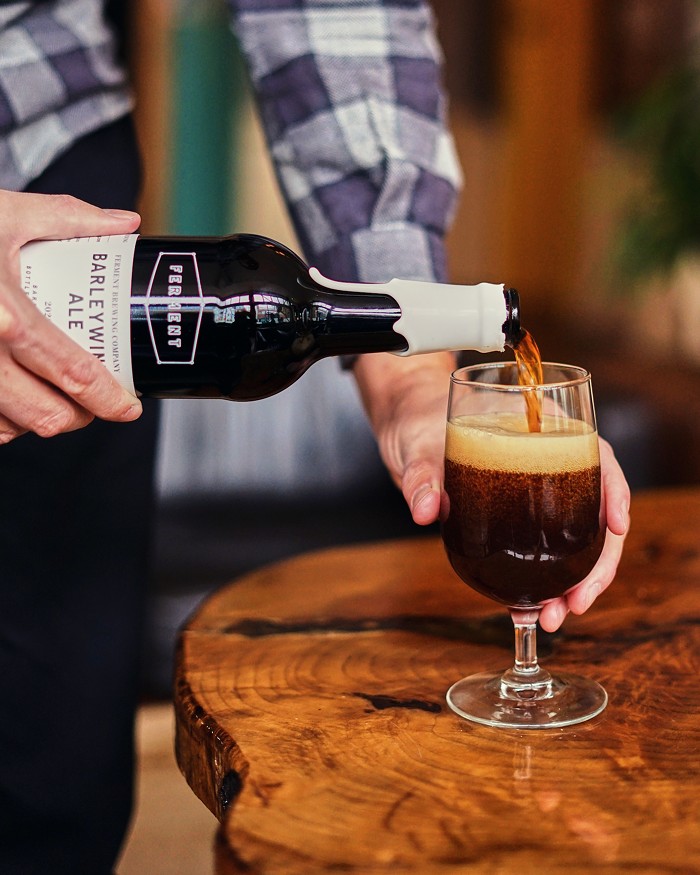 And sell them they do, most successfully at the brewery's annual Woodworker Marketplaces, which celebrate their own wood-aged craft beers as well as other woodsy crafts—it's the company's biggest sales day of the year.
In Astoria, home of Fort George Brewing's long running Festival of Dark Arts, wood-aged stouts are holding strong.
"I'd actually say our barrel program is at its peak now," said Fort George's head of research and development, Matt Rhodes. The brewery houses well over 200 barrels, according to Rhodes, some 95 percent of which are stouts, including a solid 50 currently aging the festival's star: famed Matroshka Russian Imperial Stout.
While Ferment Brewing Company, in Hood River, doesn't operate a sizable barrel program, owner Dan Peterson released three barrel-aged beers in 2022 and is on track to do likewise around Thanksgiving. "The rest of the year I don't think about them at all," he said. 
Peterson was responsible for the barrels—and foeders which are essentially oversized barrels—at his prior employers like pFriem and Full Sail in Hood River. He says he likes to "keep it simple." In fact, he's so lax about it that the Wayward Barrel release of 2021 was named for the stout "we lost track of blending" in 2019 or, y'know, perhaps 2018. It turned out great, and that was Peterson's teachable moment.
When it comes to brewing, maturing, and blending barrel-aged stouts and other strong ales, there are so many factors that create exponentially more flavor profiles. But as Breakside's Edmunds notes: "To what degree does education sell? You have to start with deliciousness. You can't prioritize interesting over delicious. [A Brian Yaeger] may buy them all and try them side-by-side, but the majority of customers want that one experience, and they're keeping in mind the price-point."