Sponsored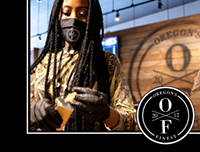 Oregon's Finest has great deals on cannabis gifts with curbside pickup & FREE delivery!
A Portlander who convinced a judge to change their legal gender to "non-binary" last week might've won the first such ruling in the nation's history. Add it doesn't look like the change Jamie Shupe spurred will stop there.
In the wake of the ruling [PDF] by Multnomah County Circuit Judge Amy Holmes Hehn, the Oregon Department of Motor Vehicles confirms it's looking into a new designation on state-issued IDs.
"We obviously saw the news last Friday," says DMV spokesperson David House. "We have a lot of questions."
Currently, the state of Oregon offers only "M" or "F" designations under "sex" on state ID cards. And while the DMV recently made it easier for transgender Oregonians to change their sex, there's no allowance for people like Shupe, who identify as neither gender.
Though Shupe might currently be the only Oregonian who's gotten a judge to approve a "non-binary" gender designation, it stands to reason that won't be the case for long. House says the DMV is looking into policies that might exist in other states for a third gender category. And it's asked the Oregon Department of Justice to research whether there'd need to be any changes to state law in order to change its policies.
"One thing we do know fore sure is there would have to be a computer change," says House, noting the DMV's systems currently only allow for male or female. "We don't have any leads on that."
Shupe is a US Army vet who began a gender transition from male to female in 2013. The ruling last week was a response for Shupe's request for a change from female to non-binary. Prior to the decision, Shupe's attorney, Lake Perriguey, reached out to DMV officials about tweaking their rules.