Geneviève Castrée Elverum's work may be familiar to you, maybe not. She produced a powerful, personal graphic novel three years ago, called Susceptible, about her estranged relationships with her family and that unsettling experience of later seeing her family's harmful patterns in her own actions. Her comics also appeared in collections like Kramer's Ergot and she made music under the names Woelv and later Ô Paon. Last month, Castrée's husband, Phil Elverum (the Microphones, Mount Eerie) went public with the news that Castrée was battling cancer and had been for more than a year. The couple's finances were exhausted by the enormous strain. Their community and fans responded immediately—with that elusive jaw-dropping generosity crowdfunded campaigns are famous for—overwhelming their early low goal and pushing the donations skyward. Then, on July 9, we learned Castrée had passed away. It's heartbreaking news.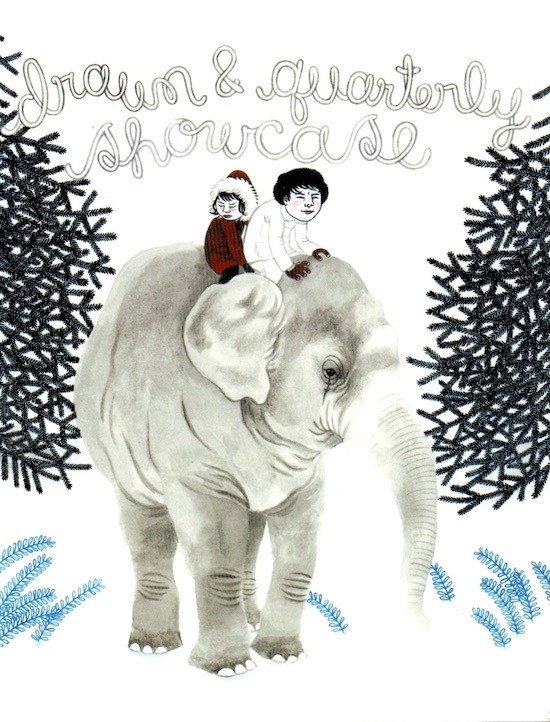 I never knew Castrée. I never even met her, but I remember browsing comic book shops and repeatedly thumbing through Drawn & Quarterly's third showcase book with Castrée's wonderfully painted cover of two figures sitting astride an elephant, bundled up against the whiteness of the page. Her short three-page comic within the collection stole sound from room and filled it out with snowfall. I knew exactly how it felt to be in that winter white but still warm and she translated it perfectly to the page. Her figures were Maurice Sendak-like but wilder—faces filled with detailed passions. Castrée's work was unlike anything else available at that time. It was meticulous folk art, but while normally that style would stay in a single piece, Castrée applied herself and expanded it into comics with uncommon imagination. I kept forgetting the collection was just a collection and picking it up, visit after visit, hoping the whole book would be her work—that one day it would magically transform under my fingers into something that was entirely from her hand. It was a good feeling, like seeing a band in a basement and wondering what their full album will be like. It was like waiting for something good to happen.
Many of Castrée's self-published or foreign-published books eluded me until Drawn & Quarterly published Susceptible and brought that full-length work I'd wanted into the light. Still, I wanted more from her. When I heard she'd passed away, I thought of current indie comics artist and Megg and Mogg creator Simon Hanselmann, who has always spoken of Castrée so warmly as a role model, based on their similar childhoods. Comics artist Anders Nilsen memorialized her on the Comics Journal as "a giver of gifts of all kinds. It was in her nature."
While writing this, I also came across a long form interview from 2013, also from the Comics Journal, which does a nice job of capturing Castrée's personality and ethos. She will be missed. I still want more books from her. Here's the GoFundMe page if you'd like to donate to her family, or just check in on them.