Portland vinyl lovers, breathe a big sigh of relief:
The city's best used record store has found a new home
.
As previously reported, Southeast Hawthorne used-record store Crossroads Music was looking for a new location for its multi-seller market, where 35 different sellers—mostly of vinyl, but also CDs, cassettes, hi-fi equipment, and more—carry their wares on consignment. The lease on their long-standing location on Hawthorne is due to expire next month, which left little time to find a suitable location.
In a wonderful turn of events, Crossroads signed the lease today for their new store, located at 8112 SE Harold, which is essentially on the southwest corner of SE Foster and 82nd. It's where Harold, Foster, and 82nd all converge, and is handily located on multiple bus lines: the 14, the 72, and the 10.
Online records indicate that the new location—which once held a flooring store—is actually more spacious than the current Crossroads, which means there'll be room for new vendors to set up their racks and current vendors to expand their space.
For now, Crossroads will be packing up shop to get themselves over to 82nd and Foster. "We're starting prep work immediately," co-owner Eric Swedberg tells the Mercury in an email. "Our last day open on SE Hawthorne will be July 2nd, we have to be out of the building on July 15, and we hope to be open in the new space on August 1."
Sponsored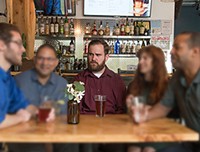 Adults aged 18-35 with good hearing will be paid for their time. Located at the Portland VA Medical Center