When Portland City Council extended the city's mandatory renter relocation law
last week
, a predictable phenomenon emerged.
Sponsored
Sketch comedy troupes from all over N. America descend on The Siren Theater for 3 glorious nights.
Under the law, landlords are liable to pay between $2,900 and $4,500 if a rent increase of 10 percent or more leads a tenant to move out (or if they issue no-cause evictions). So landlords are keeping rent increases below that mark—barely.
One woman told the council her rent had increased by 9.97 percent, with the landlord also instituting fees on garbage collection and sewer service. Christina Dirks, an attorney with Legal Aid Services of Oregon, said her office has been getting reports about "9.99 percent" increases since the law passed (though she said that reports of no-cause evictions have slackened).
As it happened, Commissioner Chloe Eudaly—one of two renters on the city council, and the policy's champion— had a story of her own.
"I want to let you guys know that I also received a 9.7 percent rent increase this year," she said. " My rent has gone up 75 percent in the last six years now. I live in a shabby, small rental home that has had no improvements other than repairs of essential services for a decade, and that was substandard and unsafe when I moved in."
Eudaly's landlord isn't well known, but his presence is felt in City Hall these days. The commissioner won office on a platform dominated by a push for stronger tenants' rights, and frequently shares her frustrations and injustices at the hands of landlords over the years. Those clearly inform her policy proposals (though she's candid about different circumstance now that she makes more than $110,000 a year).
So was Eudaly's recent rent increase actually tied to limited by the law she got passed earlier this year? Yep.
The commissioner's landlord is a Beaverton businessman named Matt Essieh, who hires a property management group to handle things. Essieh's got a solid success story—from being born in Ghana where he "didn't even know what a computer was" to serving as president and CEO of a company that creates computer systems that track investments. His online biography lists a history of civic involvement, including, apparently, a seat on the board of the Portland Opera (he's not currently listed as a member).
Records suggest Essieh's also got a stake in more than 20 properties throughout Portland, Beaverton, Tigard, and Hillsboro—including the Northeast Portland home Eudaly says she's been in since 2012. In that time, she tells the Mercury, her rent increases have ranged from 10 to 35 percent a year.
We asked Essieh: Did the renter relocation law figure into his rent policies? He didn't respond to an e-mail, but his attorney did—in the most jargon-choked, lawyerly way possible.
"Please be advised that my client takes the issue of compliance with State and local landlord tenant laws very seriously," wrote Lake Oswego-based attorney Bradley Blyth. "Please take further note that the recent increase in rent for said property was made in consideration of current rental market conditions and demand with the specific intent of complying with City of Portland protections against rent increases in excess of 10%, and not in contravention of them."
That won't be a surprise to Eudaly.
"I have no doubt that my landlord set the increase just below the threshold because it's never been less than 10 percent," the commissioner says. "However, the real issue is with landlords who haven't historically been raising rents by nearly 10 percent, but are doing it now. It's reactionary, and it's exacerbating our rent crisis."
It's worth noting that Essieh is probably not bound by the renter relocation law, even though he's got a bunch of property. Since he's created individual limited liability companies that correspond to his individual properties (including where Eudaly lives), he'd likely fall into a gaping loophole in the law designed to help out mom-and-pop landlords.
UPDATE, 10:20 am, Friday: I'm wrong! The City Council killed the LLC loophole earlier this year. I even wrote about it.
Sponsored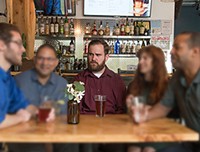 Adults aged 18-35 with good hearing will be paid for their time. Located at the Portland VA Medical Center