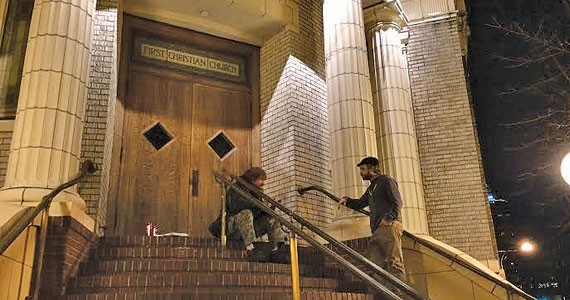 Roughly a quarter of Portland's unsheltered homeless residents were homeless when they moved to Multnomah County, and most of them came here because of family and friends or job opportunities. Another 18.6 percent moved here for access to services and resources.
That's one new takeaway available in the county's full 2017 "point in time" count of homelessness in the Portland area—finally released today.
Portlanders have known many details of the count for months. Preliminary data released in June suggested that the city's homeless population had increased 10 percent from 2015 to 2017 (to 4,177), though a rapid expansion of shelter beds meant fewer people were sleeping on the streets (1,668).
That data is based on a survey of sheltered and unsheltered homeless people, who were asked where they would spend or did spend the night on February 22. And the latest report, authored by researchers at Portland State University, breaks the numbers down into ultra fine-grain detail.
Among other things, the numbers:
•Reiterate racial disparities in the county's homeless population. Roughly 37 percent of people on the streets are people of color, though they make up less than 29 percent of the county's population as a whole. Native Americans are particularly at risk of winding up homeless—"402 percent more likely to be homeless than people who are White..."
•Show how common "disabling conditions" are among the city's homeless. Nearly three quarters of people living on the streets have at least one condition. Particularly prevalent: Mental illness (44.8 percent) and substance abuse issues (37.5 percent).
•Confirm that more people are sleeping in vehicles. The count found 257 people who were unsheltered slept in cars, trucks, RVs or other vehicles. That represents roughly 60 more people than the 2015 count, and a larger percentage of unsheltered Portlanders as a whole.
•Show the prevalence of tent camping. For the first time, researchers asked homeless individuals if they had slept in a tent on the night in question. "The reasoning was that sheltering in tents makes the population experiencing unsheltered homeless highly visible," the report reads. Responses to the question were fairly even: 458 people said they'd used a tent, 469 said they hadn't, and data wasn't available in an additional 452 surveys.
•Suggest more people are unsheltered in Southeast Portland these days. During the 2015 count, Old Town/Downtown/Pearl District had the largest proportion of unsheltered homeless. This year, Southeast Portland had most, with more than 22 percent of unsheltered people contacted.
•Show a higher proportion of unsheltered people moved here homeless than in the past. As noted above, 26.8 percent of Portland's unsheltered population were homeless when they moved here. That's an increase from the same metric in 2015, when 12 percent of respondents said they'd been homeless when moving here. This year's tally marks an increase of more than 200 people. UPDATE: The county's Joint Office Homeless Services notes that officials didn't break down how many total people had moved here while homeless in 2015—for whatever reason it only broke down how many people had moved here homeless AND lived here less than two years. So I'm wrong to suggest this is an apples-to-apples comparison. According to the county, the same measurement this year would've shown 10.9 percent of unsheltered respondents moved her while homeless and have lived here less than two years. The county can't say how the 26.8 percent figure compares to 2015.
There's a lot more. Read the full report here [PDF].