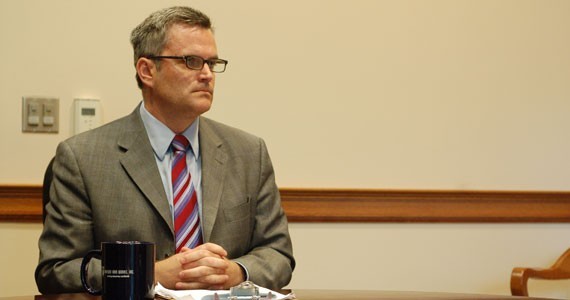 The #metoo movement reached City Hall on Thursday.
In a lengthy missive to city commissioners' offices, former mayoral staffer Cevero Gonzales made a series of shocking allegations against former Mayor Sam Adams. They include accusations that Adams quizzed Gonzales about his sex life, made him scout bathhouses and gay bars when Adams traveled, and once drunkenly tried to force him to go to downtown strip club Silverado.
What's more, Gonzales alleges this behavior was common knowledge among Adam's staff, and that he was told to keep quiet about it.
"I accepted Sam's behavior and the rationales provided by my supervisors because when I complained I was told to be quiet," Gonzales, who is gay, writes in the six-page missive. "When I persisted I was told I could lose my job."
Willamette Week first reported the letter on Friday afternoon. Adams, now director of the World Resources Institute, sent a statement to the paper denying the allegations and welcoming an investigation. His former chief of staff, and later transportation director, Tom Miller, also denied elements of Gonzalez's account.
But there's apparently corroboration for one of the claims. Gonzalez says he fielded an email from someone Adams had "spent the night with," who seemed to be threatening to make the encounter public. Gonzalez says he asked Adams' deputy chief of staff, Jennifer Yocom, how to proceed, and she instructed him to delete the email. When he wouldn't, Gonzalez says Yocom did it herself.
Yocom is still a city employee and confirmed she deleted the email to Willamette Week and the Oregonian.
"I have followed public records laws," Yocom reportedly told the Oregonian. "I'm happy to participate in any official investigation of my conduct."
It's unclear whether such an investigation will occur. We've asked Mayor Ted Wheeler's office whether the mayor will order one, but haven't heard back.
Gonzalez's allegations include:
•That Adams interrogated him about his love life, asking ""When was the last time you got laid?" and pressing for details like "What type of guys do you like? Do you like 'em cut or uncut?"
•That Adams regaled him with tales of his sexual experiences.
•That Gonzales had to chauffeur an intoxicated Adams, frequently settling his bar tabs, and was once pressured by the Adams to bring a man along. Gonzalez refused, and the person took a cab, he says.
•On the same night, Gonzalez says Adams told him: "Let's go to Silverado! I'll buy you a drink and a private dance with a hot stripper. Maybe he can give you a blow job so you'll lighten up!"
The allegations go beyond sexual harassment—including a claim that Gonzalez was forced to clean Adams' house.
"I would challenge the City of Portland to seek out other victims, internal or external to the City of Portland, who've been approached, accosted or harassed by former Mayor Sam Adams," Gonzalez concludes.
This isn't the first weighty allegation Gonzalez has made against an official he worked for. In 2015, he filed suit against the city, saying Gail Shibley, the chief of staff for former Mayor Charlie Hales, had harassed him because he is HIV-positive.
Here's Gonzalez's entire statement.