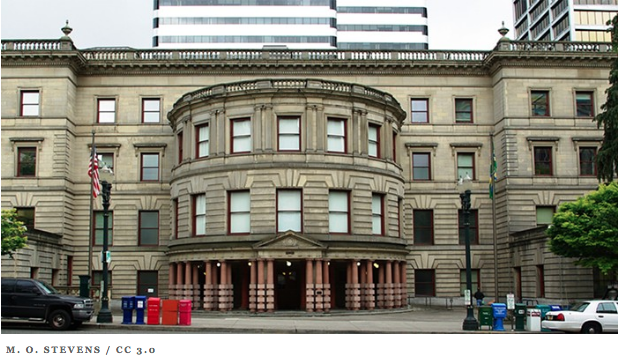 A year after the position got lost in the shuffle of Mayor Ted Wheeler's transition to power, Portland has a new tribal liaison.
Wheeler's office has announced the hiring of Laura John, who's been tapped to act as the city's central liaison to nearby tribal governments and to assist Portlanders of Native American descent. She'll also be tasked with creating a Portland Native American Policy Commission.
After years of urging, then-Mayor Charlie Hales tapped the city's first-ever tribal liaison last year, an attorney and former tribal judge named Patricia Gibson. But as the Mercury has reported, Gibson's position didn't last long. She told the Mercury she wasn't contacted by Wheeler's transition team, and resigned before she could be let go. The position has been vacant since December 28 of last year.
Wheeler's office told us earlier this year they'd be conducting a recruitment to fill the position, which they clearly have. According to a press release, John is a descendent of the Blackfeet and Seneca nations with a long history of working with Native communties. Her LinkedIn profile lists her as being employed at Education Northwest.
Unlike Gibson, John won't be a part of Wheeler's staff. The tribal liaison position has been moved to the city's Office of Government Relations. John began her new job November 29, and will make $80,080 a year, plus benefits.
Hit the jump for the full release.
PORTLAND, OR – Laura John, a descendent of the Blackfeet and Seneca Nations, began work as the City of Portland's Tribal Liaison. John will act as the primary representative of the Mayor, elected City Council and all bureaus and offices in relationships with sovereign Tribal governments and the urban Native American community.

"I am humbled to be selected for this position," John shared. "It is truly a privilege to serve the community that I grew up in. I look forward to elevating the voice of the Portland Native community through outreach, inclusion, and representation."

John has worked in American Indian Communities for the past 20 years; she was previously a researcher and program evaluator for the National Indian Child Welfare Association, an early career scientist for the Native American Research Center of Health, and coordinated a child abuse prevention program for the Native American Rehabilitation Association in Portland, Oregon.

John was a State Policy Fellow with the Center on Budget and Policy Priorities, during which time she served as the State-Tribal Policy Analyst for the Montana Budget & Policy Center and worked closely with Native American state legislators and elected tribal leaders in Montana. She holds undergraduate degrees in Portland State University and Haskell Indian Nations University, and graduate degrees Washington State University and the University of Montana.

"I heard from the robust and diverse Native communities in Portland about the critical importance of the Tribal Liaison position. Laura has a history of being a strong advocate for American Indian and Alaska Native communities," said Mayor Ted Wheeler. "Her experience and existing close ties with the Portland Native American community will help us form more meaningful relationships and work together to create solutions."

Rep. Tawna Sanchez (HD 43 - North and Northeast Portland) and Director of Family Services at the Native American Youth and Family Center commented, "I am thrilled to hear that Laura has been selected to serve as the Tribal Liaison for the City of Portland. I have known her for many years and see her new position as a wonderful opportunity to develop partnerships with Portland's Native community and tribes."

The Tribal Liaison assists the City Council and all City bureaus in strengthening relationships and coordinating overall policy development with Tribal Governments and the American Indian/Alaska Native community in Portland. The position acts as a primary point of contact for City Council and all city bureaus and offices and is charged with establishing the Portland Native American Advisory Commission.

The Tribal Liaison will report to the Director of Government Relations and hold a full-time position within the Office of Government Relations.