I played baseball all through grade school. I got a triple play single-handedly once during my t-ball years. My dad will still laugh when I remind him of that infamous moment. I tried every position during my "career" and was a decent batter, until sixth grade when it became fast pitch. I suddenly became deathly afraid of the ball. I would do ok at practice, but when we were playing a game against any other team, I clammed up and couldn't hit a watermelon if someone threw it across the plate.
During that dismal season there was one practice where another baseball coach approached us from across the park and asked if we wanted to scrimmage. When we went over to their field, I saw that the team's pitcher was Nathan Corwin. I had played basketball with Nathan in fourth and fifth grade, but he moved to a different school after that. Of my two at bats against Nathan, if memory serves, I cranked a solid line drive to left field, and had a strong grounder. It seemed that if I was batting against someone I trusted, the fear would disappear.
According to all accounts, Meyers Leonard had a great off season. Folks were interested in seeing how he would look this season since he's been such a lame duck for the majority of his NBA career. But, low and behold, Meyers was still Meyers. Even though he's been in the league for five years now, every time Meyers steps on the court he still has the expression of a lost child in a grocery store. Maybe Meyers suffers from the same fear and trust issues I did. He can only play confidently when it's with his buddies.
Meyers got booed pretty bad at the Bucks game last Thursday when he air-balled a three. I can't say I don't blame the Moda Center for that, but it's a shame that it's gotten to that point. Lucky for Meyers, it seems like those jeers may have made him snap out of his…whatever his problem is, because he went off on Saturday against the Pelicans. 17 points is dynamite for Meyers. He was a little short on rebounds despite what his stature would suggest, but he had several opportunities to make some "scary" faces in that game. Has Meyers lost the fear completely? Will he continue to show up and play to his body? Eh, I'm keeping my money in my pocket.
Photo By Bruce Ely / trailblazers.com
Last night the Trail Blazers went blow for blow with the Washington Wizards. At their previous bout this season, the Blazers had a miraculous 17 point comeback in the fourth quarter and squeezed out a win. It would've been swell if the Blazers didn't give their fans another heart attack game against the Wizards, or more importantly, a third consecutive loss on their home court.
Unfortunately, it wasn't in the cards. The Wizards' Bradley Beal went wild, scoring a career high 51 points, and the Wizards waltzed with the win, 106-92.
The Blazers came out in the first looking very surefooted and under control. Maurice Harkless had a big block, steal, a lucky-bounce three pointer, and generally looked like he owned the ball. The Blazers got a lead early, but the Wizards chipped away at it and ended up with a two point lead going in to the second.
The Wizards lead grew to start the second because the Blazers decided they needed to turn the ball over as much as they could. They went from only having three turnovers to chalking up 13 before the halftime buzzer rang. Jusuf Nurkic had two thunderous blocks in the quarter, but those beauties alone couldn't stop the Wizards from taking a 14 point lead into the locker room. Things were looking ugly.
Photo By Bruce Ely / trailblazers.com
The ghastliness continued into the third. The Blazers couldn't find the bottom of the net if they were wearing it like a hat. They had a 31 percent field goal percentage at the eight minute mark. The Wizards' Bradley Beal was taking the Blazers apart with 26 points. Damian Lillard started to pour it on in the middle of the quarter with a much needed three, followed by a four point play.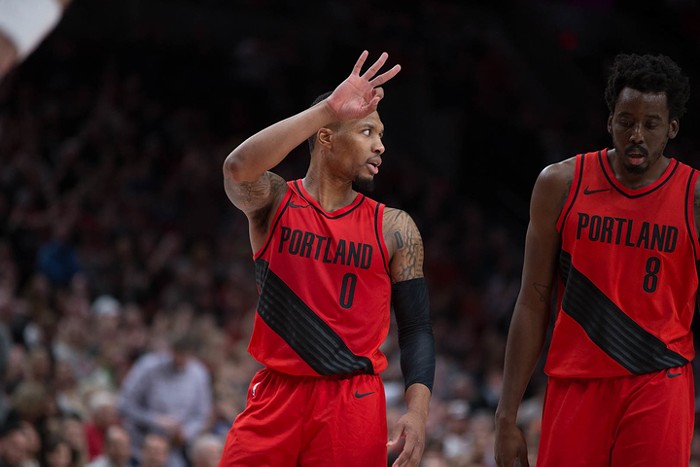 Photo By Bruce Ely / trailblazers.com
Then with four and half minutes left in the third, Meyers came in. Per Meyers, he was generally ineffective on defense, scored two points from the free throw line, then Coach Stotts took him off the court with a minute left to go in the quarter. Someday, Meyers. Someday.
Beal ended the third with 38 points, and the Wizards took a 13 point lead into the final quarter.
The fourth quarter continued to be Beal's deal. He hit his career high at 43, and just kept on going. He would finish the game with a total of 51 points.
With six and a half minutes left in the game, Nurk banged knees with Mike Scott under the hoop, wrenched his ankle, and writhed around on the ground for a bit. He got back up and limped to the locker room to be evaluated. Turns out, he twisted his ankle pretty good. Don't be surprised if he's a maybe on Saturday against the Rockets.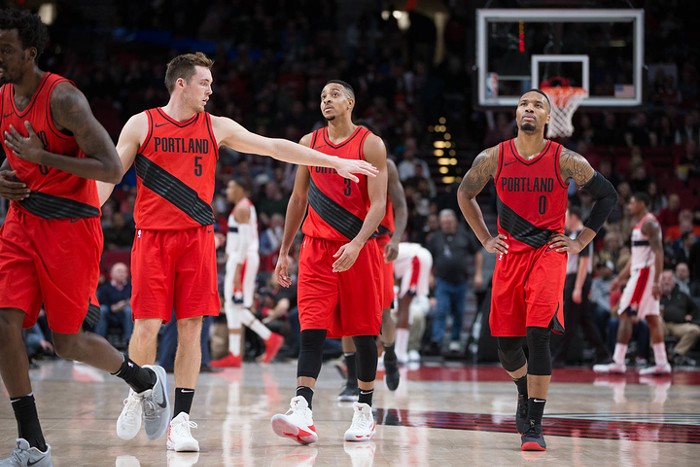 Photo By Bruce Ely / trailblazers.com
With a third straight loss at home, in the post-game press conference Coach Stotts was surprisingly calm. When asked what concerns him about the team right now, he said that it's circumstantial.
"Depends on when you ask me. Right now, if you'd asked me at halftime, having 11 turnovers in a quarter is…I can't remember 11 turnovers in a quarter. So, if you'd asked me at halftime I was concerned about our offense. If you asked me the third quarter of New Orleans I would've said our defense. It's different things at different times."
Upon being asked, "Is it a fair question to say, are you not playing well, or is this who you are," Stotts' answer was hopeful.
"I think it's a fair question. I don't think we're playing well. I think we've shown that we can play better."