Sponsored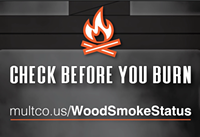 Having clean air means reducing wood smoke. Check before your burn from October 1-March 1.
Before Portland police entered Cityteam Ministries homeless shelter Saturday night and fatally shot 48-year-old John Elifritz, they knew he was in the midst of some type of mental crisis.
This finding comes from the latest Portland Police Bureau (PPB) report, which gives a more thorough account of the hours leading up Elifritz' death Saturday evening.
According to the report, police first spoke with Elifritz around 2:25 Saturday afternoon. Elifritz allegedly called PPB to report that "his family had been murdered," and gave them the address of an empty house under construction. Officers didn't find Elifritz at the location, but confirmed that his wife and 12-year-old daughter were safe.
Shortly after, another set of officers came across Elifritz at SE 86th and Holgate—but when officers approached him, Elifritz allegedly pulled out a knife and held it to his own throat. Then, he ran.
Instead of following Elifritz, the officers chose to "make a referral to the Bureau's Behavioral Health Unit for follow-up," the report reads.
Just after 4:30 pm, Portland police received a call from a woman reporting her Honda CRV had been stolen from her while she was waiting at a stoplight at SE 72nd and Foster. A man had jumped into her passenger seat with a knife and wrestled with her for control of the vehicle, she told officers.
Another call at 7:25, from a guy reporting a man in a Honda CRV had tailgated him and then drove alongside his car in the bike lane, all while pointing a black object at him.
And finally, at 7:30, another man reporter Elifritz jumping out of a moving car on SE Martin Luther King Jr. Blvd. and Stark. By 7:58, officers had tracked Elifritz down inside of the Cityteam Ministries shelter nearby.
What happen next was recorded on a shelter visitor's cellphone: More than a dozen armed police officers cornering a dazed-looking man behind a (estimated) 4-foot-tall wall. Police first shoot a few non-lethal beanbags at Elifritz, then toss a few flashbangs, and ask him to drop his knife. And then—according to the police report—seven Portland Police Officers and one Multnomah County Sheriff Deputy opened fire.
PPB originally said it would release the names of those officers last night, but has decided to keep them private after the bureau received threats "regarding their safety."
The police officers were all scheduled for "administrative interviews" today—barely making it in under the city's new "48 hour rule," which requires officers speak with internal affairs investigators within two days of a shooting. The deputy involved, who doesn't have to abide by the city rule, won't be interviewed until tomorrow.
PPB says 12 other Portland police officers who were witness to the shooting have been interviewed. It's still unclear why, since officers were well aware Elifritz was is crisis, officers chose to shoot.
David Rogers, ACLU of Oregon executive director, said the recorded incident raised "serious questions about how police handled the situation and whether lethal force was called for."

"Was there any attempt to de-escalate the situation before officers open fire inside the homeless shelter full of innocent bystanders?" Rogers asked in a Sunday press release. "If not, why not?"
Friends of Elifritz call what happened Saturday "murder." Like others who witnesses the shooting, they believe their friend was having some kind of mental crisis, and should have been treated like it.
"We believe what the police did was wrong," said Victoria Nevaraz, who visited Elifritz' memorial outside of the Cityteam shelter Monday afternoon. "We understand he was in crisis. They're all trained to work with people in mental health crises—why didn't they use that here?"
Nevaraz, like many who attended a Sunday night vigil for Elifritz, has known Elifritz since she was a teenager.
"Portland's home for him," she said. "He was loved by all... would do anything for anyone. He was one of my dearest friends."
Another close friend, Cliff (who asked we only use his first name), pointed to the photo of Elifritz propped up against Cityteam's outside wall, surrounded by flowers. "This was one of his proudest moments," Cliff said. The photo was taken not more than 6 months ago, when Elifritz graduated from an addiction recovery program at Central City Concern. "He was getting back on his feet," Cliff added. "This is not the same man we saw in that video Saturday."
Neither Cliff nor Nevarz say they sensed Elifritz was struggling with a behavioral health issue last week. But that doesn't change how they see their friend.
"We all face challenges," Cliff said. "We're all in recovery from something."