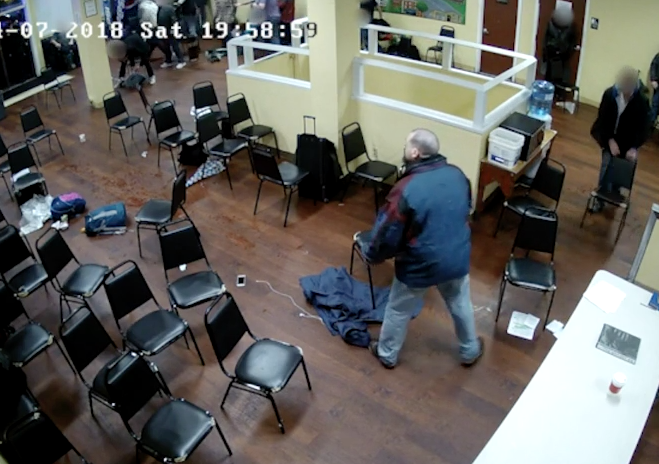 Sponsored
Try 3 award-winners for $84 w/ free delivery or shipping in U.S.! To order click and select special offer #1 or #2
Newly released evidence from the Portland Police Bureau has shed more light on the fatal police shooting of John Elifritz the evening of April 7.
This evening, PPB released nearly 700 pages of investigative material related to the Elifritz shooting—including interviews with witnesses, interviews with officers at the scene, autopsy notes, and evidence descriptions—including a photo of the bloody knife Elifritz used on his own neck.
A quick refresher on what the public already knew before this evening's data dump: On a rainy Saturday evening, Elifritz, 48, was shot at the Cityteam Ministries homeless shelter by a number of Portland police officers and one Multnomah County deputy. He had entered the SE Grand Ave. shelter shortly after crashing a stolen car on SE Martin Luther King, Jr. Ave., interrupting an Alcoholics Anonymous meeting being held inside.
Elifritz first entered the shelter around 7:30 pm, shirtless. A staff member offered him a jacket and he left. At around 7:55 pm, Elifritz returned, appearing suicidal. By 8 pm, Elifritz had been fatally shot by police officers inside the shelter.
A month after this shooting, a Multnomah County grand jury ruled that all law enforcement officials involved in the shooting—one county deputy and seven Portland police officers—were justified in their deadly use of force. The transcript of that grand jury has yet to be made public. This Wednesday, Elifritz's ex-wife filed a civil rights federal lawsuit against the PPB for his death.
Until this evening, the public has only seen clips from one shaky cellphone video that captured the chaos and heard varied witness testimony of the incident, leaving dozens of unanswered questions. Videos released through public records requests today, captured by Cityteam Ministries' surveillance cameras and police car dashcams, help fill in some of the missing gaps.
Surveillance video captures Elifritz returning to Cityteam Ministries holding a knife in his right hand. Once inside the door, another camera captures Elifritz making cutting motions at his neck while he looks outside the front window. That's when the thirty or so men inside the shelter—most of them sitting in chairs, paying attention to the Alcoholics Anonymous meeting—start turning around to see what's going on. Within seconds, people have jumped to their feet, some trying to assist Elifritz and others using their chairs to shield themselves from him. While he's not obviously threatening anyone with the knife (aside from himself), Elifrtiz staggers unnaturally across the room, looking uncertain. His neck is covered with blood.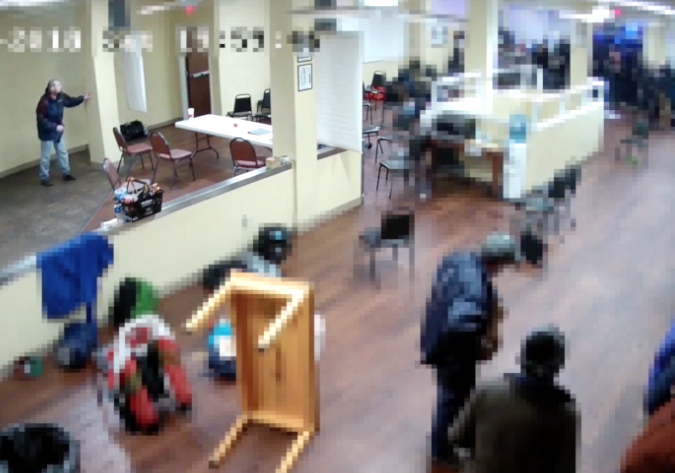 The video has no audio. But, in interviews with the PPB released today, witnesses say Elifritz was saying something along the lines of: "I just killed my family and they are going to kill me," I want to die," and "Shoot me," and "They killed my family, I'm going to kill myself." In interviews, a few witnesses assume he is either on some kind of drug or having a psychotic episode.
"He was slashing towards his face and then stabbing himself in the neck," said one unidentified witness. "He had scared the shit out of all the guys working there."
Based on the video timestamp, ten or so officers enter the shelter's front door around 7:58. Witnesses say officers yelled at Elifritz to drop his knife while telling occupants to drop to the floor (one witness said it felt like "a federal prison or something").
Seconds into entering, officers begin firing non-lethal, or "bean bag," bullets at Elifritz. According to PPB's timeline, Elifritz continues to stab himself in the neck. Witnesses say he was unfazed by the non-lethal shots.
"I see him get impacted but it wasn't enough to knock him over or do anything," recalled a witness. "It kind of seemed to piss him off."
That's when Elifrtiz begins quickly walking towards the armed officers, knife in hand. When he gets about six feet away from the officers, he crumples. It's clear he has been shot.
In an examination by Oregon State Medical Examiner Dr. Cliff Nelson, it appears Elifritz suffered nine gunshot wounds. Nelson determined that the three bullets to his chest were fatal.
There is no information on whether or not Elifritz had drugs in his system during the time of his death.
Before entering the Cityteam Ministries the second time, Elifritz had walked to a Jackson Food Store on SE Grand, where he stood in the doorway for a while. PPB interviewed Carletta Davis, an Jackson employee who was working at the time. In her interview, Davis said Elifritz had told her he wanted to "kill a cop."
"That part eats at me, eats at me every day," Davis said.
Davis said she's worked at that store for 12 years, and has seen a number of intoxicated and mentally ill people in and around the store. But Elifritz was different. "Just something in him just said something wasn't right," she told a PPB officer. "I did not know but just something."