Stay up to date on Portland news and politics. Looking for fun? Here are the best Things to Do in Portland today.
Sponsored
Win a behind-the-scenes tour of our kitchen, see how we make our artisan edibles, and get some swag.
Good morning, Portland. It's going to be a drizzly/cloudy day in the mid-70s today. Here's some news to start your day:
Not Good Enough: Donald Trump signed an executive order yesterday, reversing his decision to separate immigrant children from their parents after crossing the US' southern border. The order does not end Trump's "zero tolerance" policy, which places all incoming immigrants (even those seeking asylum from domestic violence, religious prosecution, or gang warfare) into detention. The only change? Kids will be held in cages with their parents, instead of by themselves. Oh, and there's absolutely no plan to help the 2,400+ kids who've already been taken from their parents reunite with their family members. Trump, who's yet to claim any responsibility for this traumatic policy, is forcing Congress to consider another border wall bill today.
For the Record: Trump's executive order misspelled "separation."
Portland's Not Impressed: This order doesn't affect the group of protesters camped out in front of a regional ICE office in Portland. They don't plan on ending the protest until ICE leaves Portland or the US starts following international asylum standards.
die in at @OccupyICEPDX pic.twitter.com/vQ4fc8oM5Y

— 🌼 glockamole 🌼 (@cx_rl_xs) June 21, 2018
Neither are Trump's Friends: Michael Cohen, Trump's former lawyer and confidant, has stepped down from his position with the Republican National Convention, citing the GOP's "heart-wrenching" family separation law.
Up in the Air: Hundreds flocked to New York City's LaGuardia Airport last night after rumors spread that Texas flights containing immigrant kids recently split from their parents were en route. It's unclear if those flights ever made it to LGA, perhaps because most major airlines have refused to take part in Trump's forced separations. AIR LAW!
Here's Where Those Kids Are Ending Up: At least one of the Texas facilities paid by the feds to hold immigrant children has a record of injecting kids with heavy sedatives. This is only one of many federally-funded Texas shelters for immigrant kids with a history of child abuse and neglect.
They're Also in Portland: A number of immigrant kids who've been split from their parents are being held in the old Rosemont School in Southeast Portland, according to KGW. The site is operated by Morrison Child & Family Services, and has prison-like bars over the classroom windows.
Another Child Separation Policy: Police in East Pittsburgh (a town 11 miles east of Pittsburgh) fatally shot a 17-year-old black boy they wrongfully believed was involved in a crime. Antwon Rose II was running away from the police, unarmed, when an officer shot him in the back. It was that officer's first night on the job.
Whether it's by locking them in cages or shooting them in the back, the United States government is crystal clear in its message that black and brown children are unwelcome in this country. We live, undeniably, in a system of white supremacy. #AntwonRose pic.twitter.com/aEpsXmBxjy

— katrina cassell (@katrinaacassell) June 20, 2018
Related:
In the 26 blue states below, more white residents died than were born in 2016. That suggests a "faster-than-expected transition to a future in which whites are no longer a majority of the American population." https://t.co/5HYRsTO8zq pic.twitter.com/K3ROMEXwAQ

— John Gramlich (@johngramlich) June 20, 2018
Needing A Positive Read? This week's Mercury features a longread about the 1-year-old Kenton Women's Village—a transitional homeless community for cis and trans women. We discover why the unique program's already seen so much success and how it can fit into Portland's larger network of homeless solutions.

Today in Delightfully Inaccurate Chyrons:


ABC News falsely reports that Paul Manafort plead guilty to "5 charges of manslaughter" pic.twitter.com/HSSudbLGbh

— Jon Levine (@LevineJonathan) June 20, 2018
Sponsored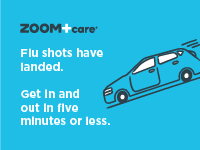 ZOOM+Care makes flu shots easy and safe. Schedule ahead, skip the line—get in and out in 5 minutes.