The news that Joey Gibson—leader of Vancouver alt-right group Patriot Prayer and Washington candidate for US Senate—was heading to Portland's Occupy ICE camp this evening came as a surprise to both activists and the city. In fact, his appearance inspired Mayor Ted Wheeler to deploy Portland police officers to the Southwest Waterfront camp for the first time since the protest camp set up shop in mid-June.
But Gibson's visit nearly ended as quickly as it began. Gibson and his small Vancouver posse appeared around 6 pm to "get together, drop the fists... and exchange ideologies," according to his Facebook video posted earlier in the day.
Which... kind of happened. Unlike past Gibson visits to Portland, no punches were thrown (Correction: It appears at least one punch was thrown after Gibson left the camp), nor faces pepper sprayed. Instead, Gibson appeared to engage in a few tense conversations with Occupy ICE activists about immigration and plans for Patriot Prayer's coming August 4 protest in downtown Portland.
Testosterone. #occupyicepdx pic.twitter.com/ARJW2uXXpE
— Alex Zielinski (@alex_zee) July 21, 2018
During his visit, three activists chose to cross the yellow tape between the camp and the nearby Immigration and Customs Enforcement building. They peacefully allowed federal police to arrest them.
Three protesters have crossed the yellow tape and put their hands up. Now they are getting arrested. #OccupyICEPDX pic.twitter.com/Yrelanfd1j
— Alex Zielinski (@alex_zee) July 21, 2018
Portland police officers were parked a few blocks away from the camp, and a few got out of their cars to observe the heated conversations. The Gibson crew left by 7:30 without much of a fight. It's unclear what, exactly, the purpose of his visit was. But the incident was one of the first nonviolent encounters between Patriot Prayer folks and progressive activists in a while.
Sponsored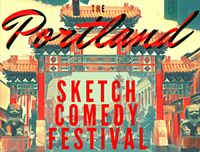 Sketch comedy troupes from all over N. America descend on The Siren Theater for 3 glorious nights.