Sponsored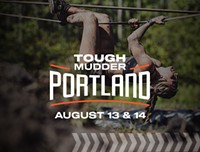 Lock in your summer adventure, Portland. Join us for world famous obstacles over a 5K or 10K distance.
The Occupy ICE PDX camp is no more.
Just over 24 hours after posting a notice to vacate, Portland police officers entered the Southwest Portland protest camp to ask the remaining campers to leave. According to Portland Police Bureau (PPB) Chief Danielle Outlaw, police only encountered around a dozen people at the camp when they arrived around 4:30 am.
In a morning press conference, Outlaw said the sweep did not result in any arrests or citations. Remaining tents, structures, garbage, and other items left after the five-week-long campout will be cleared from the TriMet-owned property by 8 am, she added. Officers will collect and hold any valuable items left behind for their owners to retrieve.
No arrests during city cleanup of Occupy ICE camp, says PPB Chief outlaw pic.twitter.com/YWmWsLAfr0
— KOIN News (@KOINNews) July 25, 2018
A number of TV reporters watched PPB officers dismantle the camp and surveyed the leftover debris (thanks for the early-morning coverage, reporters!) Here's what remained of the camp this morning:
NOW: A look inside what remains at the #OccupyICEPDX camp after Portland Police forced the last protesters out. #KOIN6News pic.twitter.com/CYwZkNPJnK
— Elise Haas (@EliseKOIN) July 25, 2018
"For the most part, everything was done with very little incident," Outlaw said.
However, she said PPB is investigating reports of an officer using a baton to "push apart people that were about to be actively engaged in some sort of physical altercation" after the camp was cleared.
Outlaw didn't mention the sweep was preceded by a 11 pm visit from members of Patriot Prayer, a Vancouver alt-right group with a history of violence against Portland leftist groups. Led by Patriot Prayer founder Joey Gibson, the visitors came to shout insults at the remaining campers and watch the camp evacuate. The group left before the PPB made its morning sweep.
Just after midnight, Joey Gibson gathered up dozen supporters and said they were leaving bc they didn't want to give Mayor @tedwheeler excuse NOT to dismantle #OccupyICEPDX "Tiny" Toese vowed they would return and remove camp next day if not gone. pic.twitter.com/np4KUfS4R6
— Arun Gupta (@arunindy) July 25, 2018
Patriot Prayer members first appeared at the camp Friday night to "engage" with the ICE protesters and question their demonstration. The visit resulted in a number of tense arguments and at least one punch being thrown by a member of Patriot Prayer. On Monday, Mayor Wheeler said Patriot Prayer's visit was one of the reasons he wanted the Occupy ICE camp gone.
To ICE protesters and other progressive activists, this morning's sweep sent a clear message to Patriot Prayer that their Friday intervention was successful in getting Portland police to do their bidding.
Let me get this straight. A violent white nationalist & terrorist threatens a protest. @tedwheeler decides the ONLY way to maintain peace is to protect the terrorist and kick out #OccupyICEPDX.

In history class I learned what to call people like our mayor - Collaborators. https://t.co/C0ijVnw0XD
— Aaron Duran (@GeekintheCity) July 24, 2018
Reports that Joey Gibson is there at the #OccupyICEPDX site trolling as midnight (the posted time for police sweeps) nears.

In other words, DHS and the Proud Boys are left standing while human rights activists who believe children shouldn't be in cages are evicted. https://t.co/eaYg9b3cxf
— sarah iannarone (@sarahforpdx) July 25, 2018